---

Last Update ~19/3/17 contact:- EMAIL
If you would like to discuss a commissioned work please go HERE
Take a look on the other stuff page for the many other things I have designed and produced
MONOWHEELS BOARD TRACKER BOTTLE ROCKETEER
DIESEL CHOP with SIDECAR LAWN MOWER RACING OTHER STUFF TRIUMPH CHOP
STOLEN! MINI MONOWHEEL BUTCHERS BIKE PATH RACER
DI WHEEL SELF BALANCING SKATEBOARD SPIN CYCLE BAR STOOL RACER
---
NEW PROJECT ALERT! NEW PROJECT ALERT!
But it's currently TOP SECRET... as I don't want Flux to know what I'm doing............
coming along nicely, it's going to be fun. It has a name....
DRAG ME TO HELL
DUCATI DIESEL MOTORCYCLE AND 'LEANER' SIDECAR
KNOCKIN' on the DEVILS DOOR
The Beast will make its début at KICKBACK 1-2 April
The painting is bloody fantastic, well worth the wait, thanks to SMB
Just waiting for a spell of good weather then it's testing time. Looking forward to it a lot.
I found two more of the nose cones I used on my side car so I could make two more if asked!
some of my latest commissioned work on the commissions page
when not on my own projects projects, I do a lot of work for Quicksilver Special Effects
The Bottle Rocketeer ~ better pump = more pressure = more height?
still not had time to test!!!!!!!
the net launcher ; testing failed, back to the drawing board.......
I would like to find a small steam engine that would go in a steam powered monowheel........ it's been in my head for a while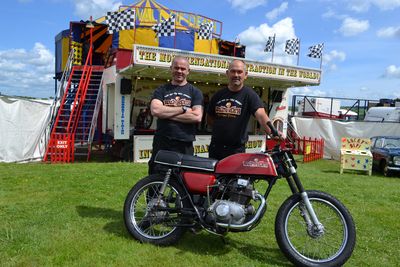 Yes, I was on TV. I absolutely loved doing the wall of death with the legend that is, Ken Fox.
"Art is anything you can get away with" Marshall McLuhan 1911-1980
THE BRITISH MONOWHEEL ASSOCIATION
~ The Lincolnshire Rocket Suit Project ~
---