and 'Leaner' Sidecar *
The award winning
KNOCKIN' on the DEVILS DOOR
Runner up in freestyle class at Kickback #10 2017
Best Engineering, Twisted Iron The happening 2017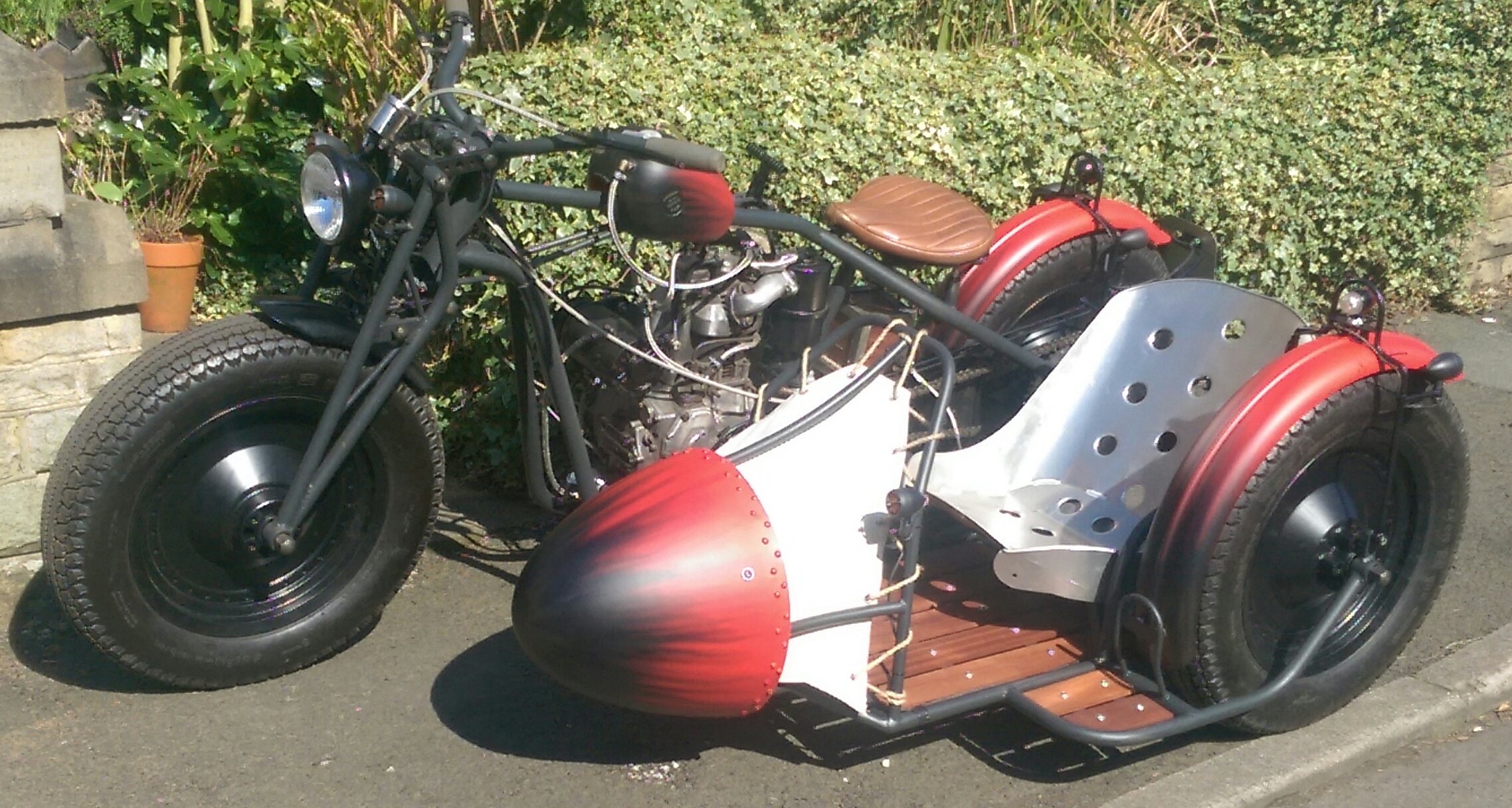 * the sidecar 'pivots' on the mountings on the bike. see this video for a good explanation
---
After the boardtracker and the butchers bike I was looking to build something else and as usual was looking for something a little different. I wanted to build another full custom made bike and I like the sidecar on the butchers bike so a plan was forming. searching for suitable engines on EBay I can across a Ducati IS9 Diesel for sale. I didn't know Ducati made diesels! It's a stationary engine used on boats and for agricultural use; perfect for lugging a sidecar!? I already had a three speed plus reverse Albion heavyweight gearbox so...... another project is go!
---
Going to go for a sort of Rat Rod look, solid 16" wheels, girder forks, low and squat.
this is the sort of thing...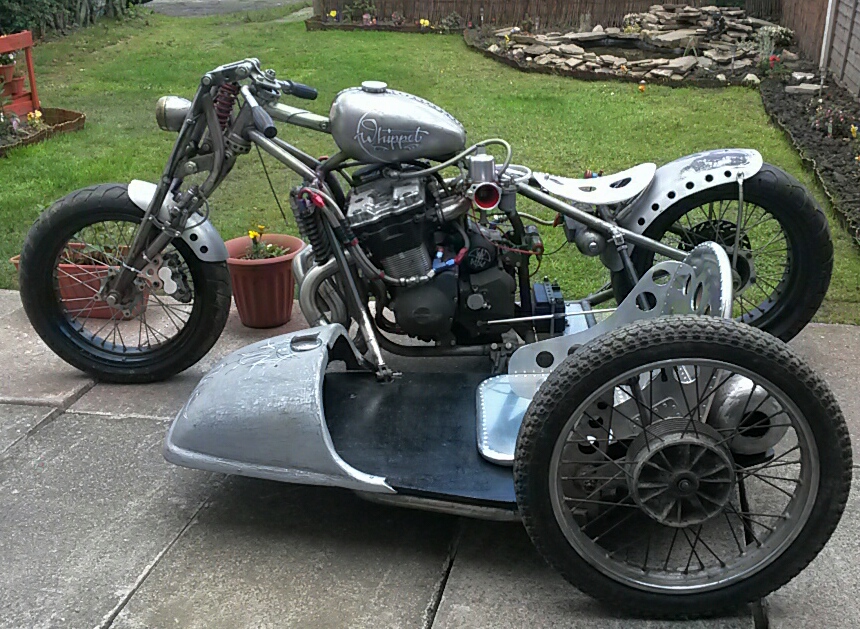 from here
I really like this frame!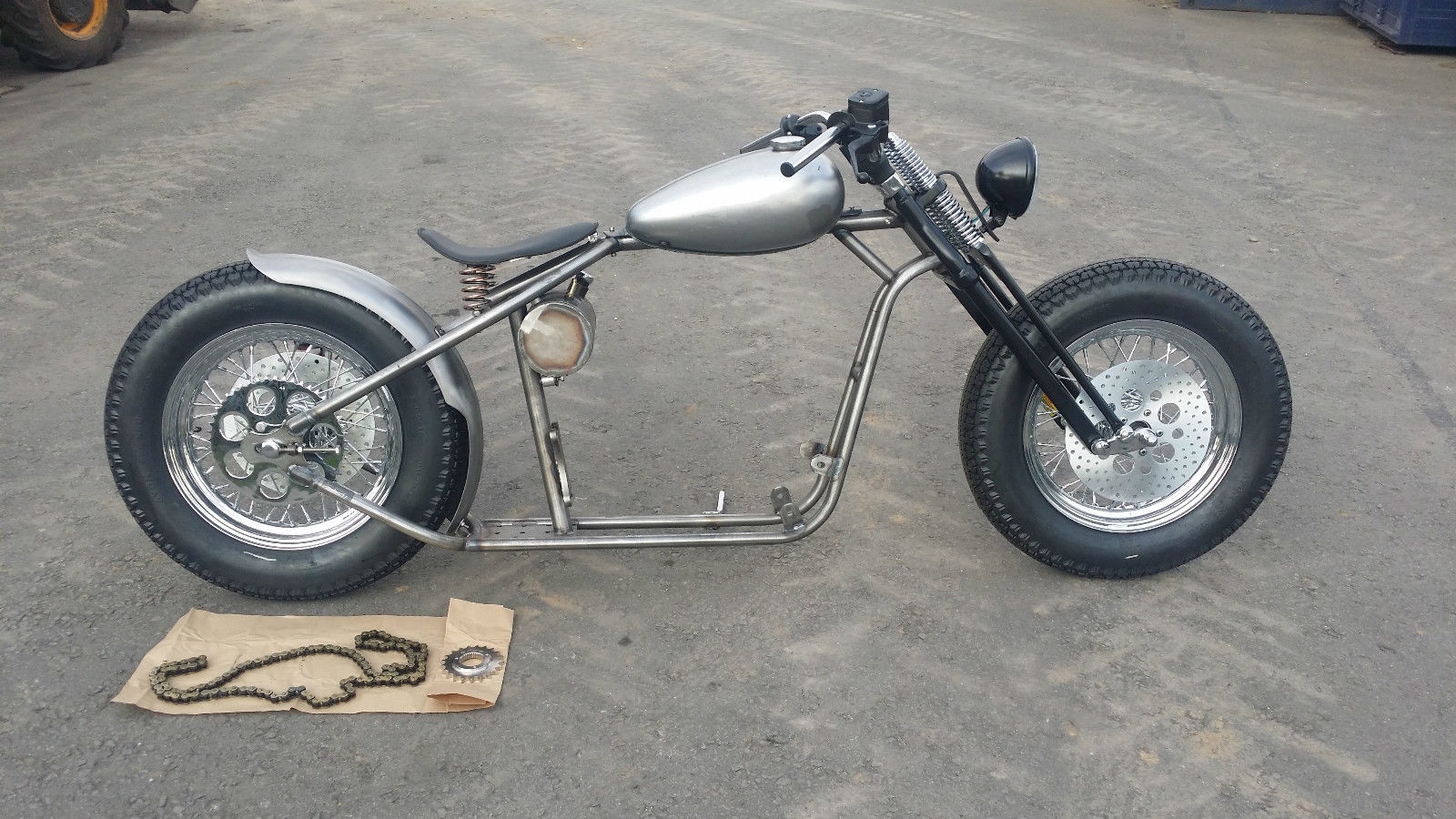 from here
I got the lower yoke from a zzr1100, I am going to use the stem as the basis for my own design of girder forks.
made some progress on the design of the side car, going for a 'leaner' see this site for details:
www.haulnride.com/leaner_sidecars.html
---
this is the engine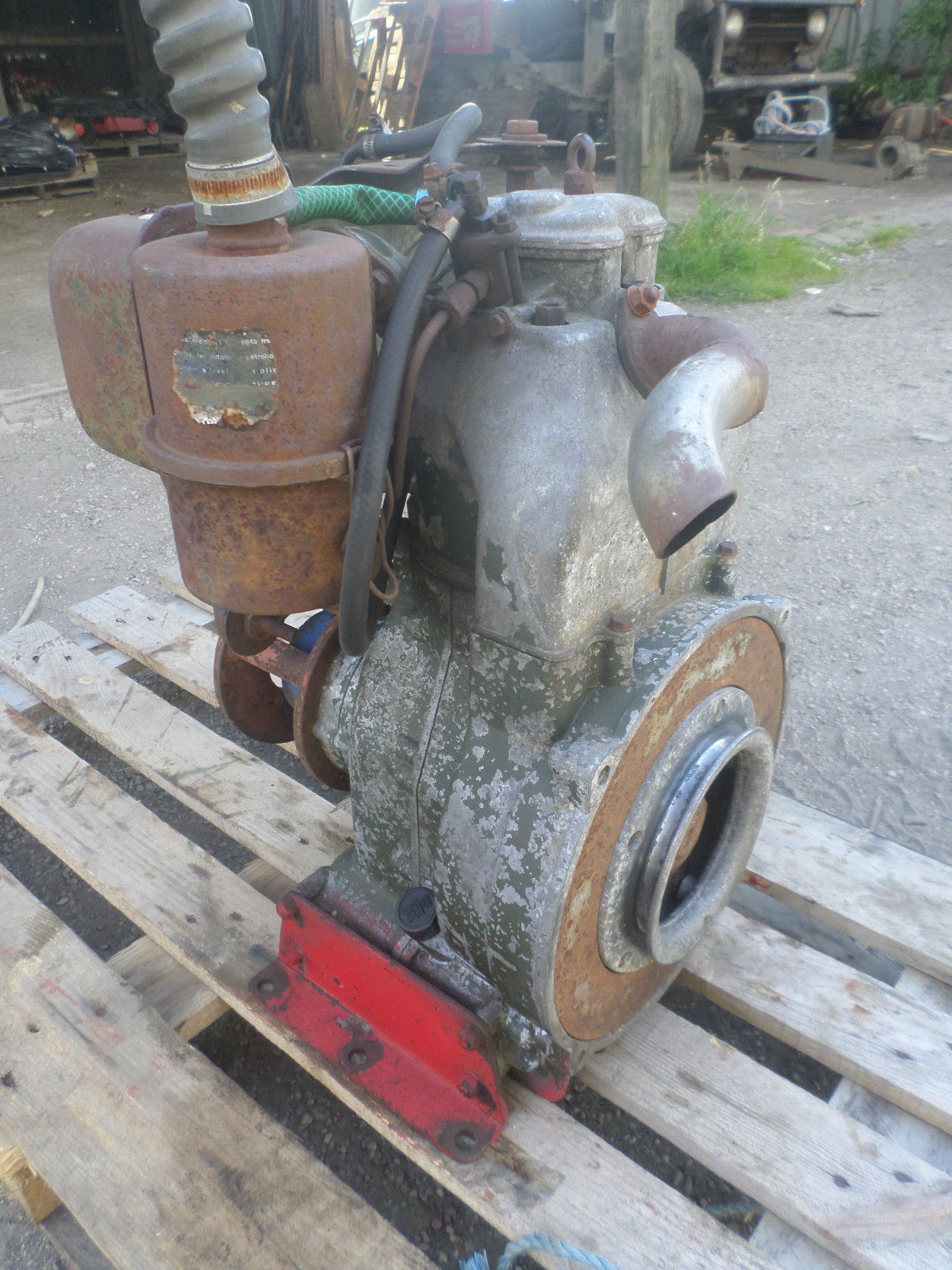 got a little NSU Quickly tank for it, Should get around 150MPG from the engine so I don't need a big tank....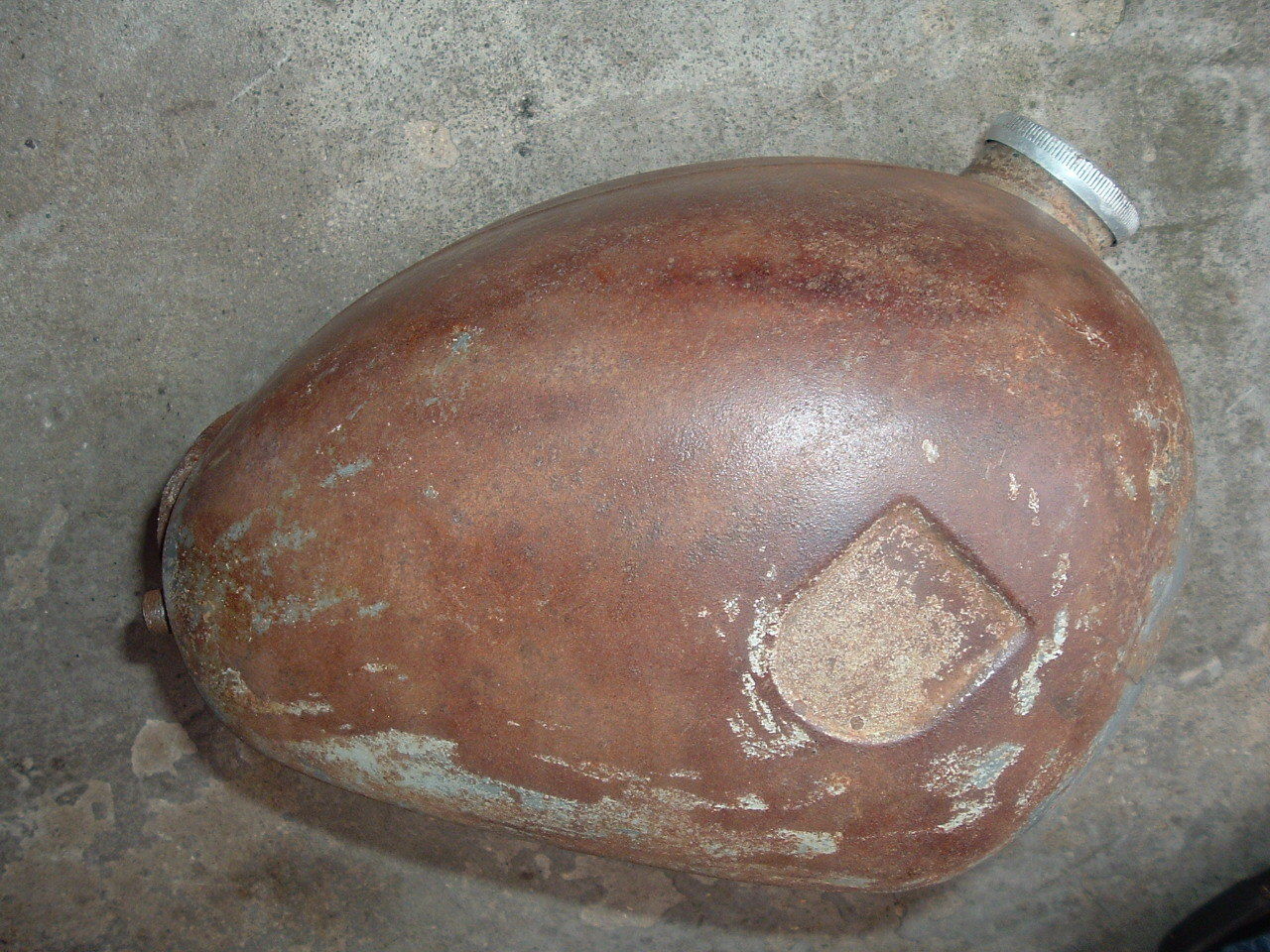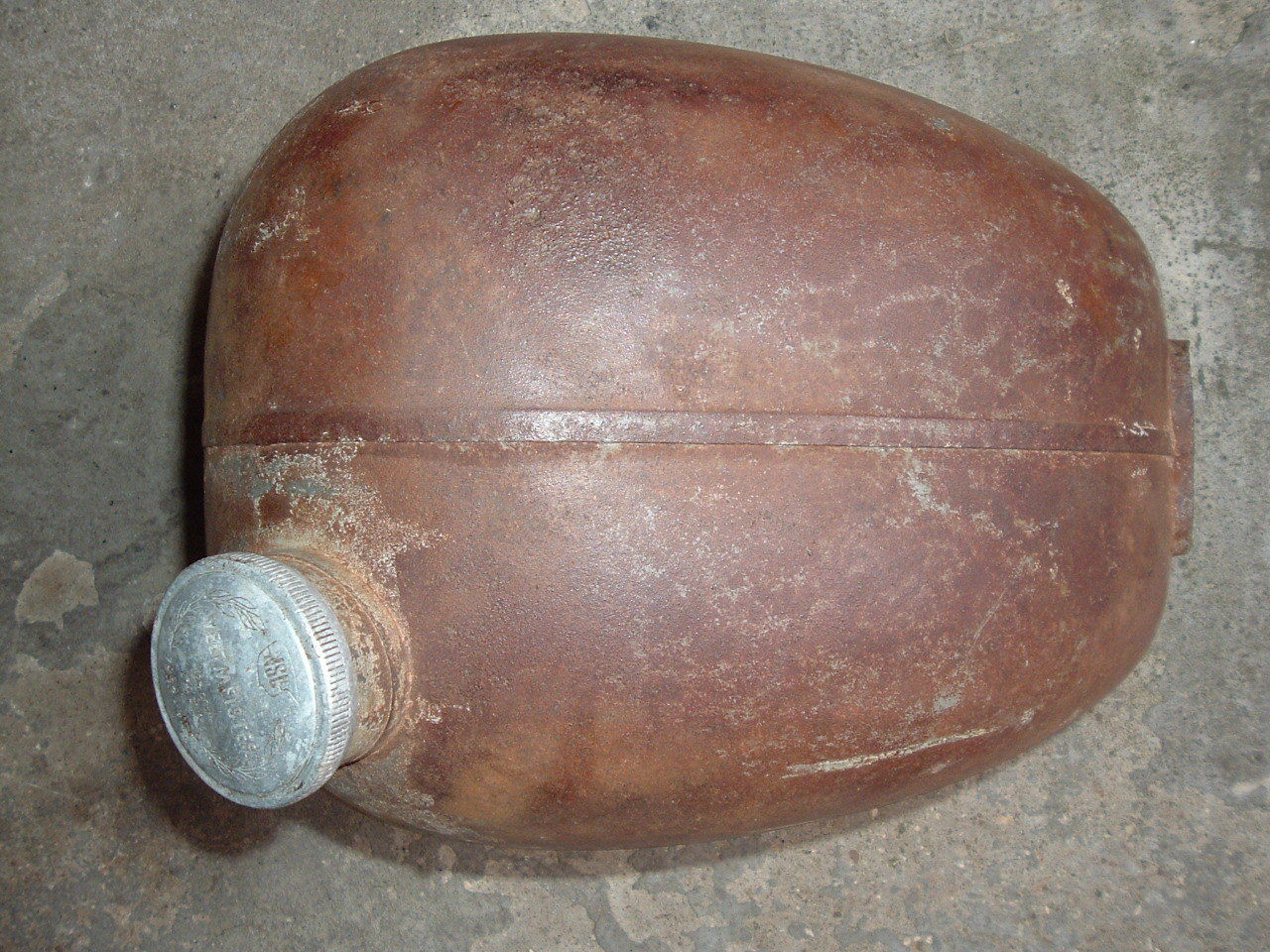 and then there were three.....
basic frame design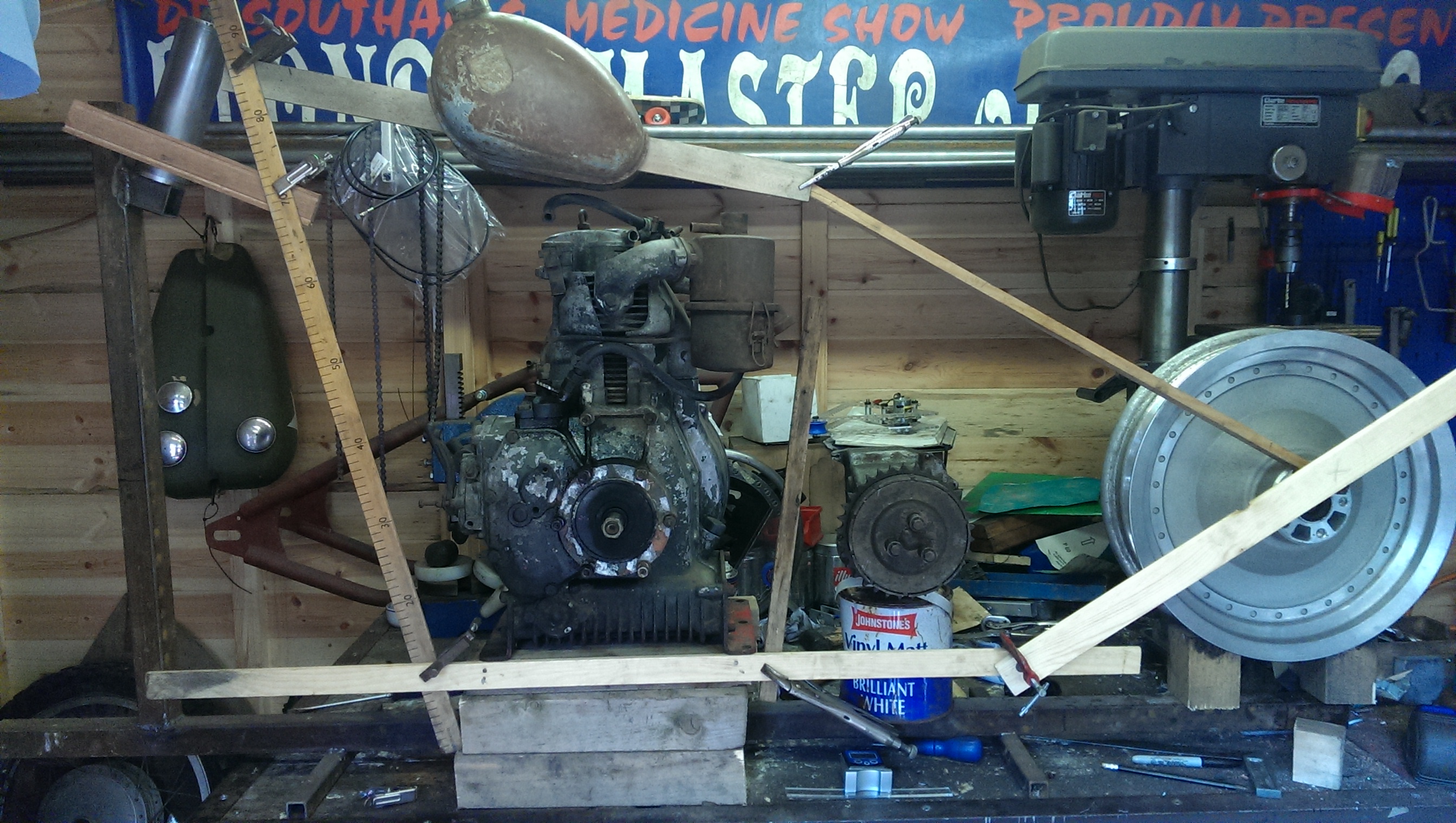 metal has been bent!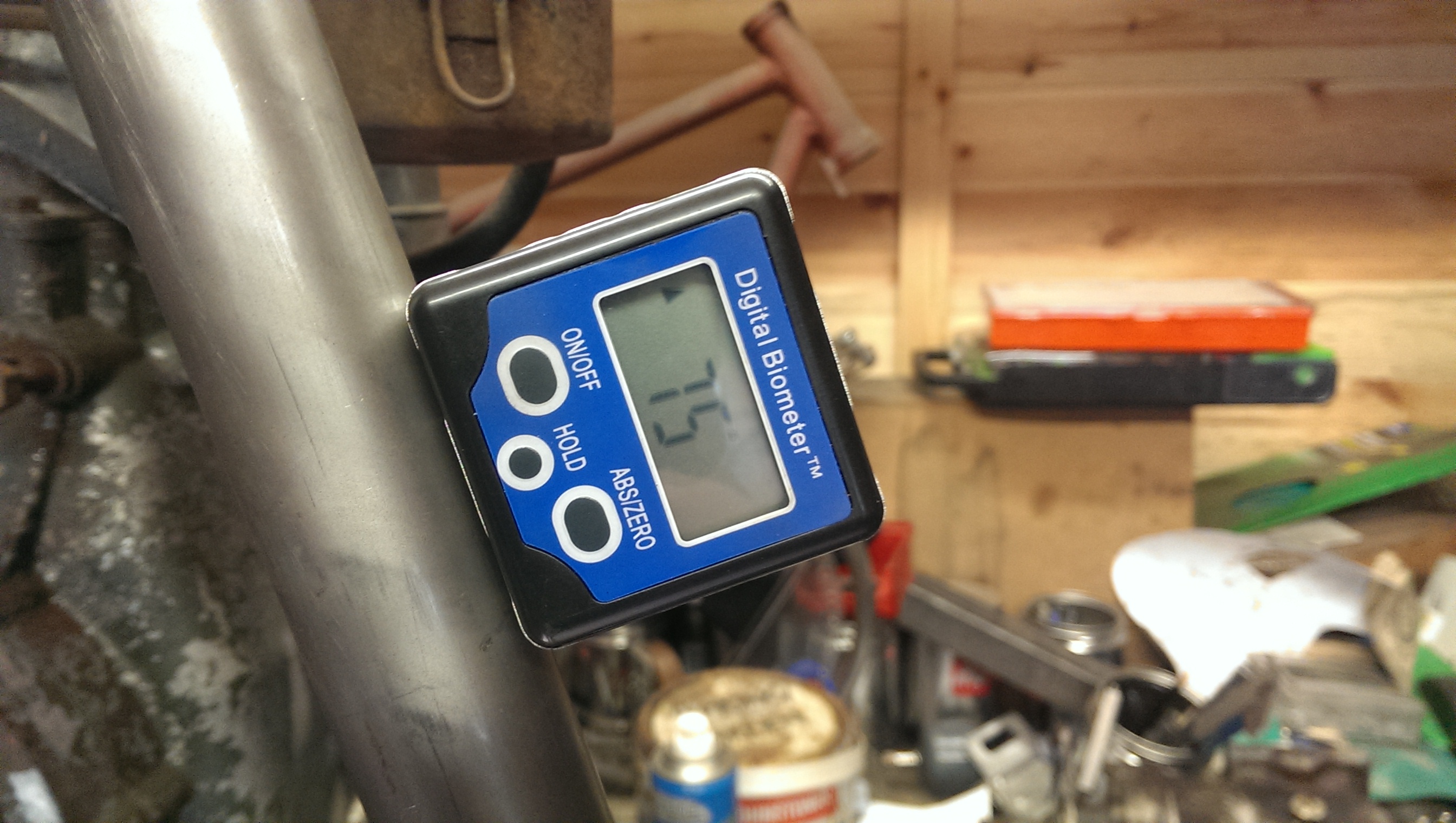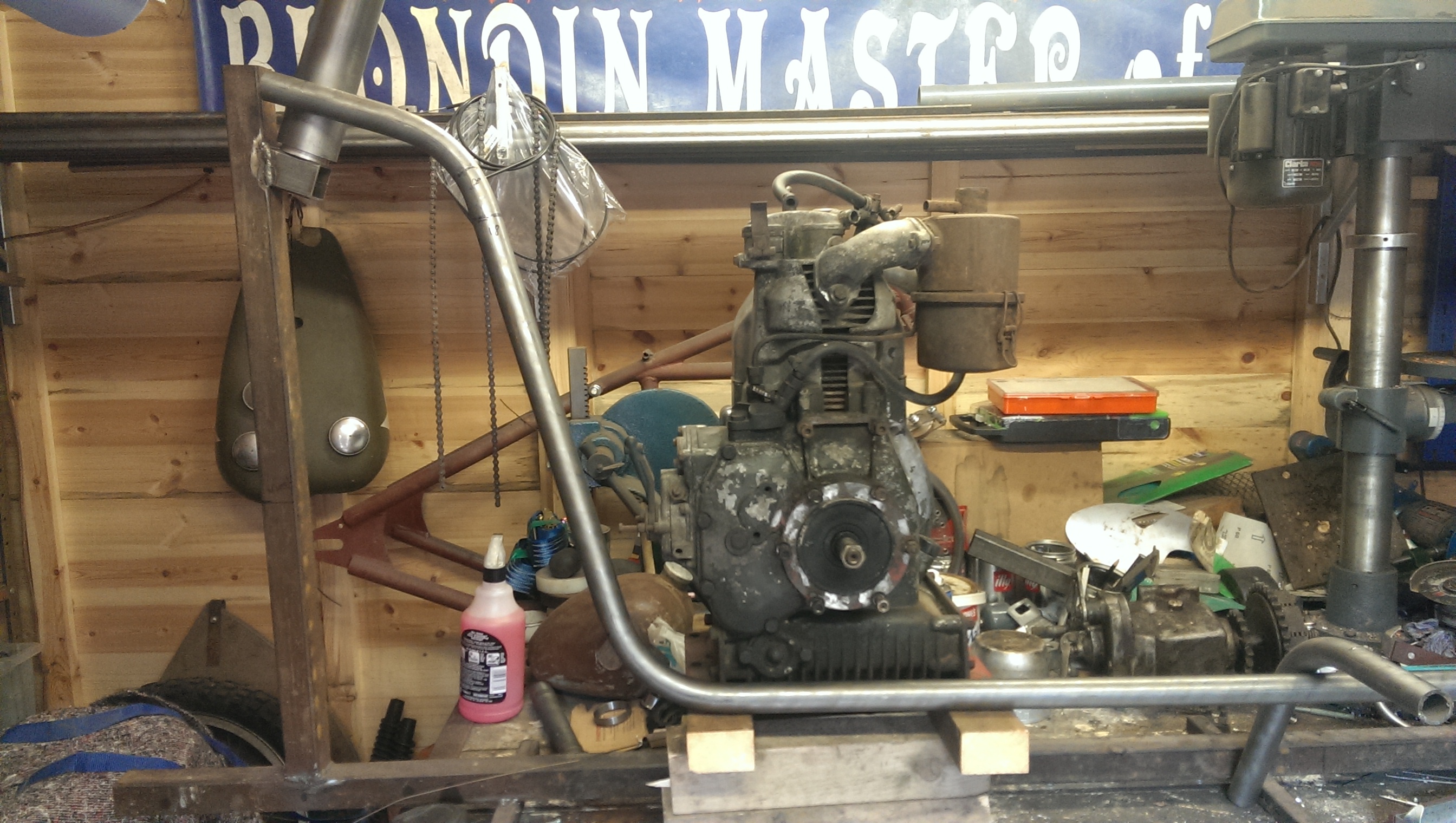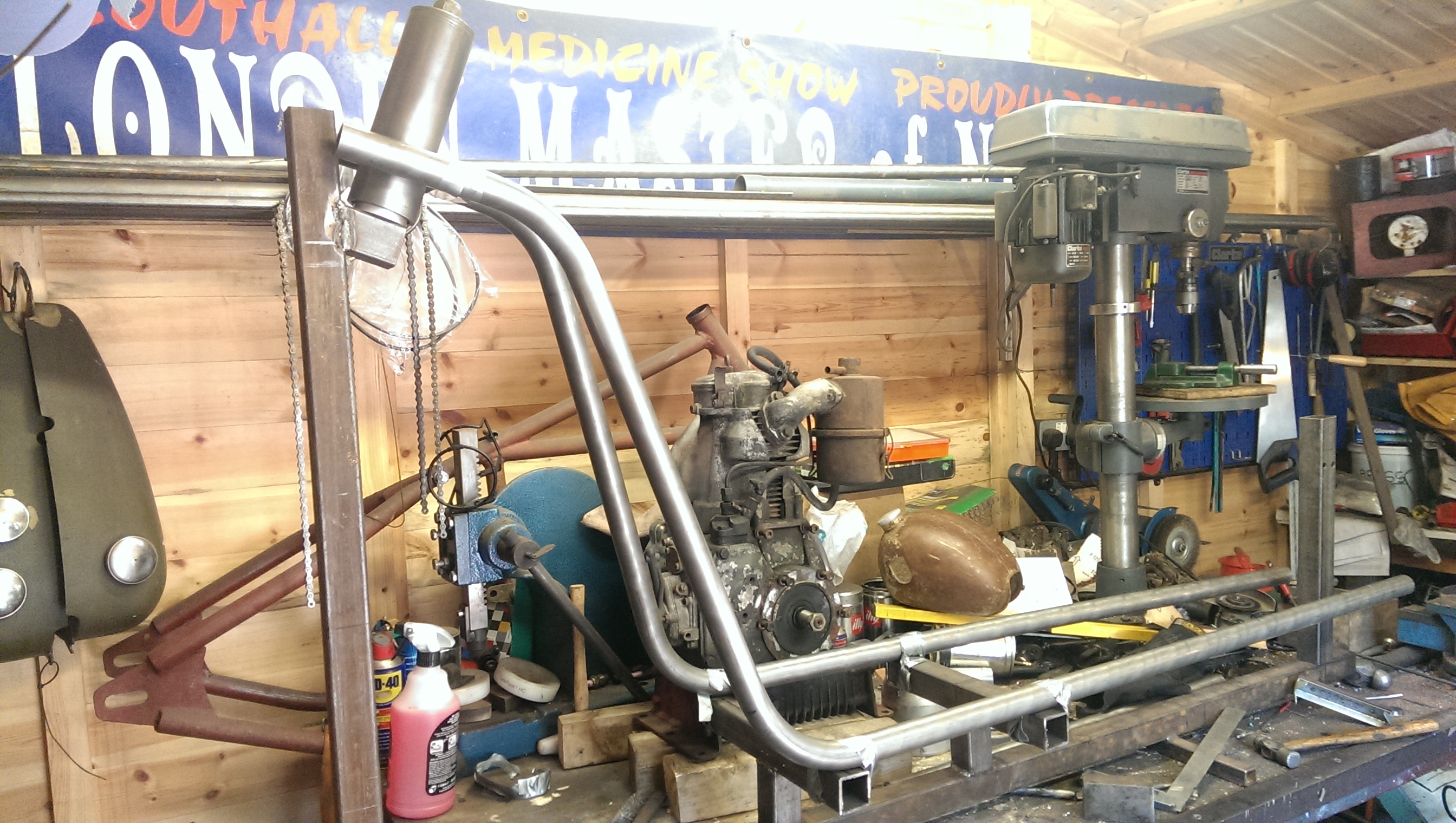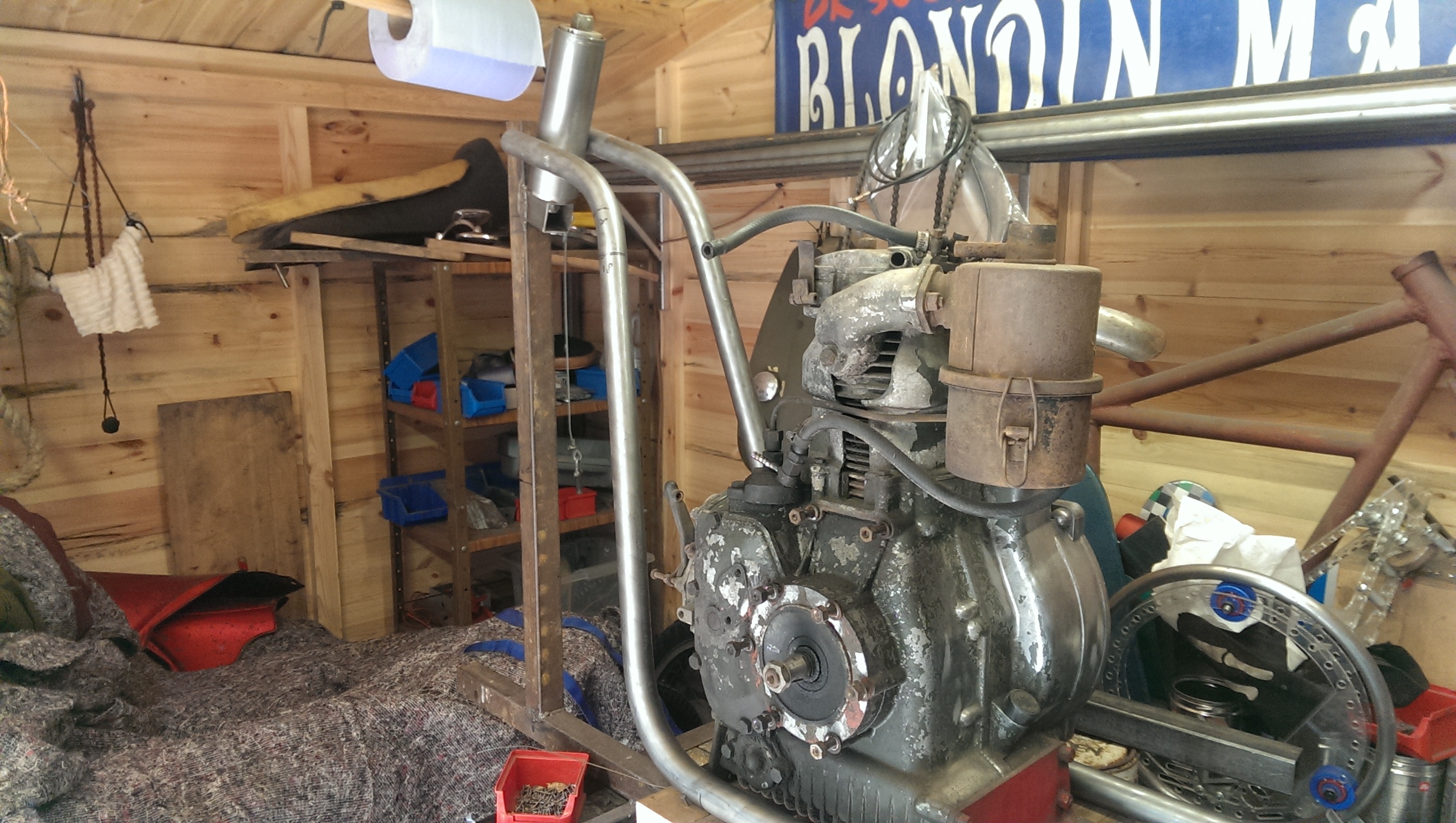 more frame done!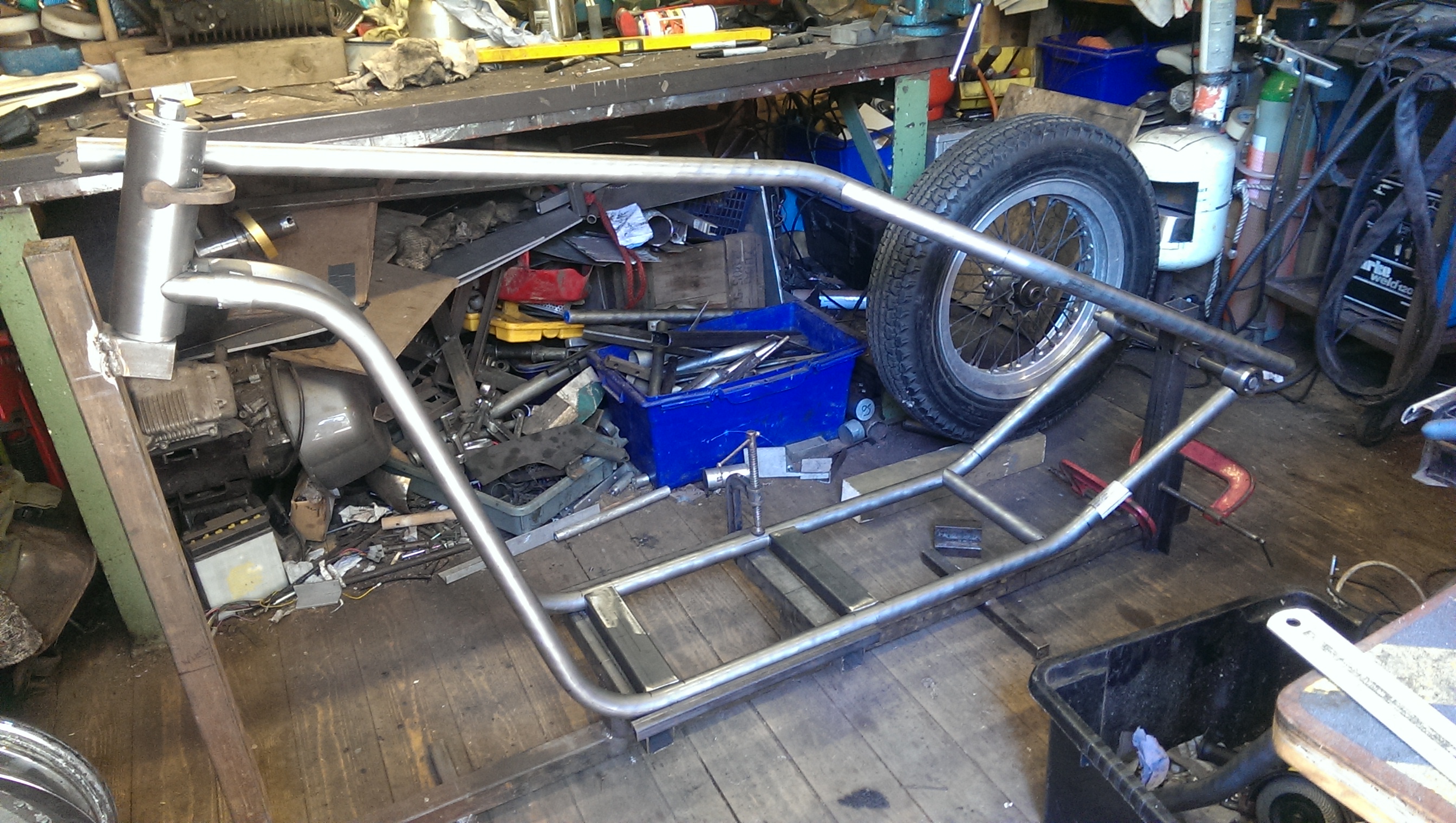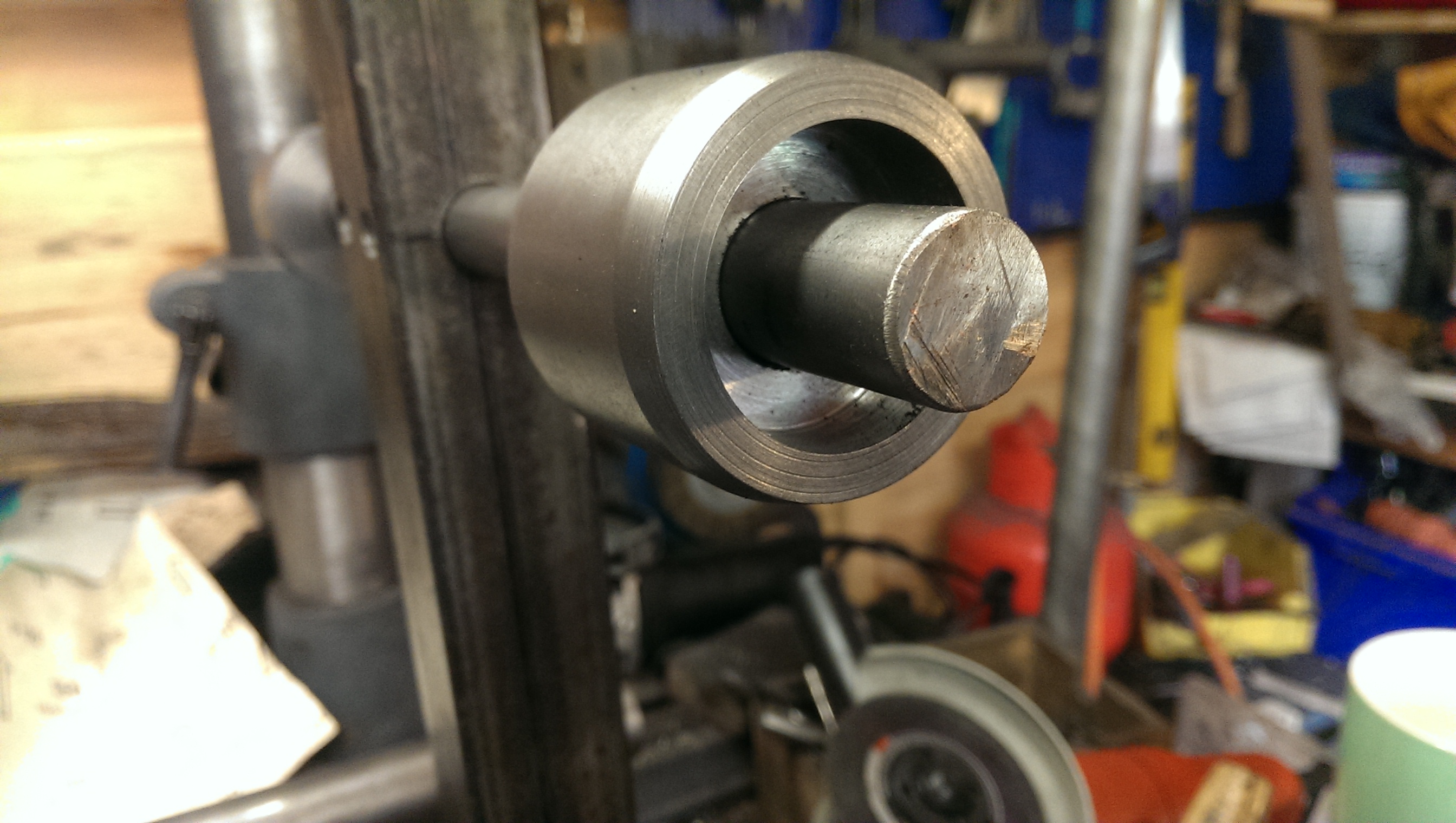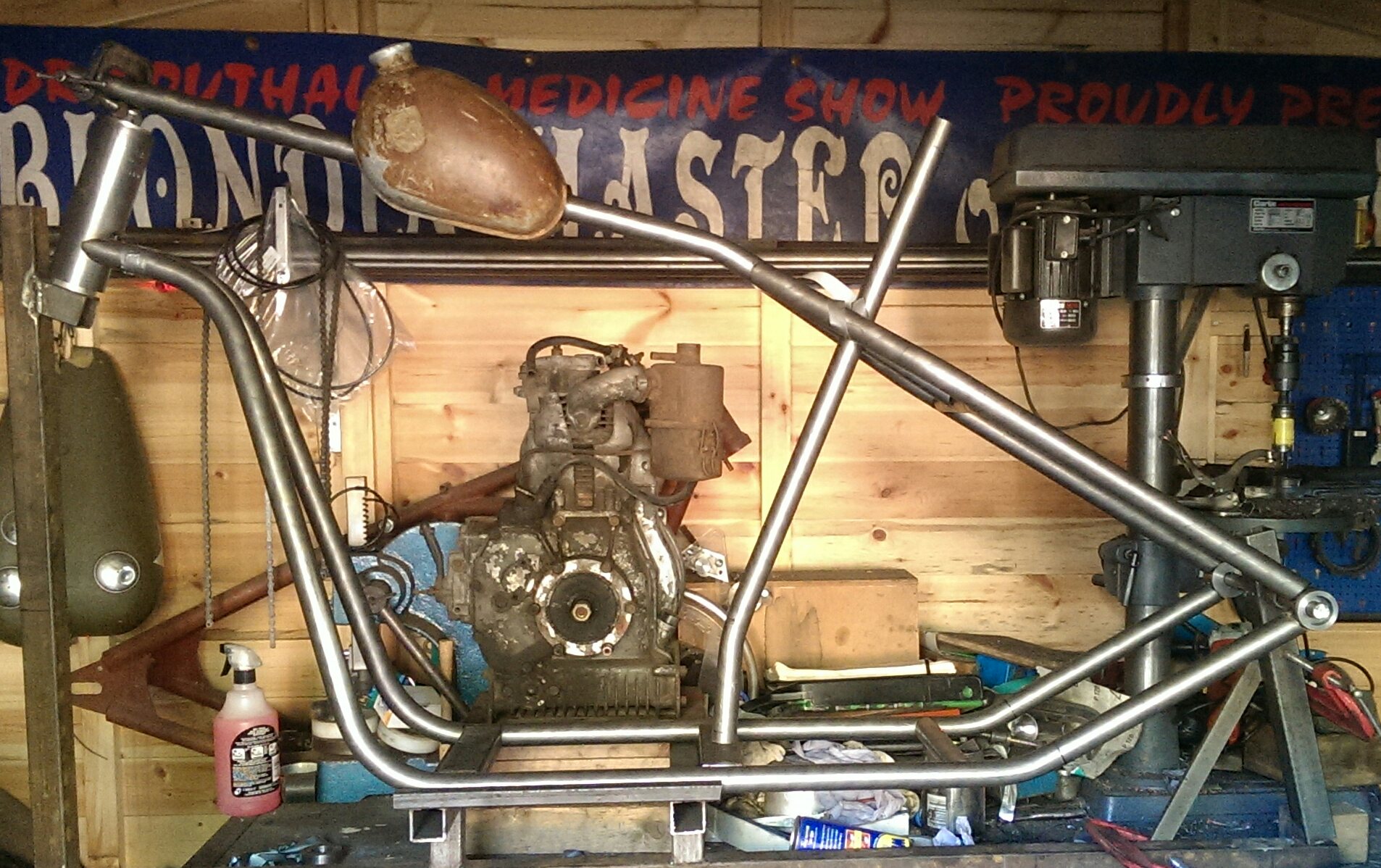 off the jig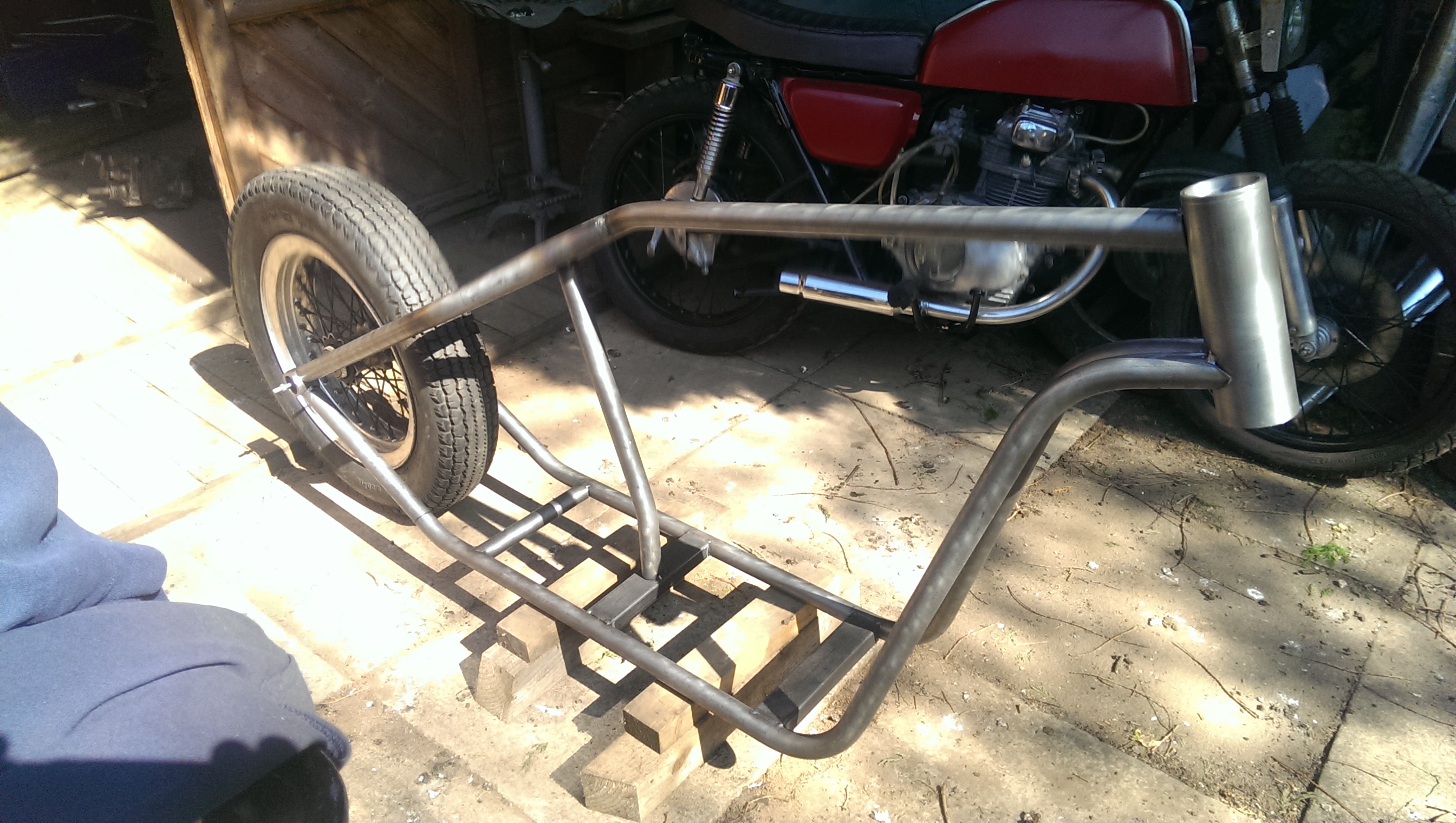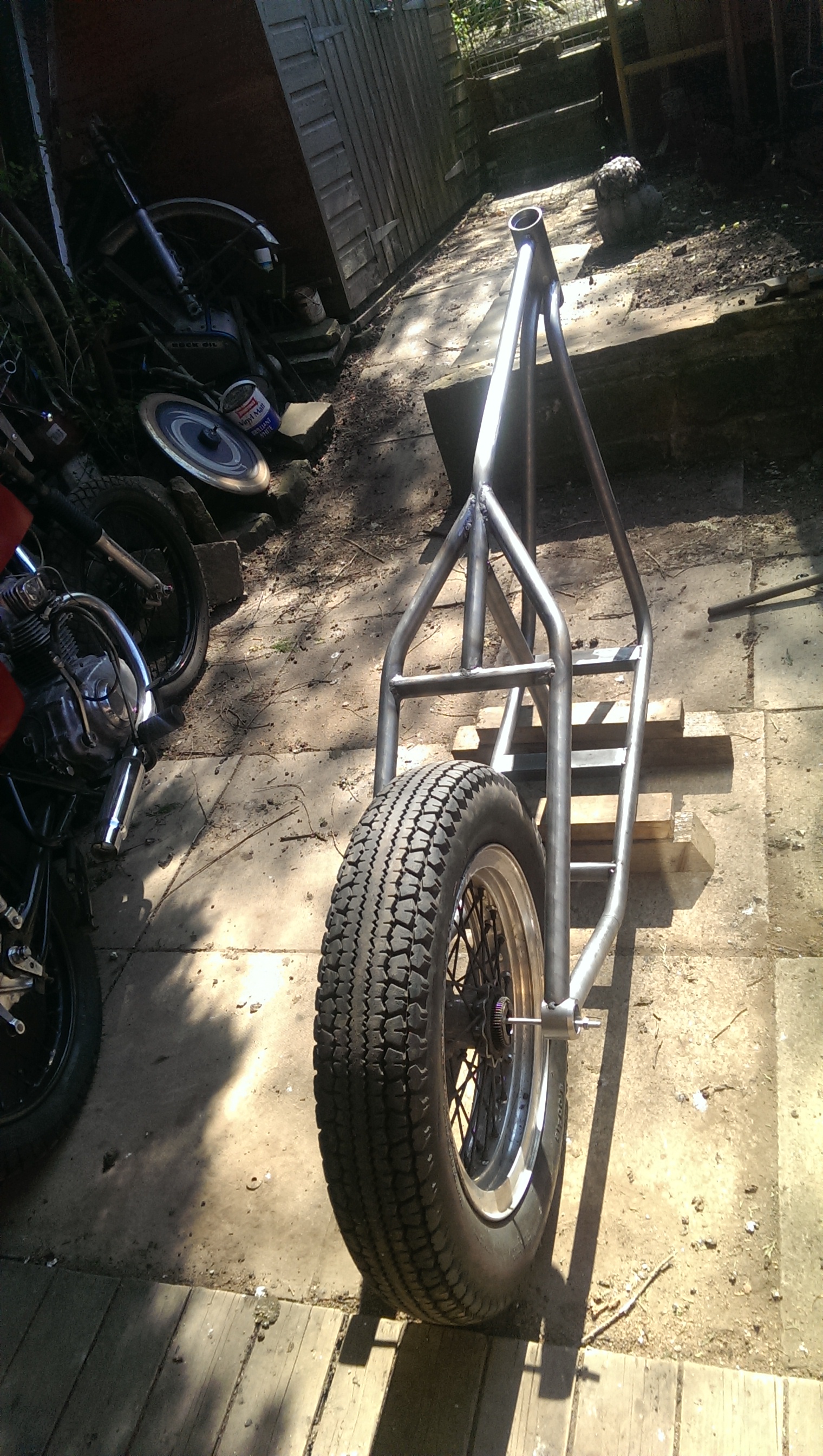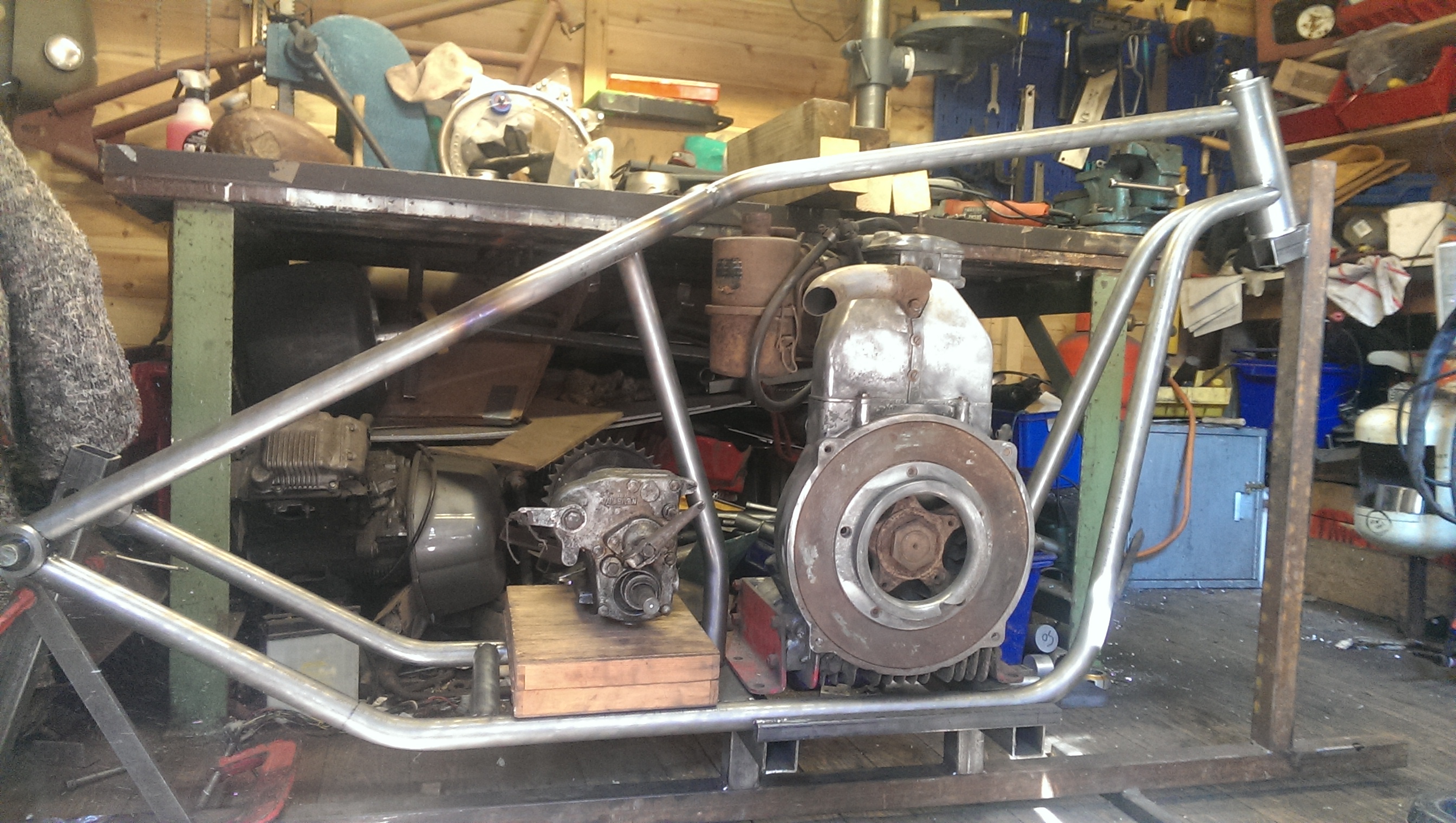 the girder front end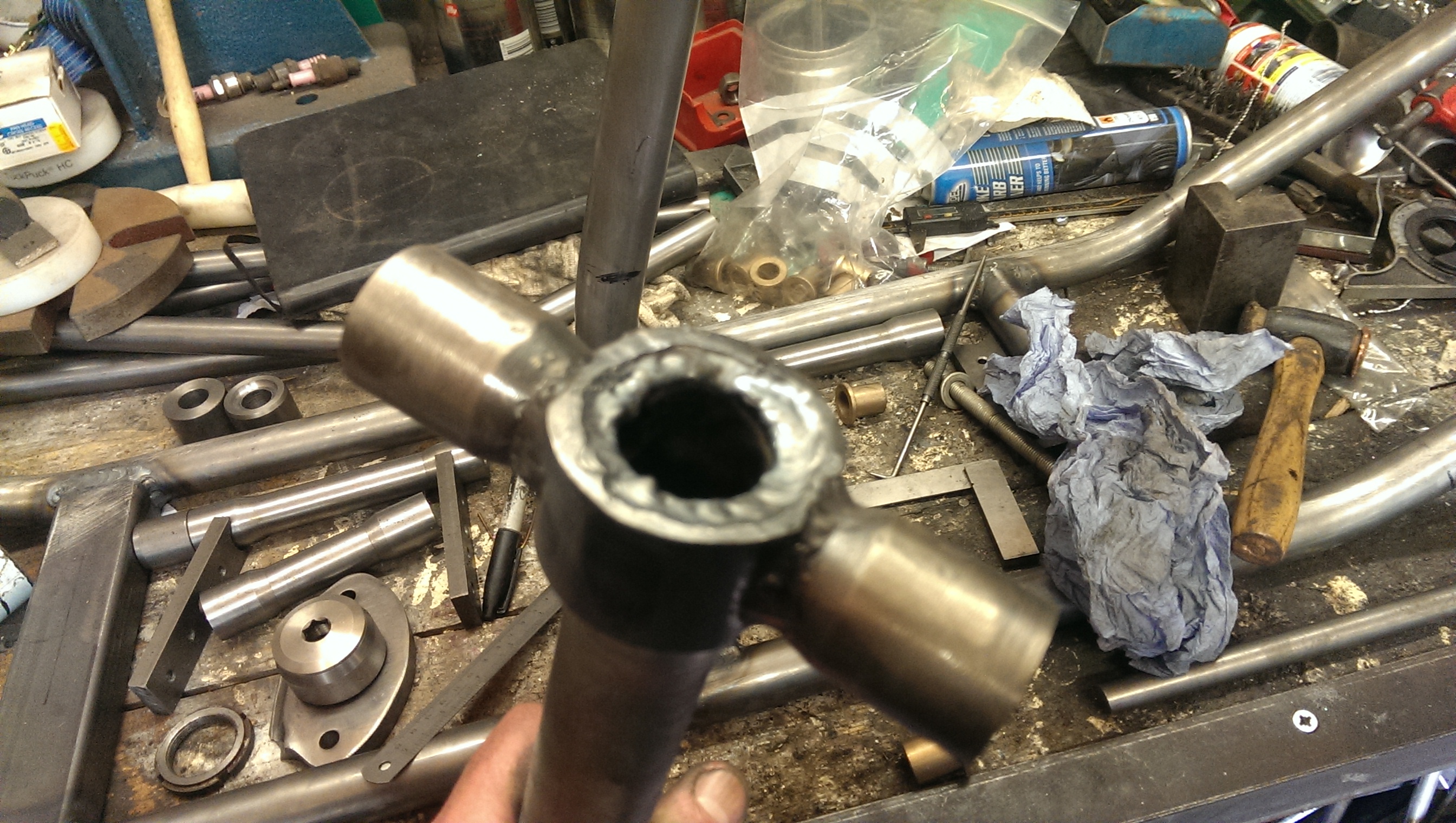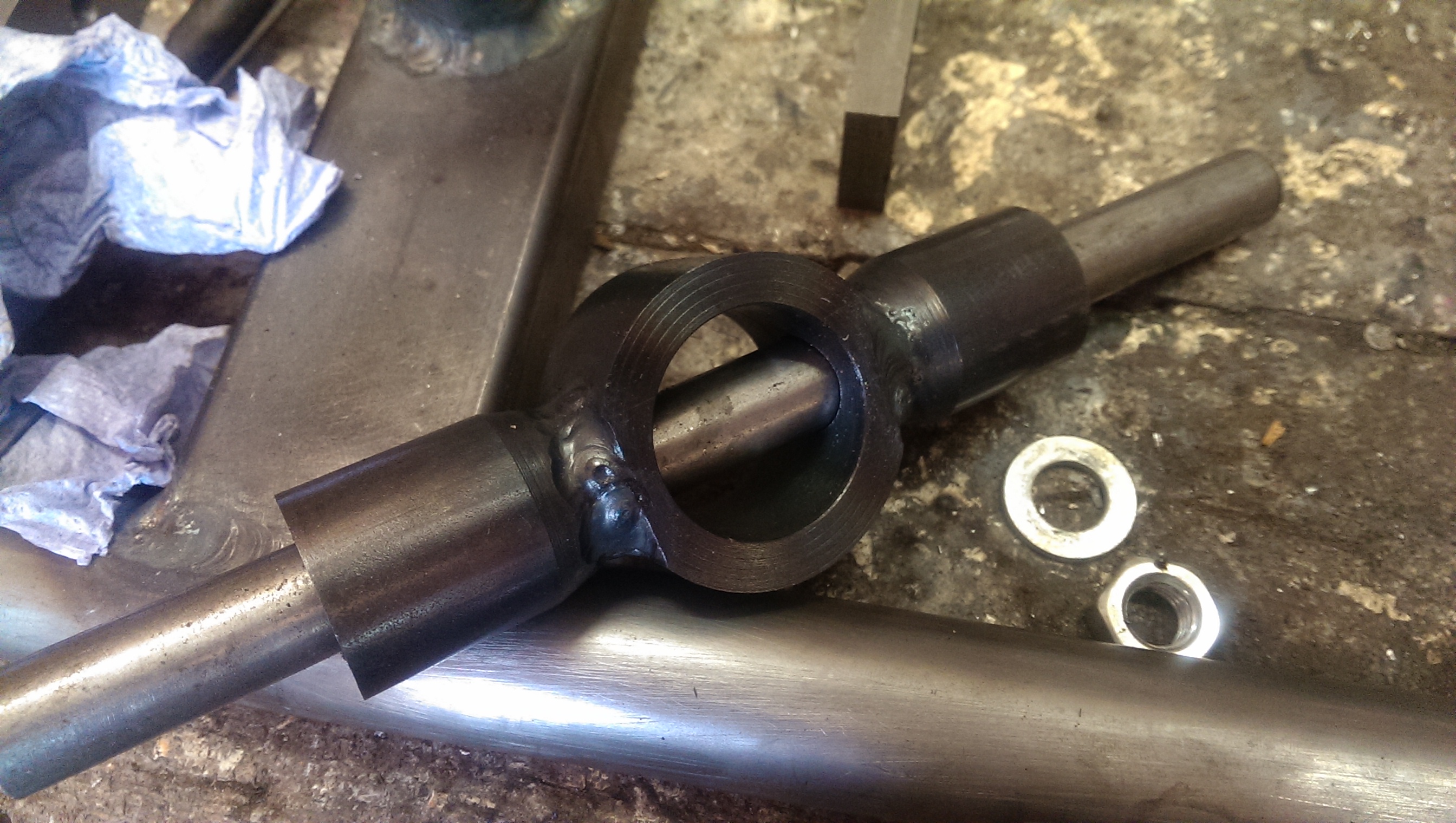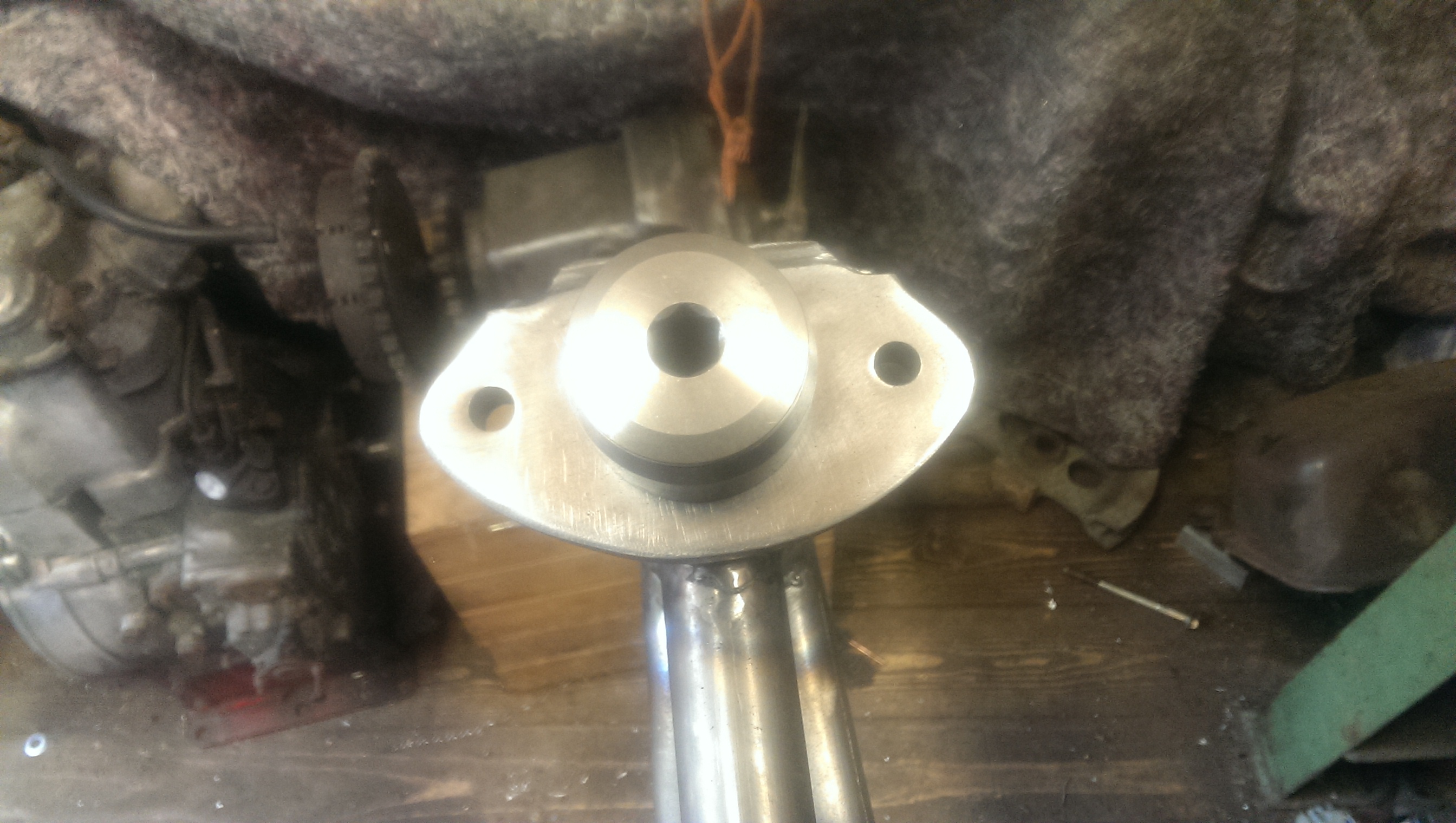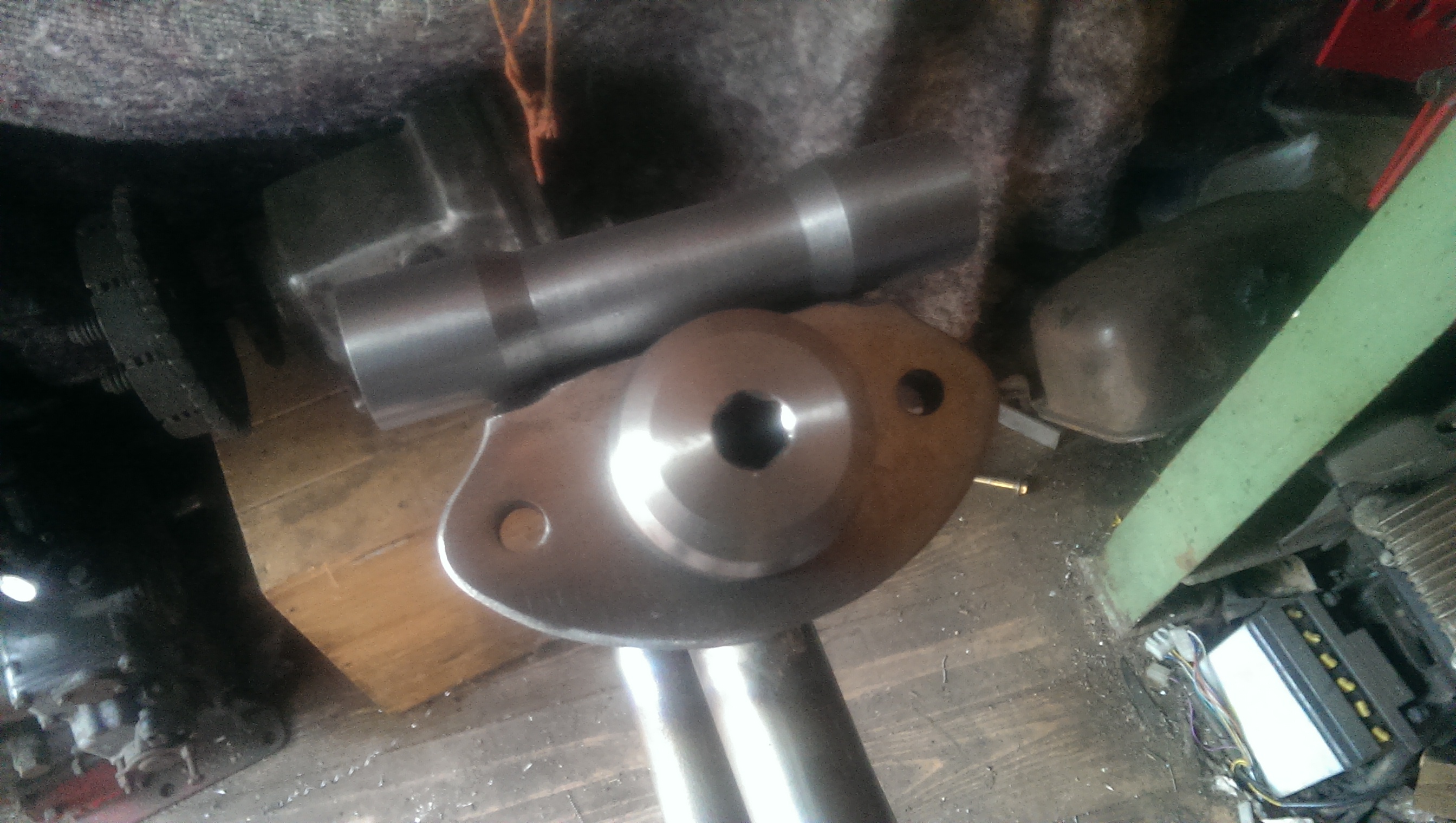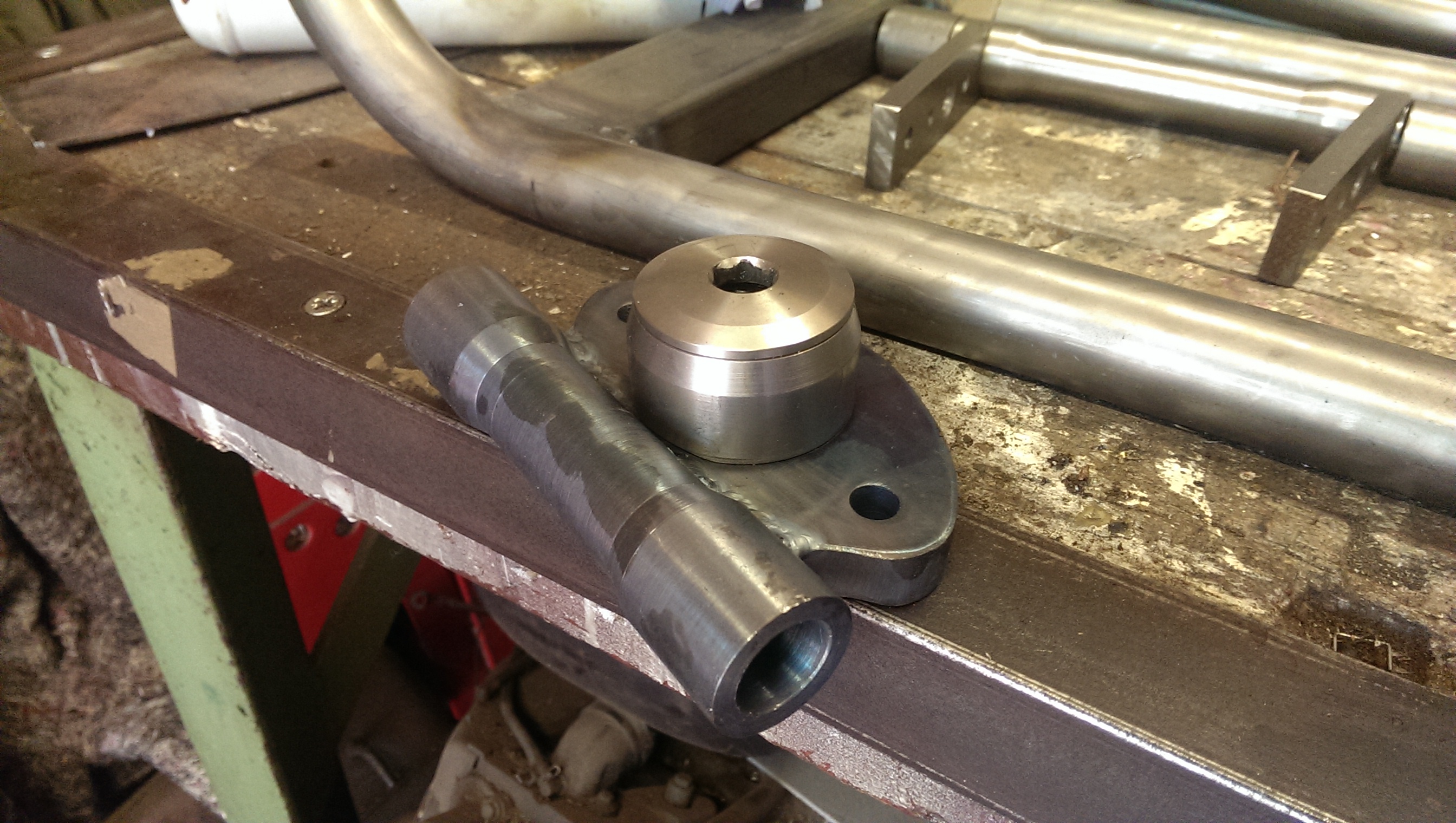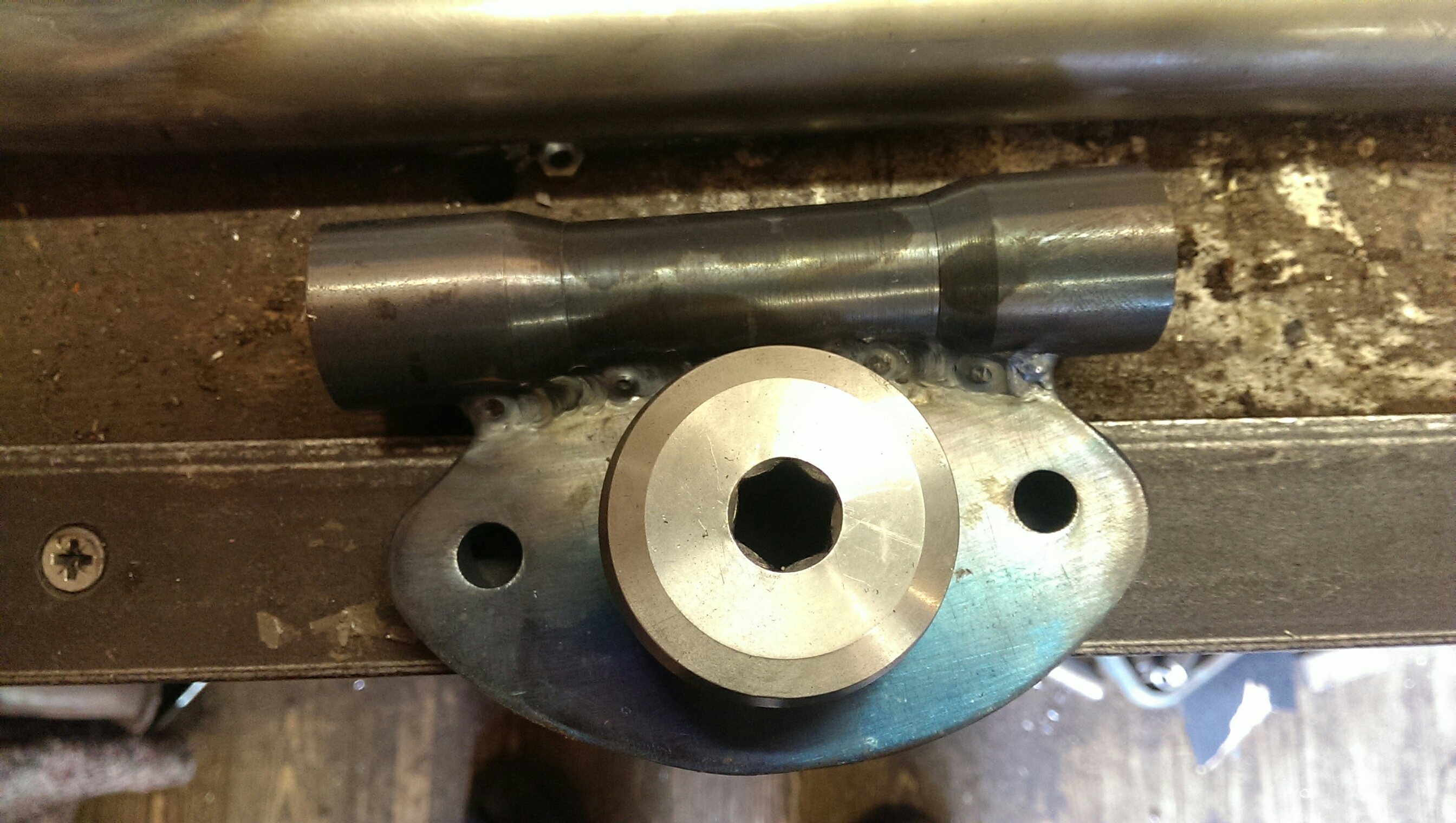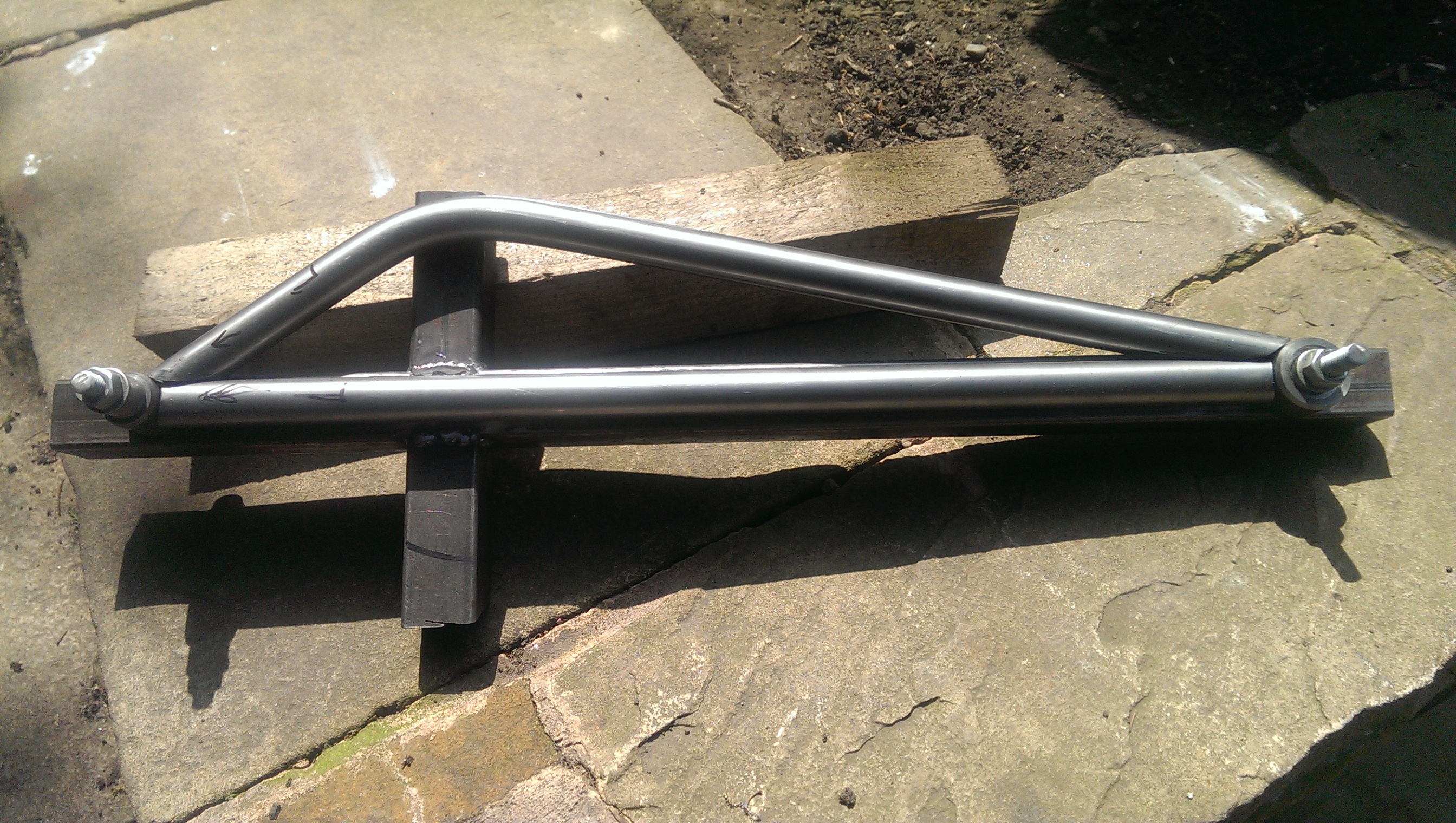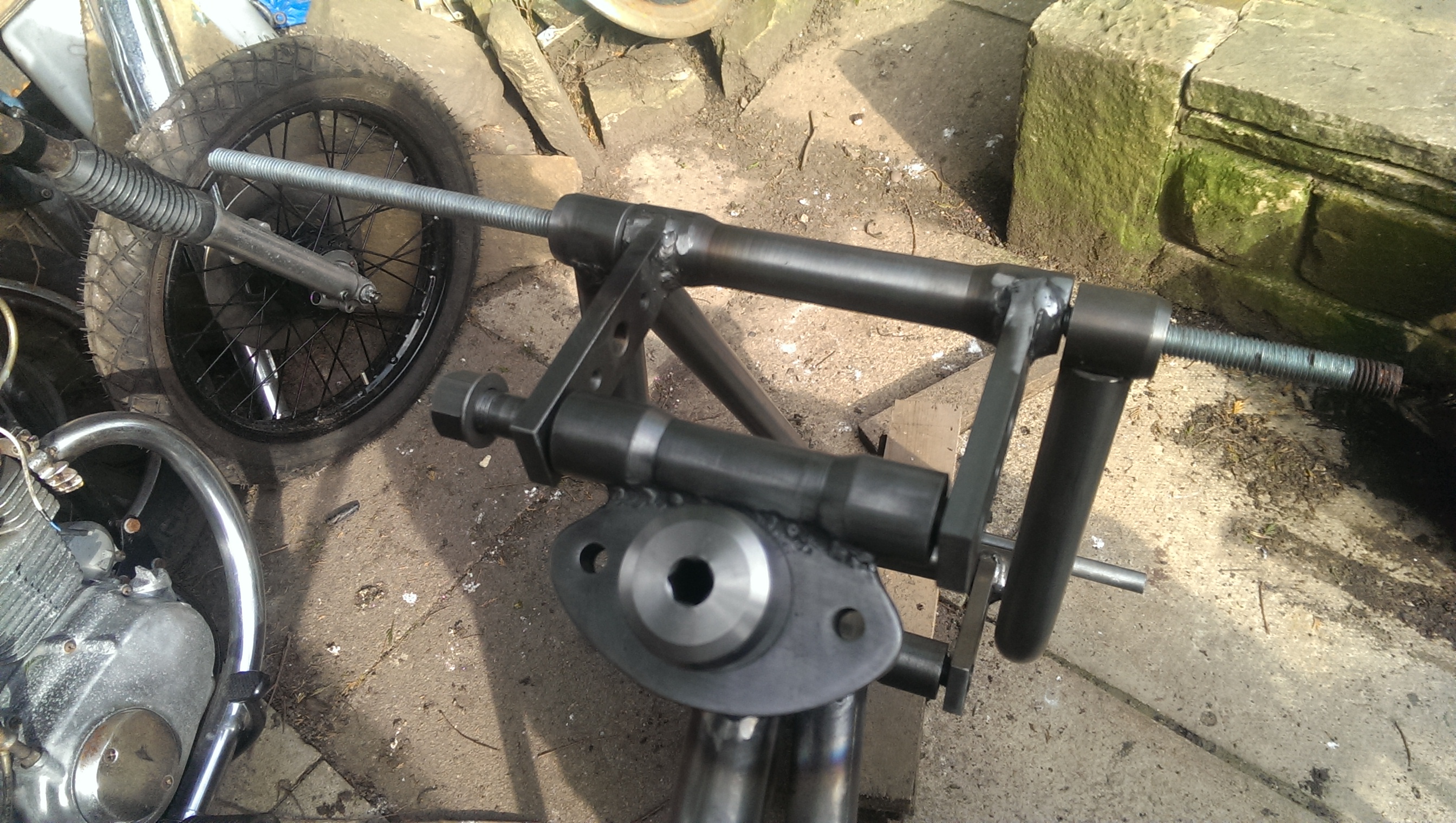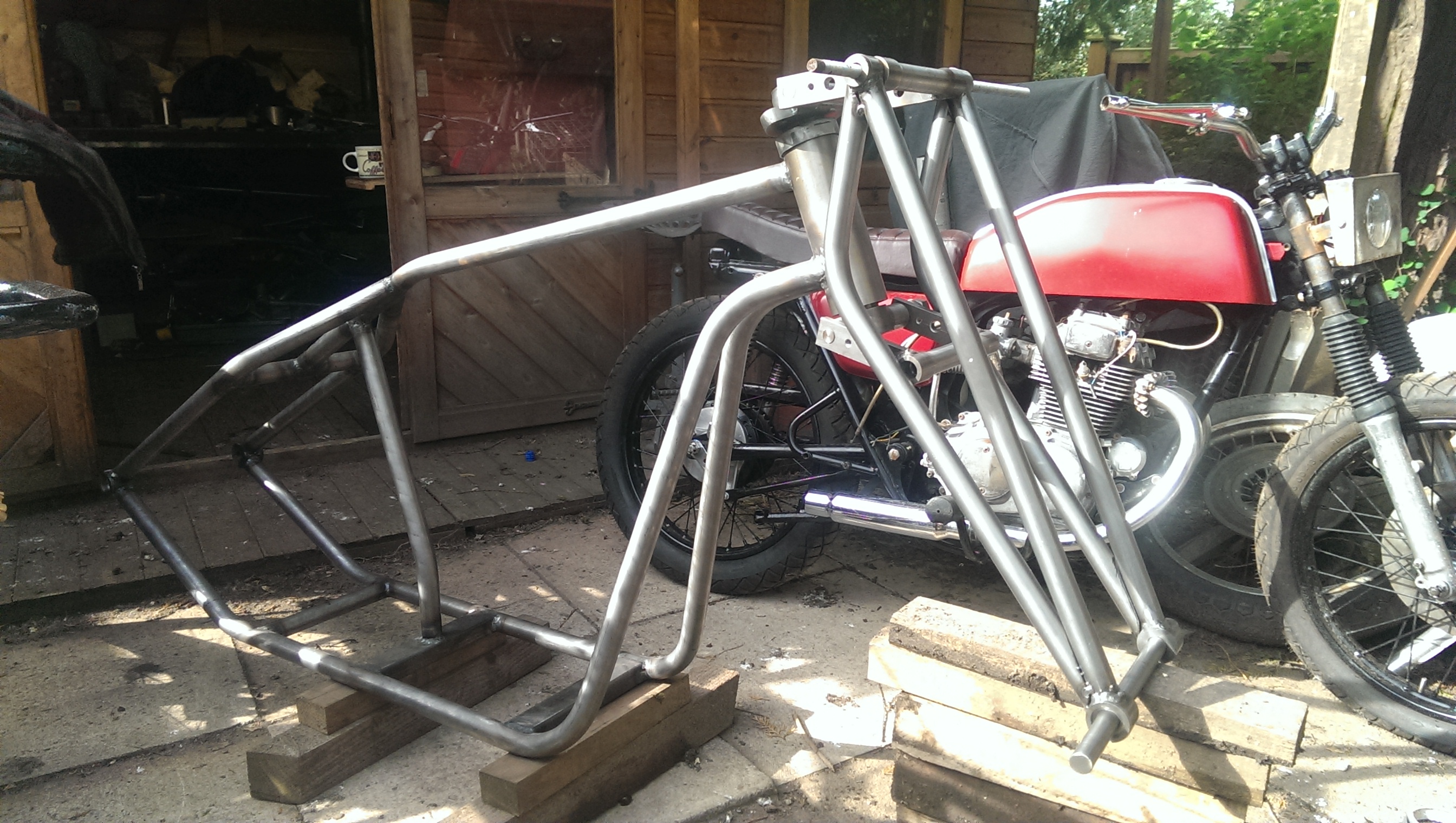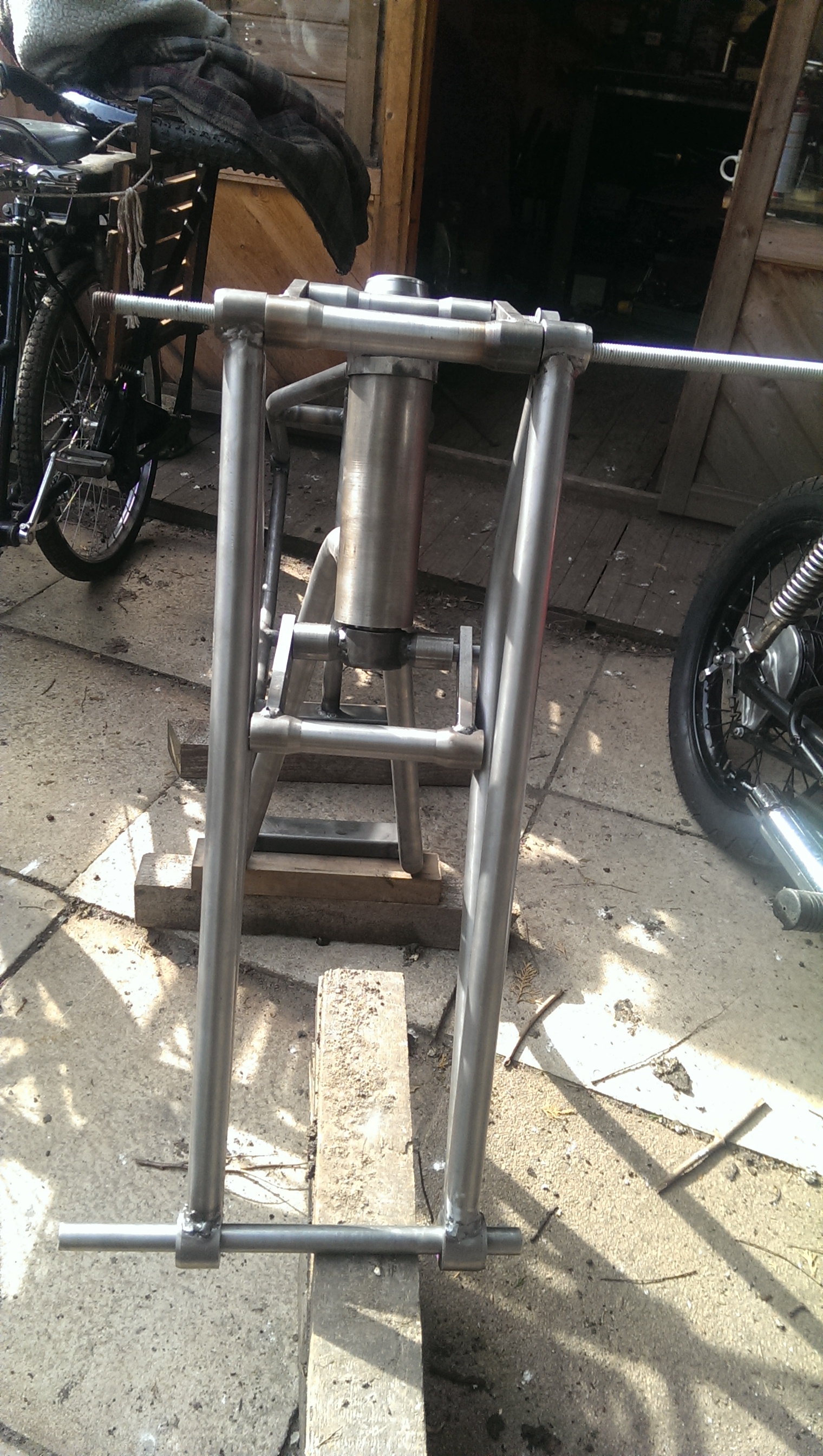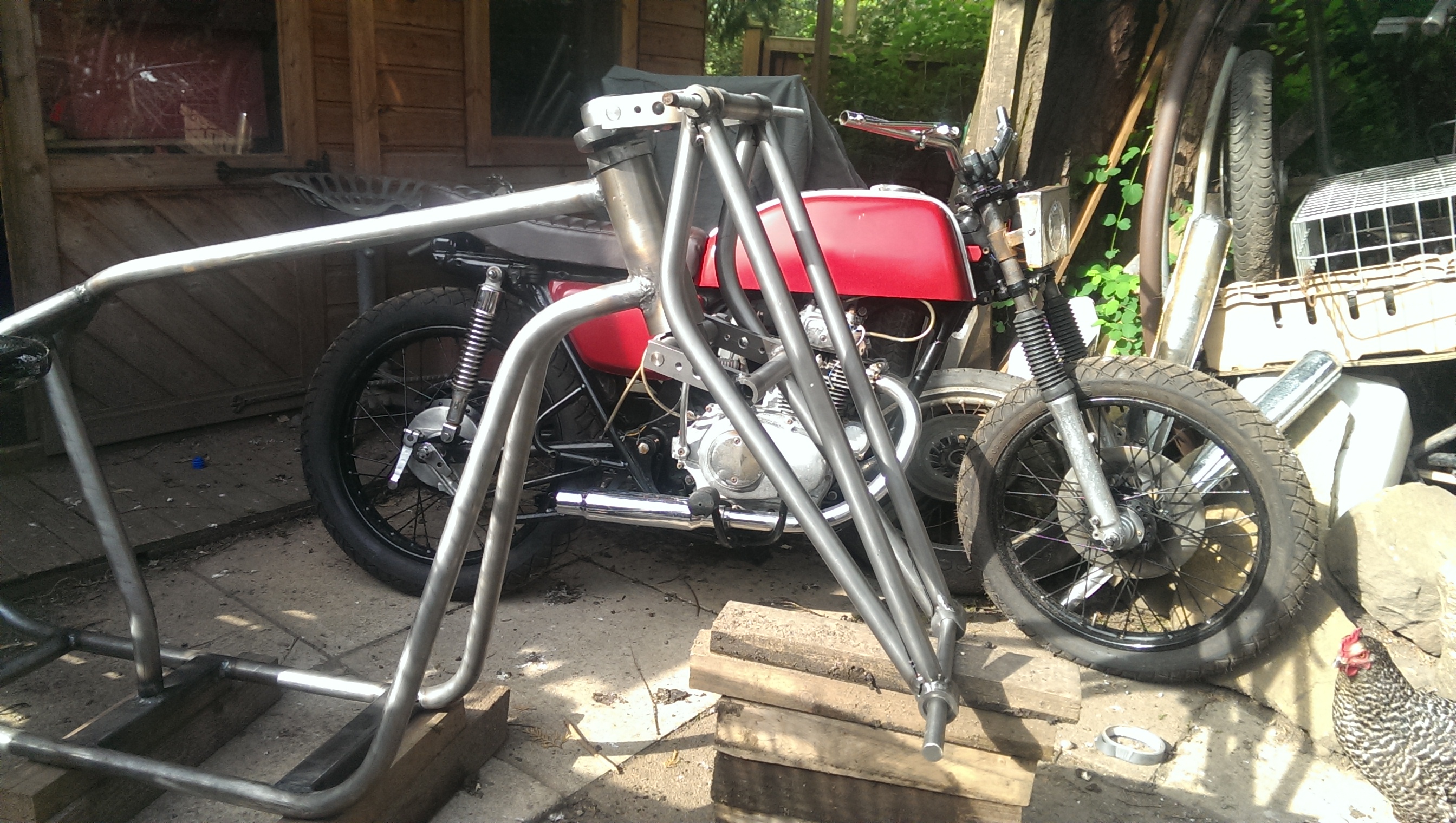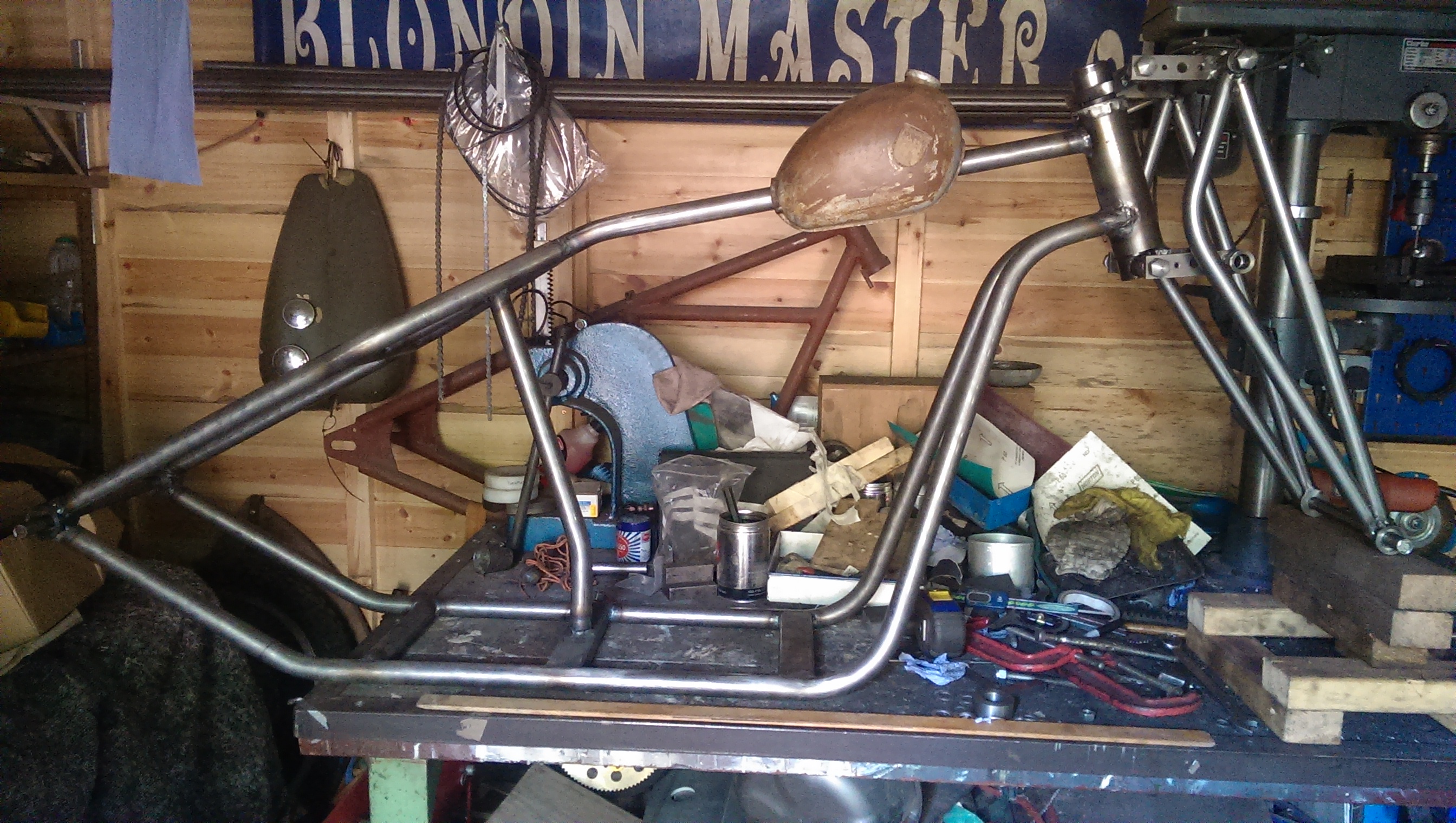 front shocks going on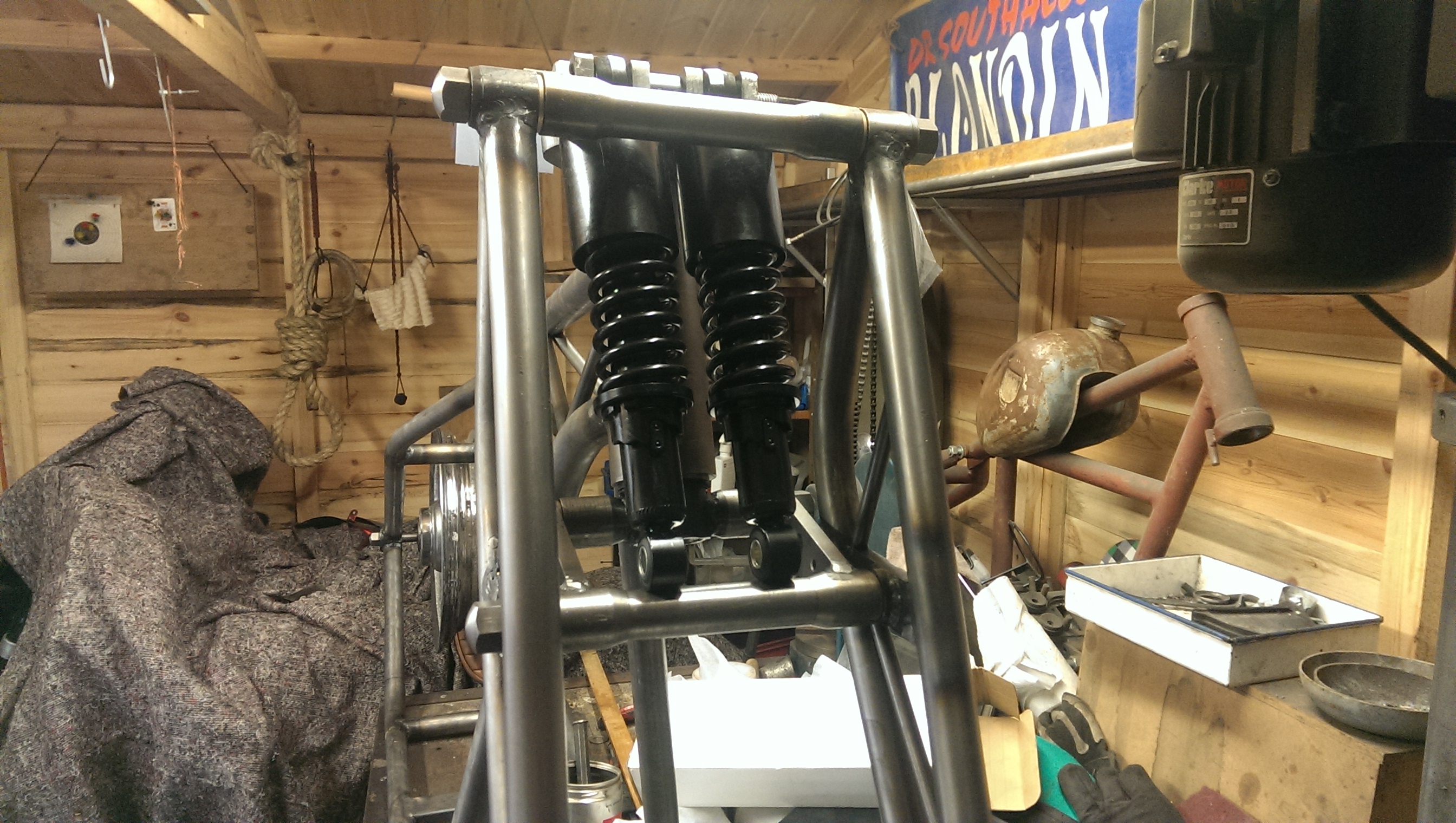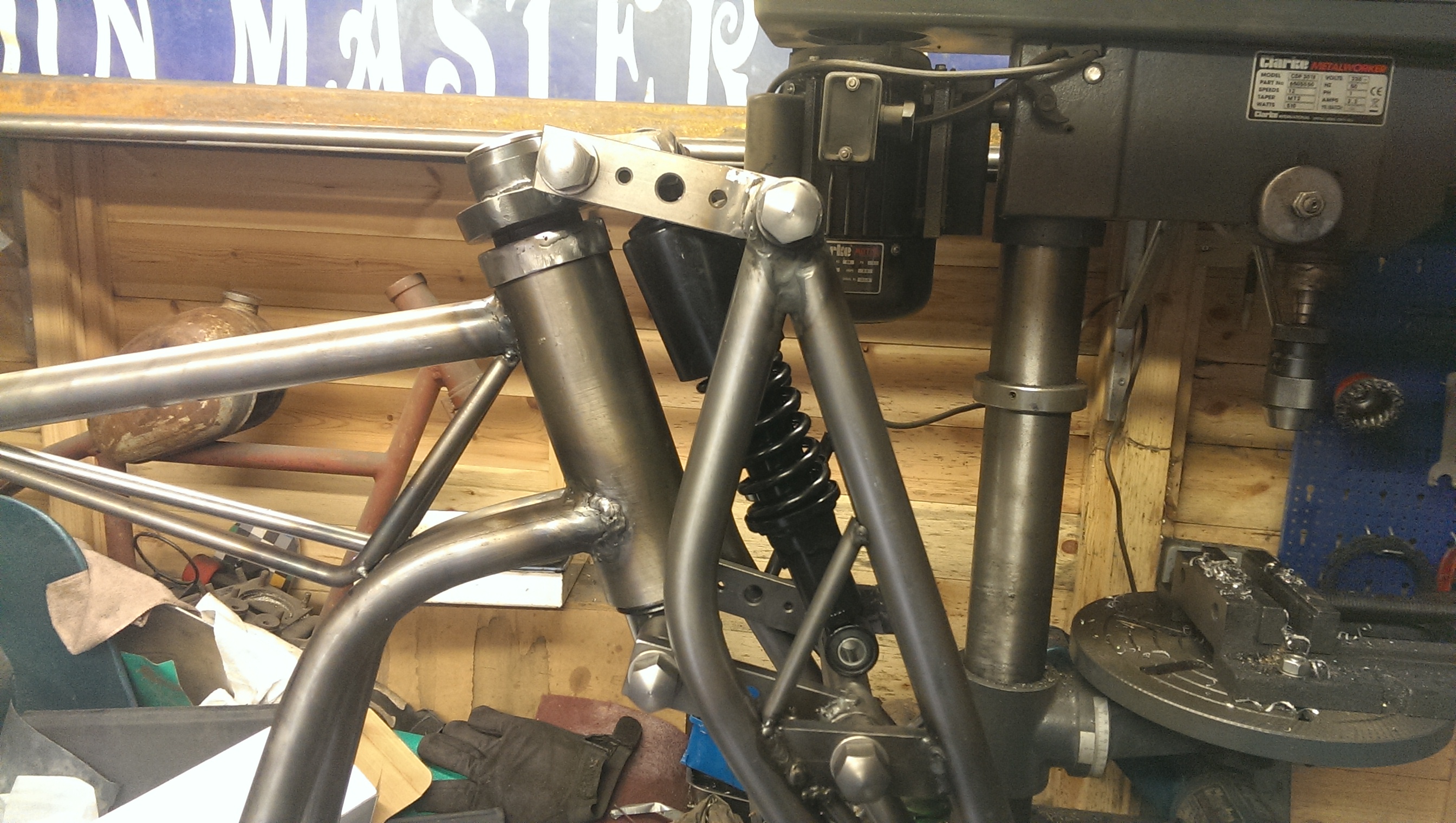 front end finished bar a bit of welding, seat tacked in place and handlebars designed and made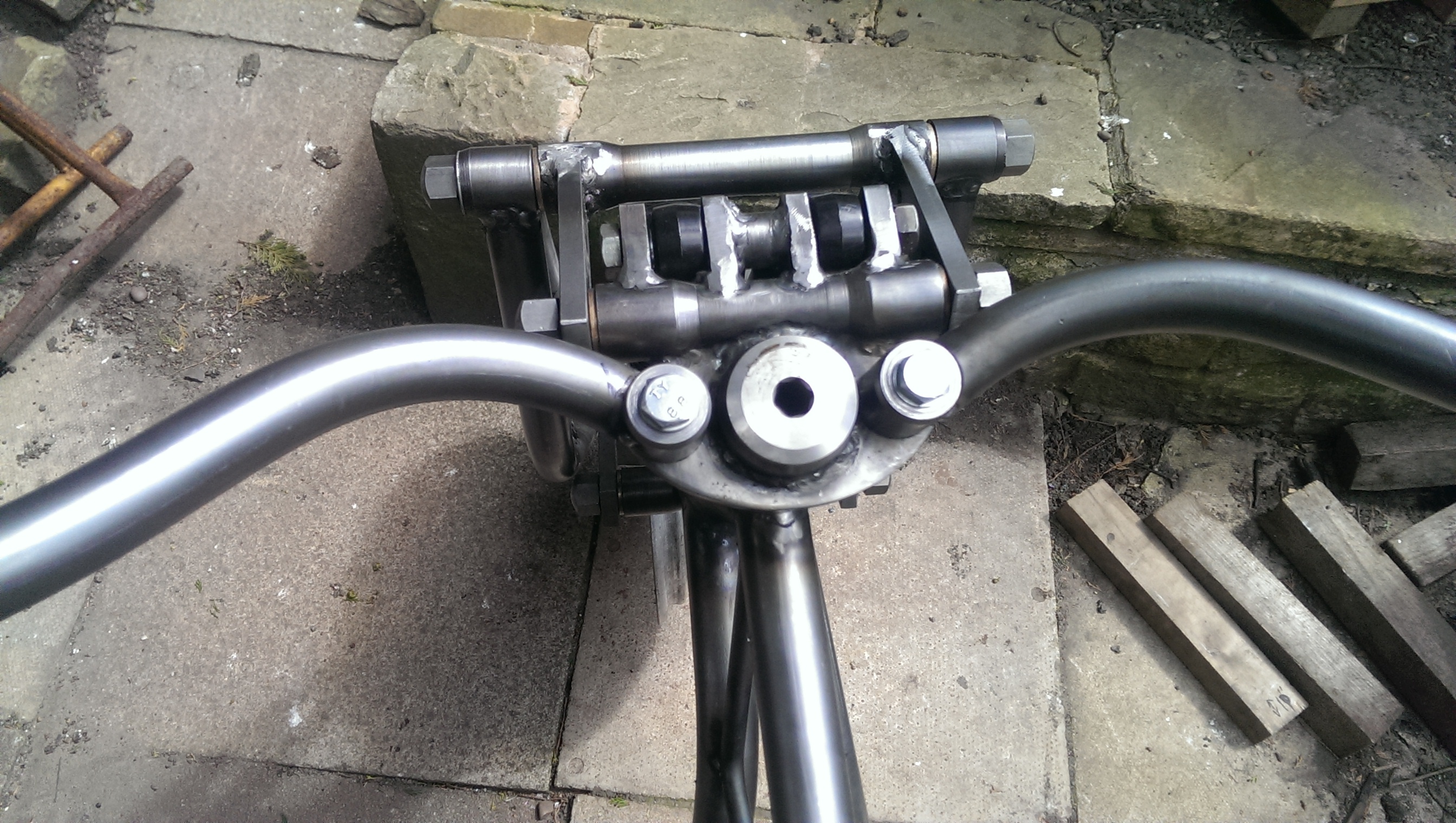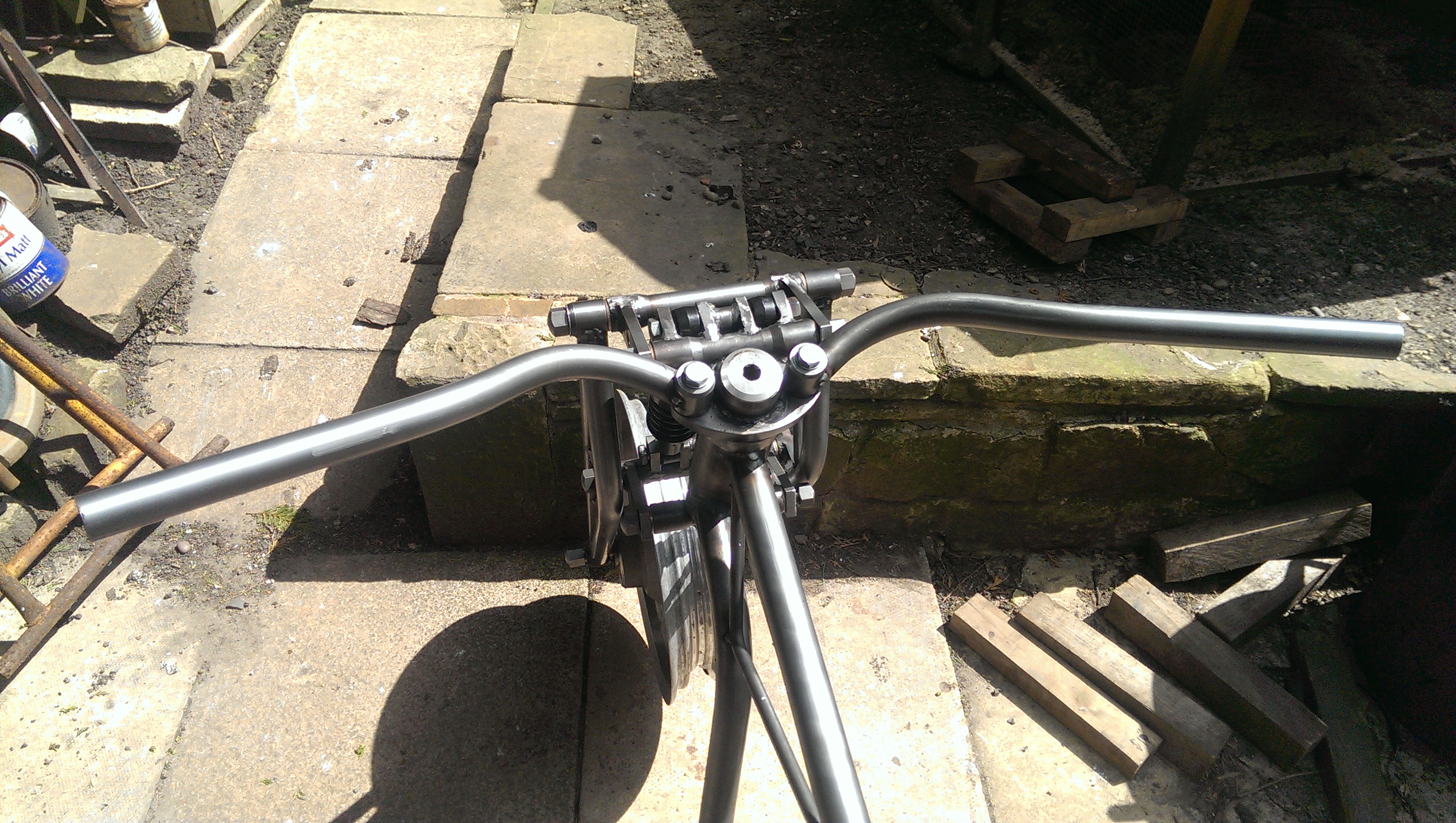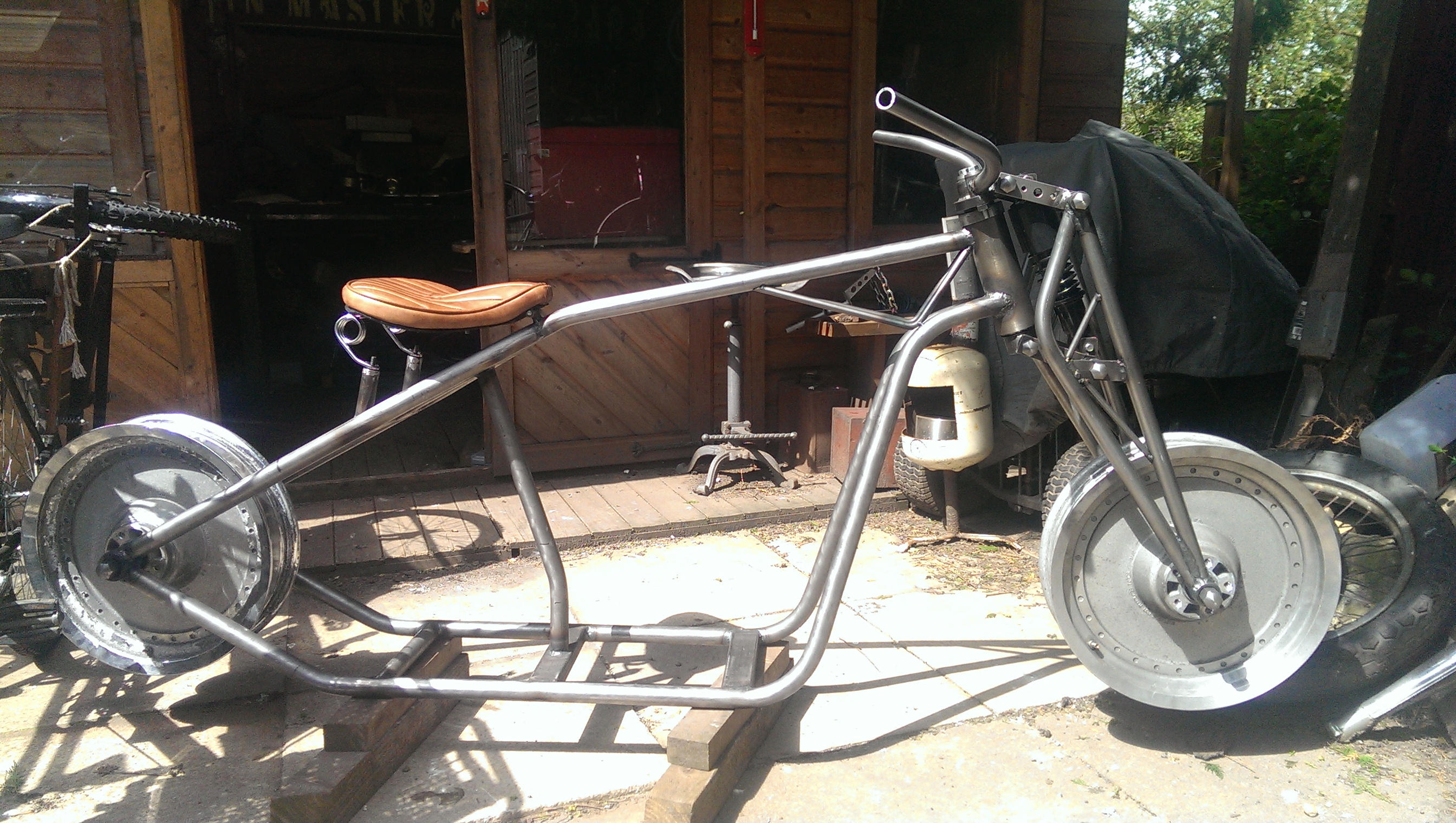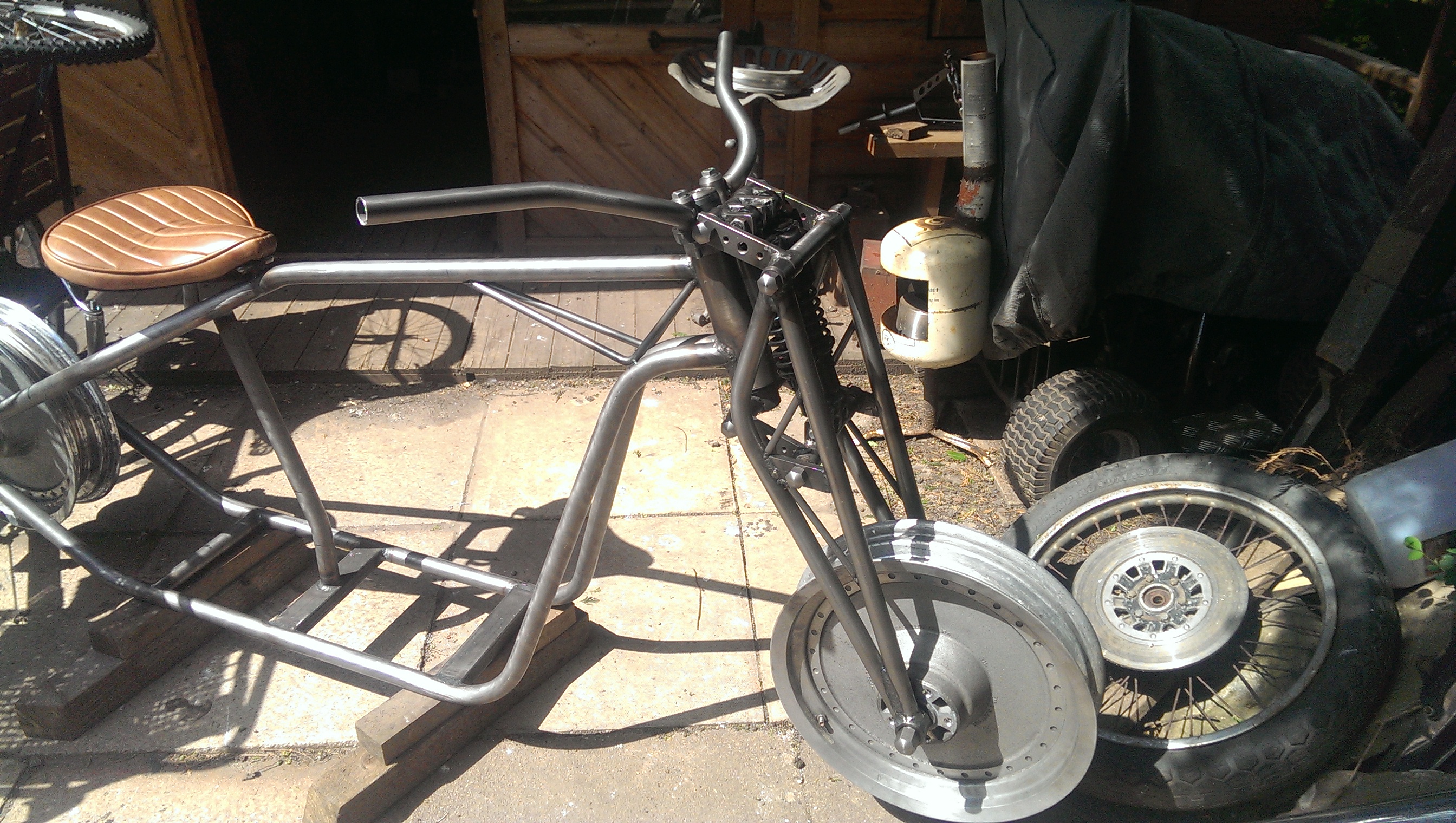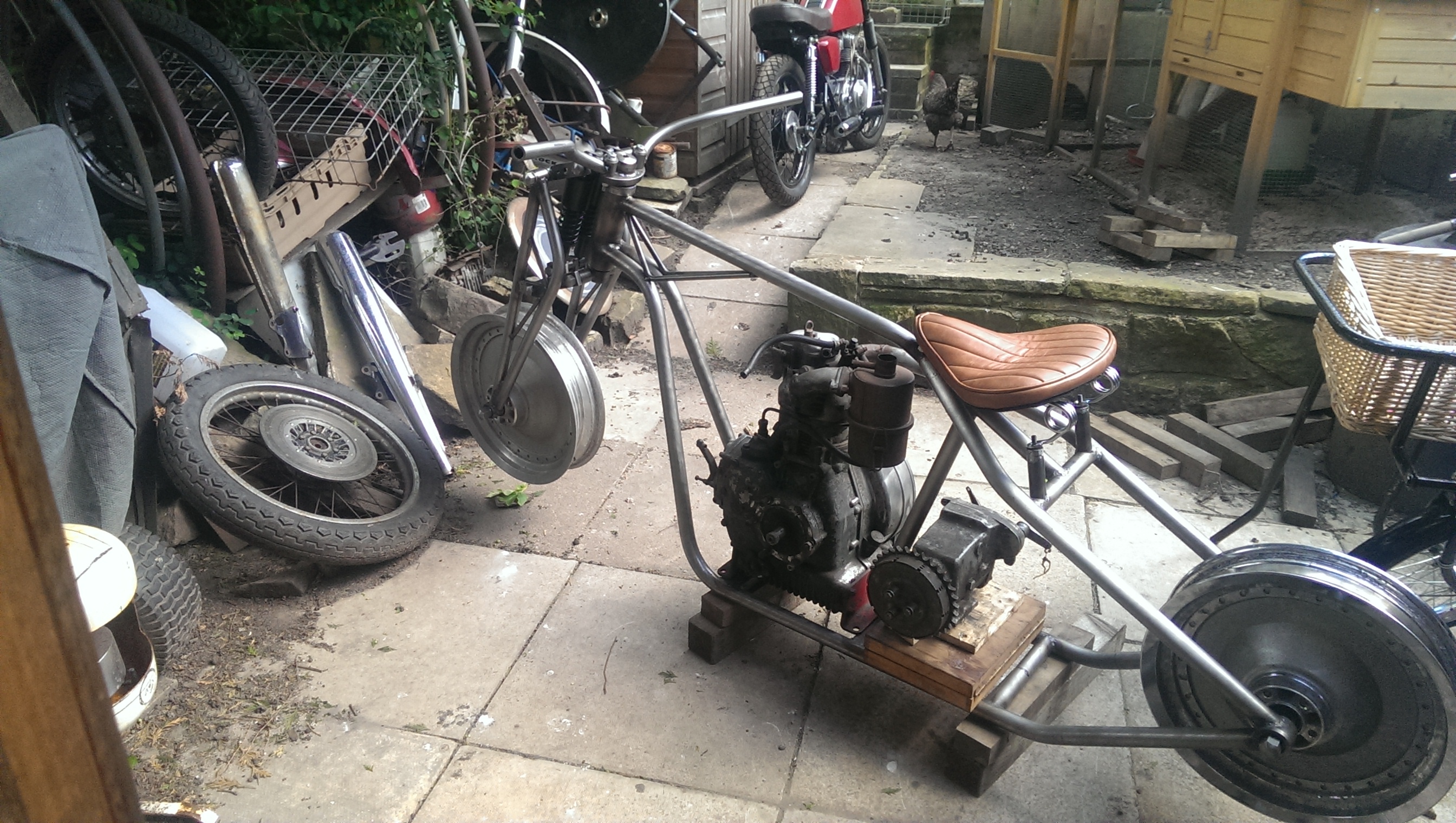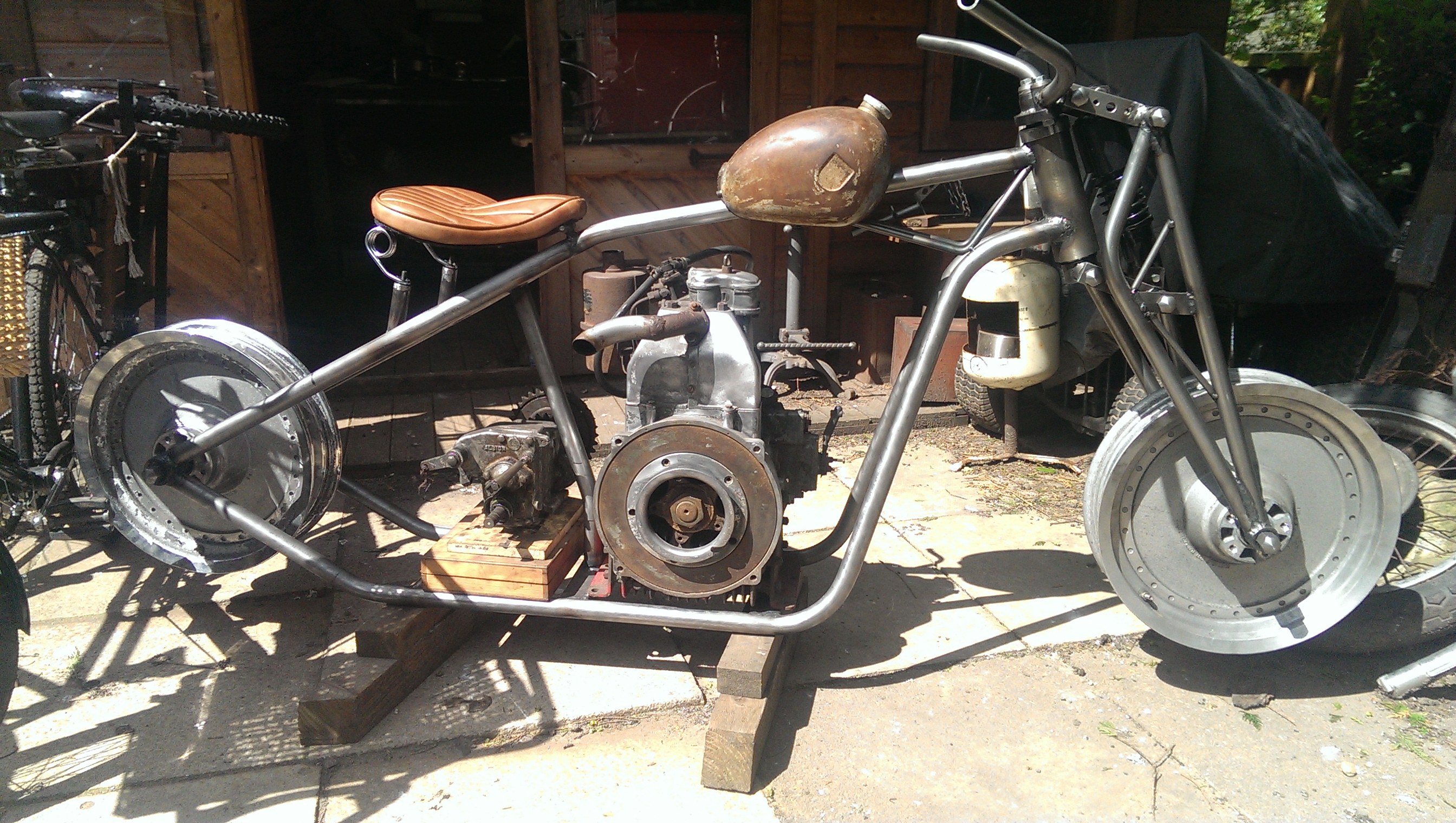 initial design ideas for the sidecar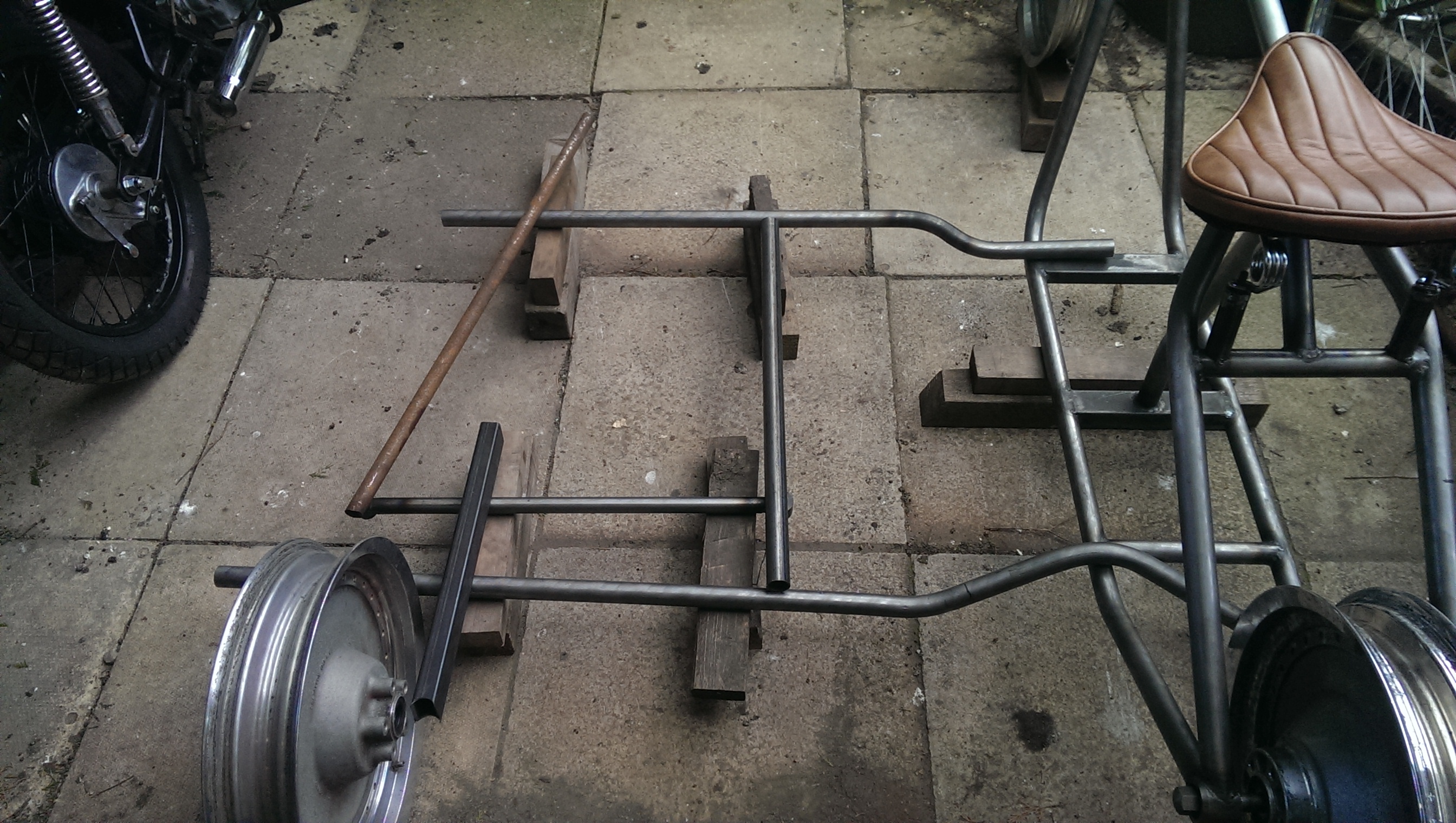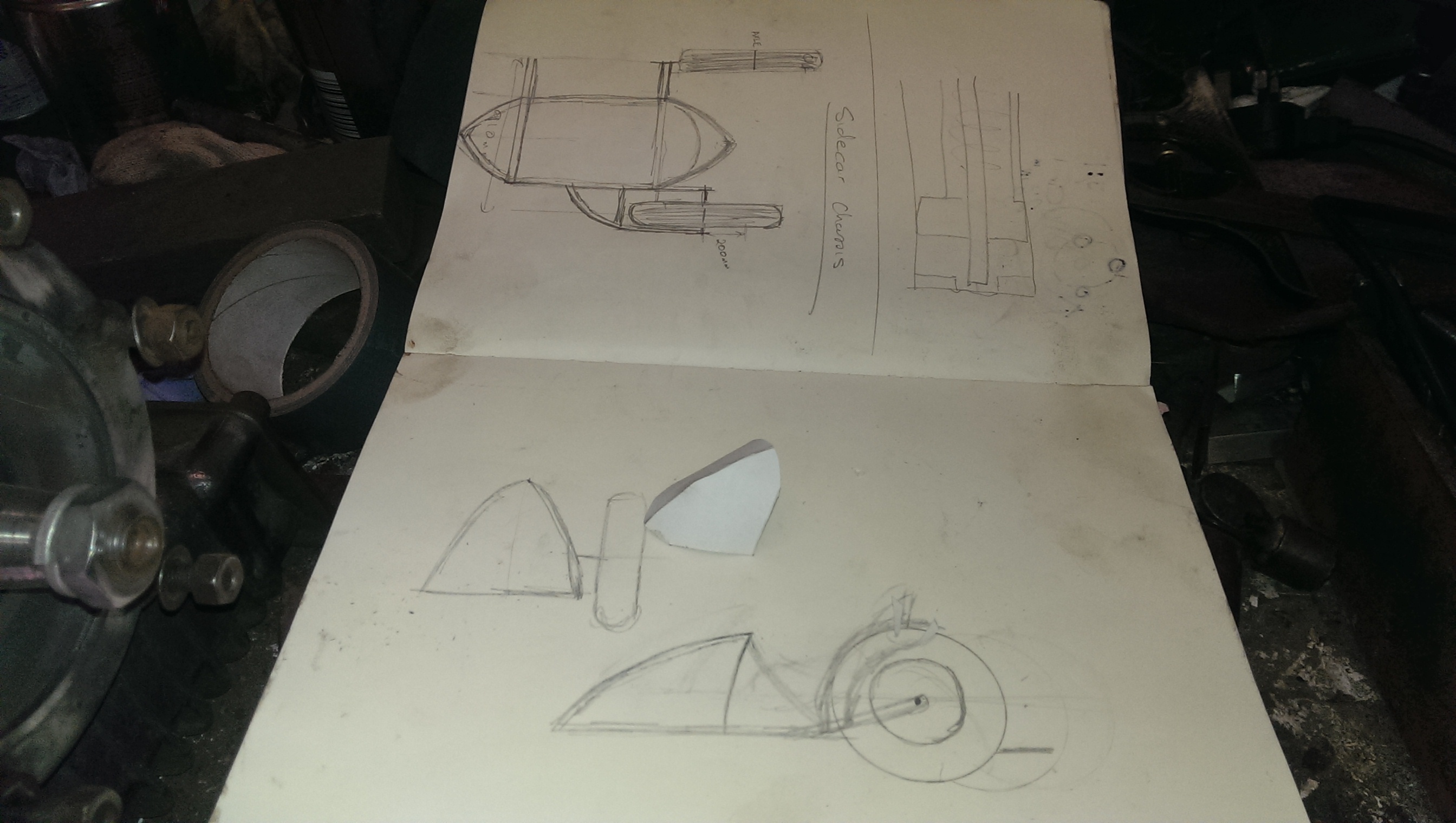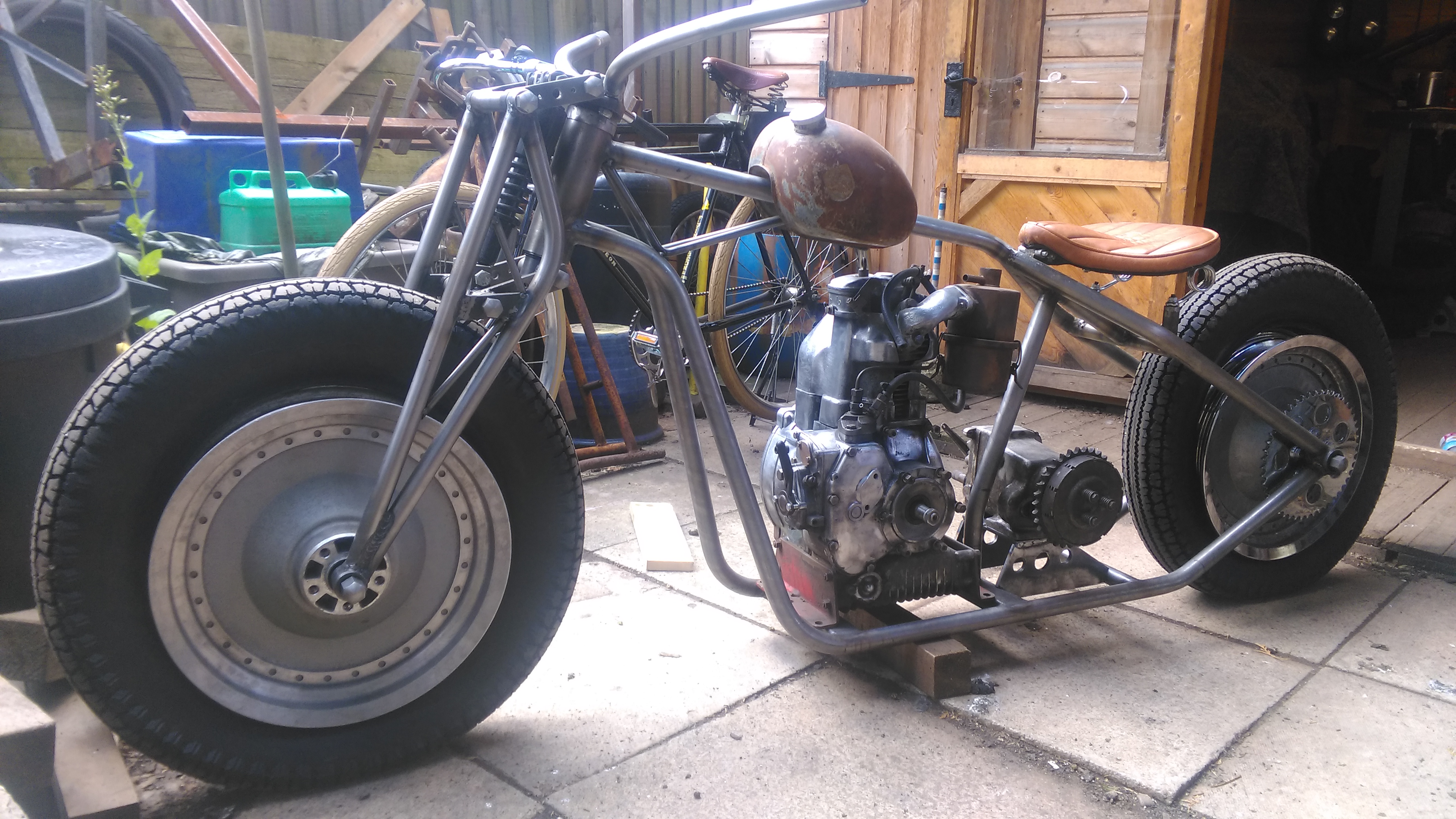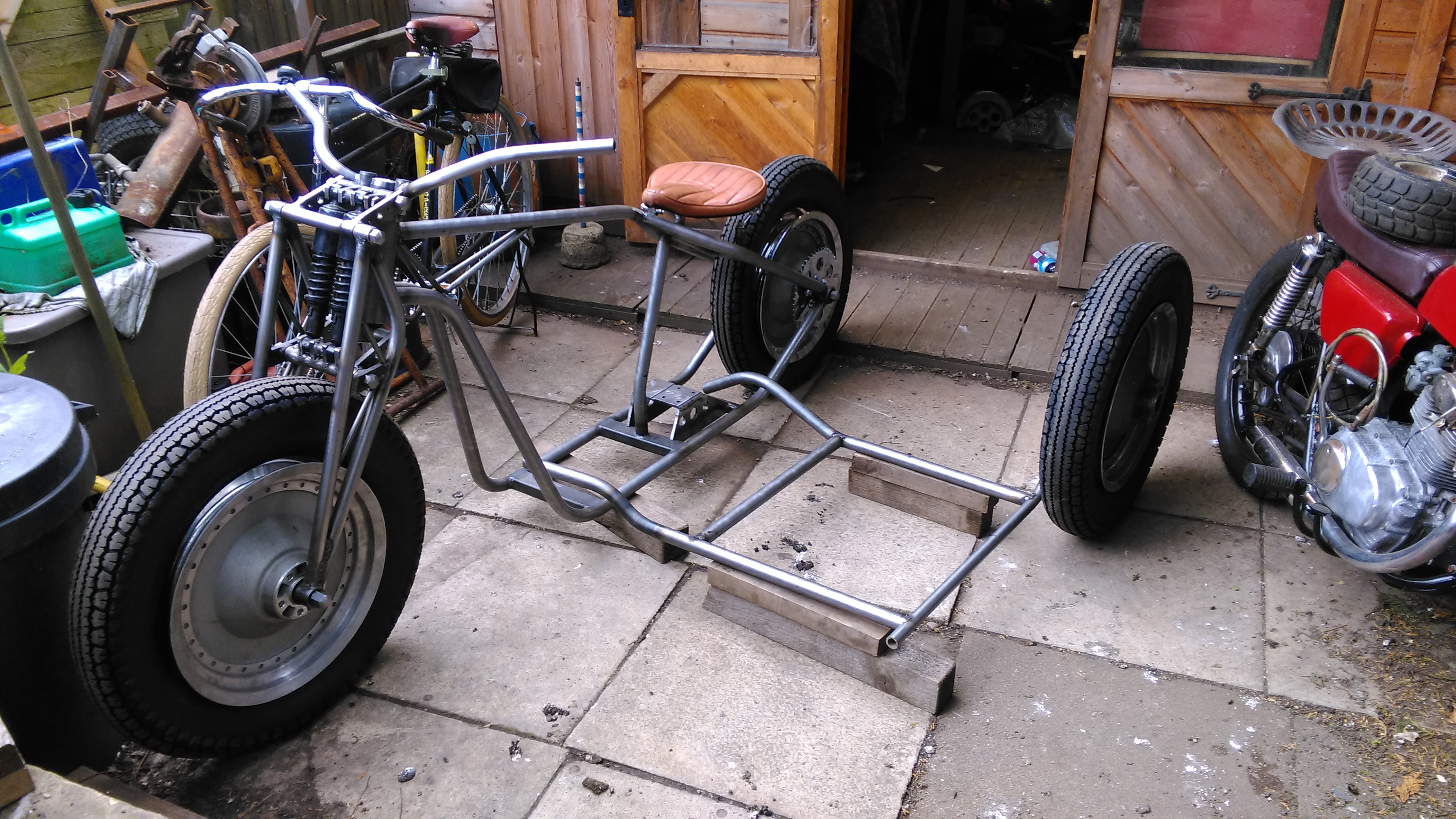 Brembo brake callipers on custom mounts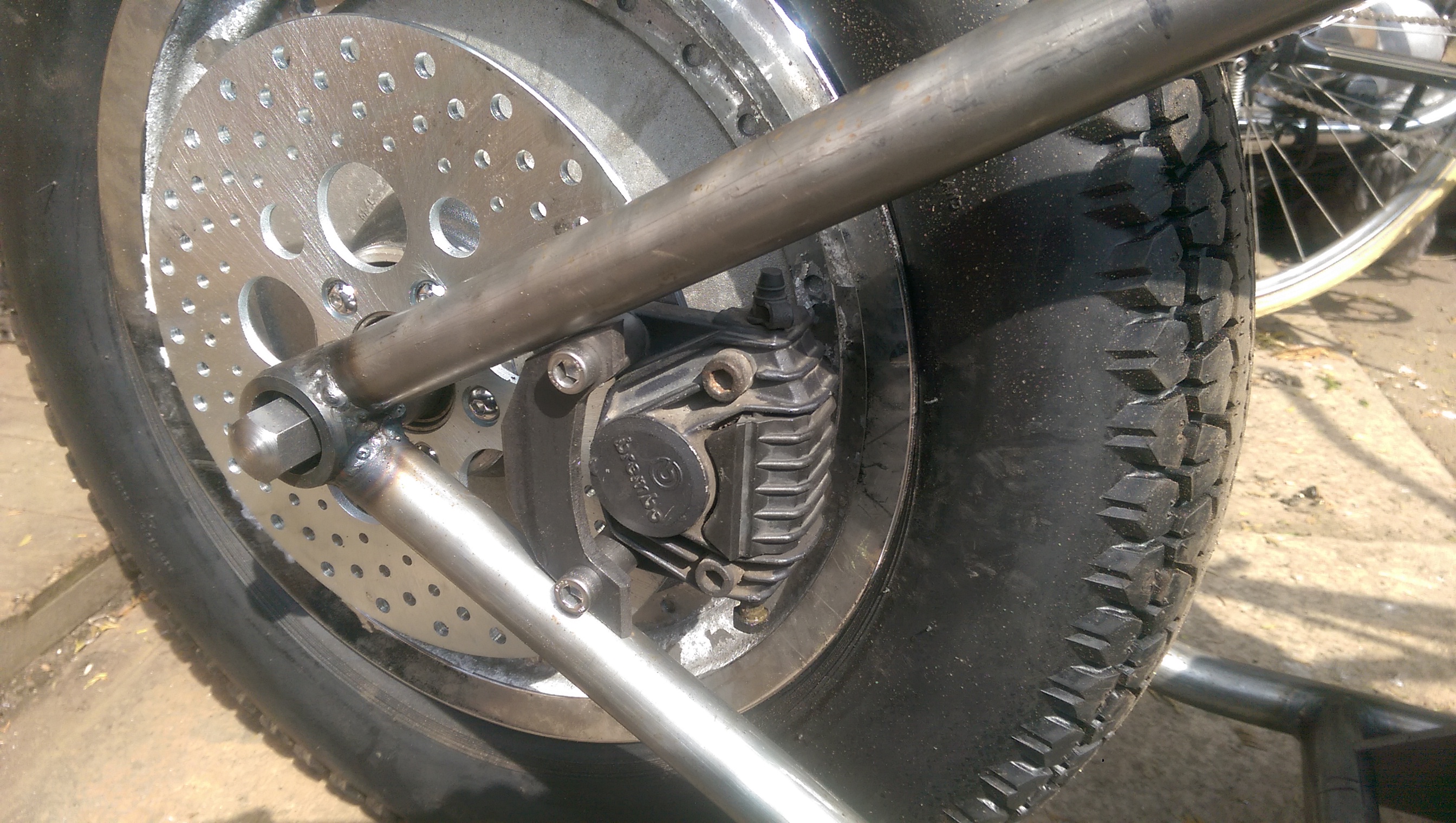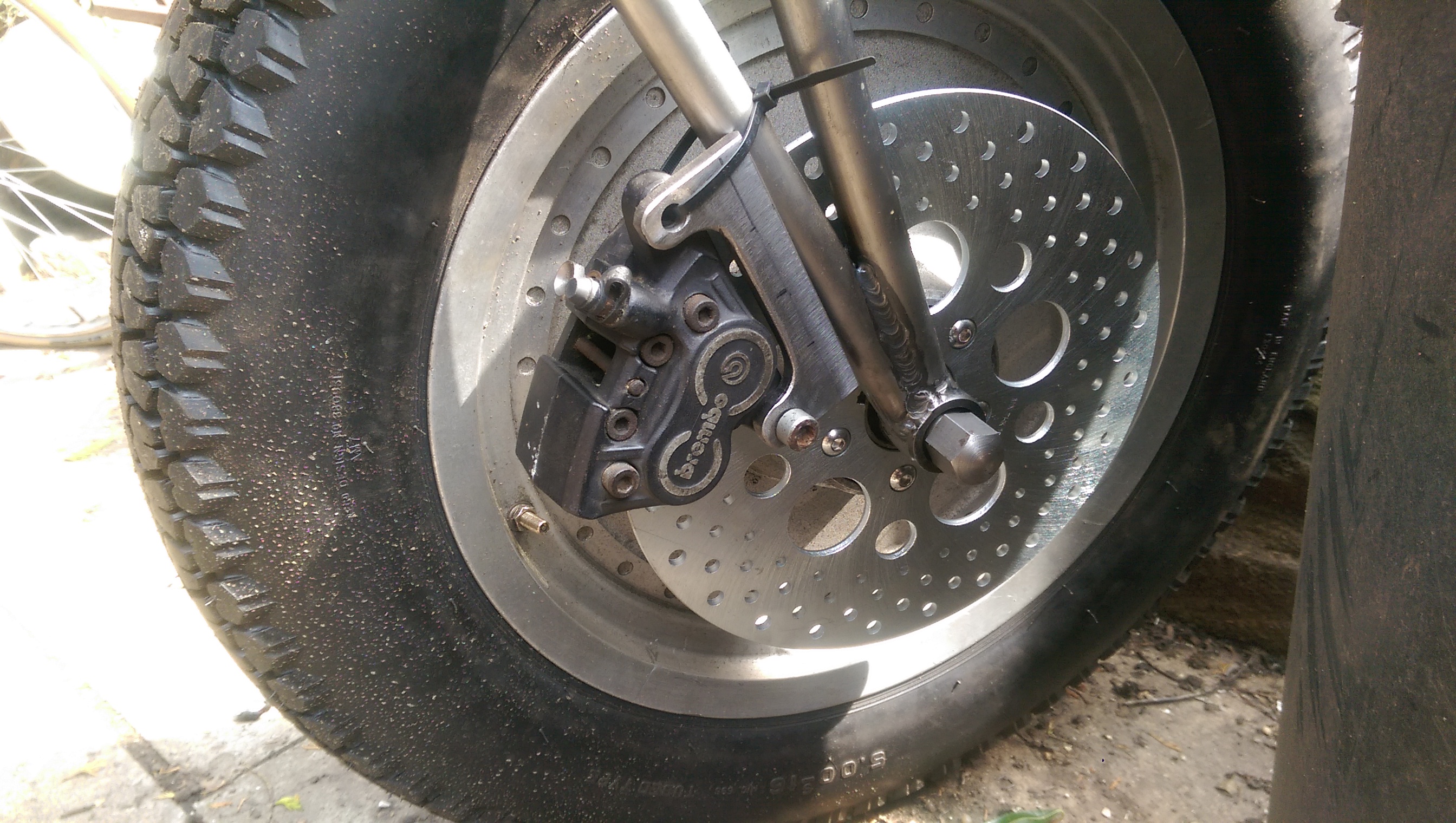 foot pegs and bits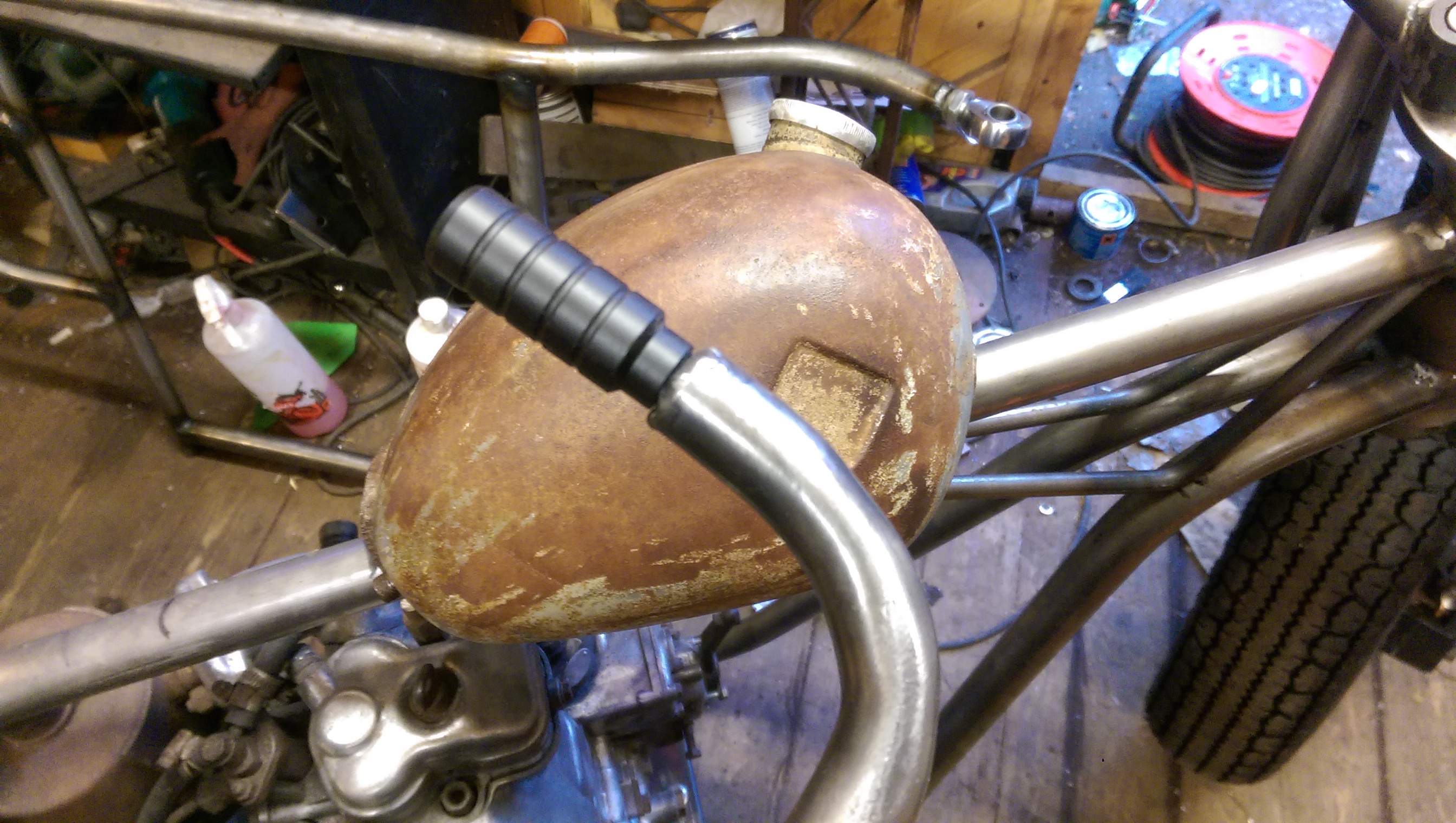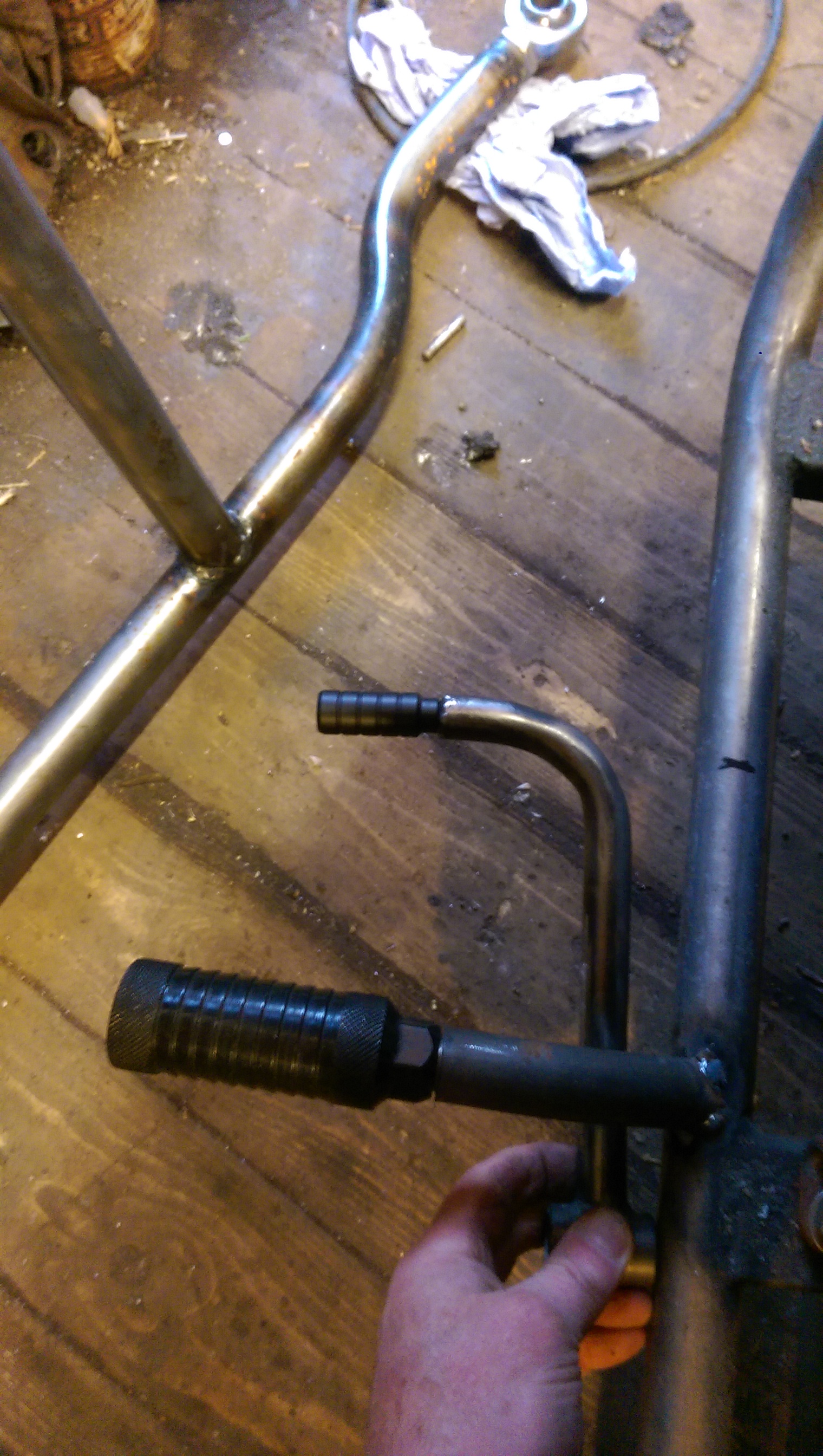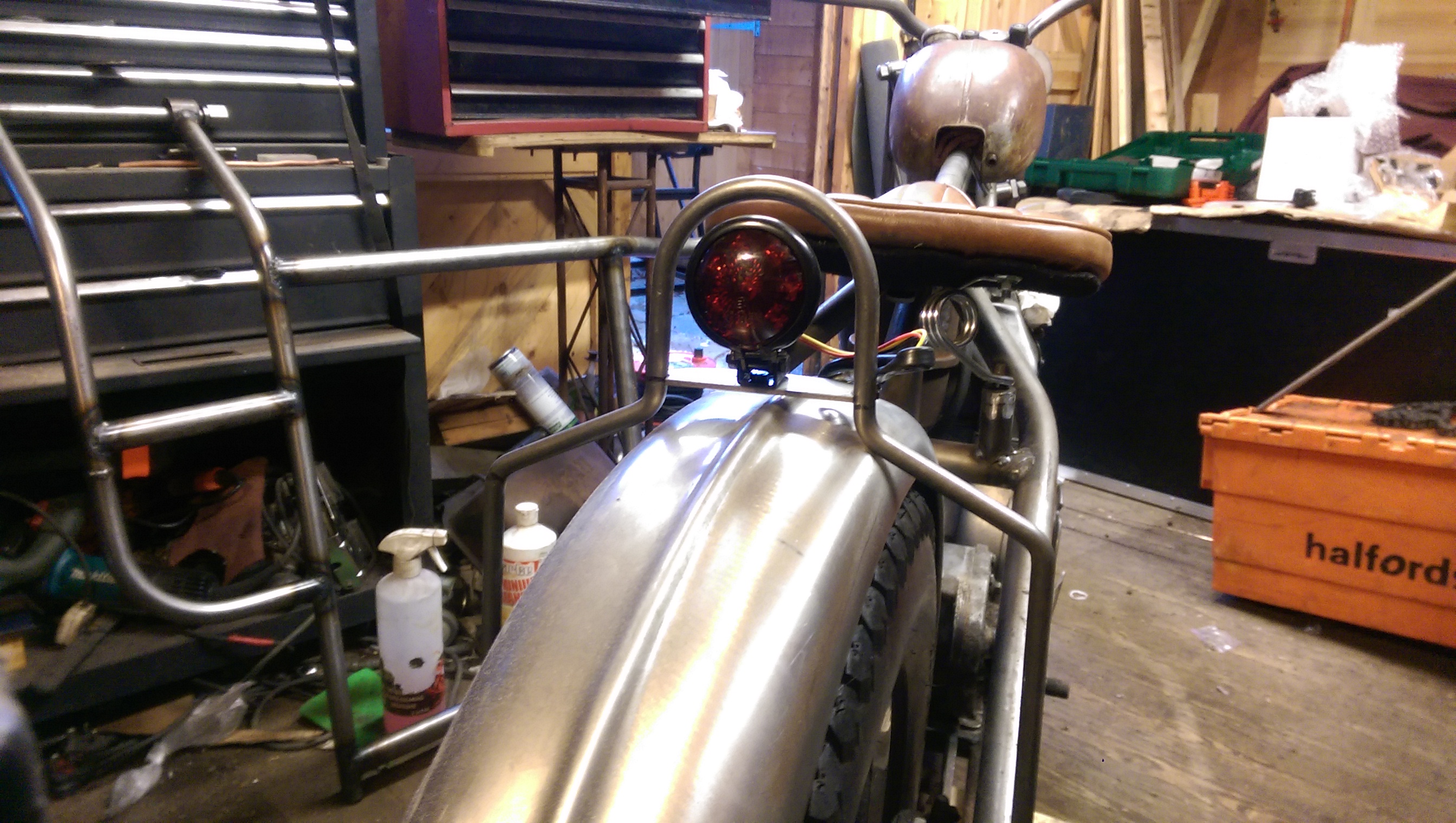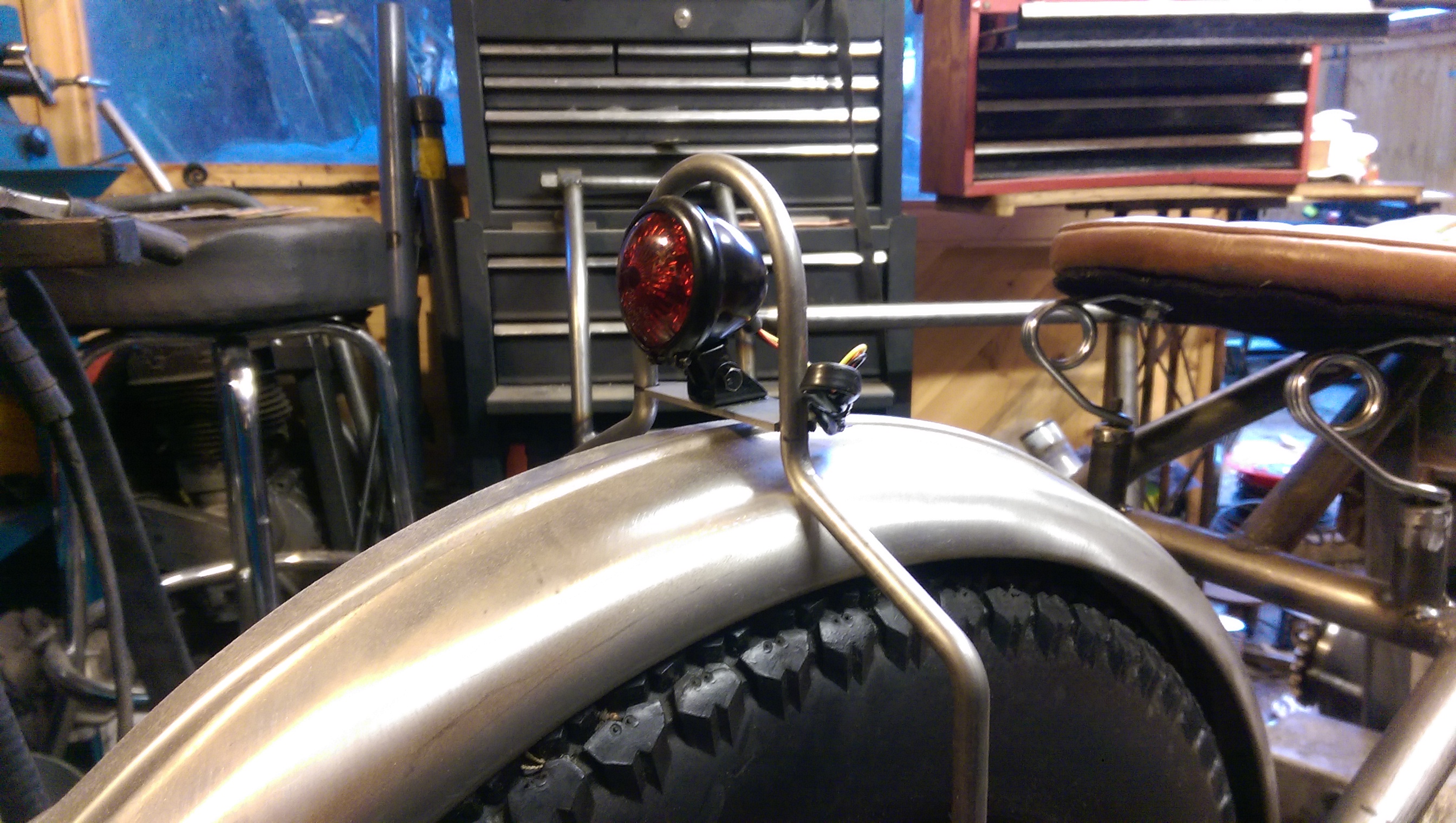 nose cone of unidentified WW2 aircraft
exhaust started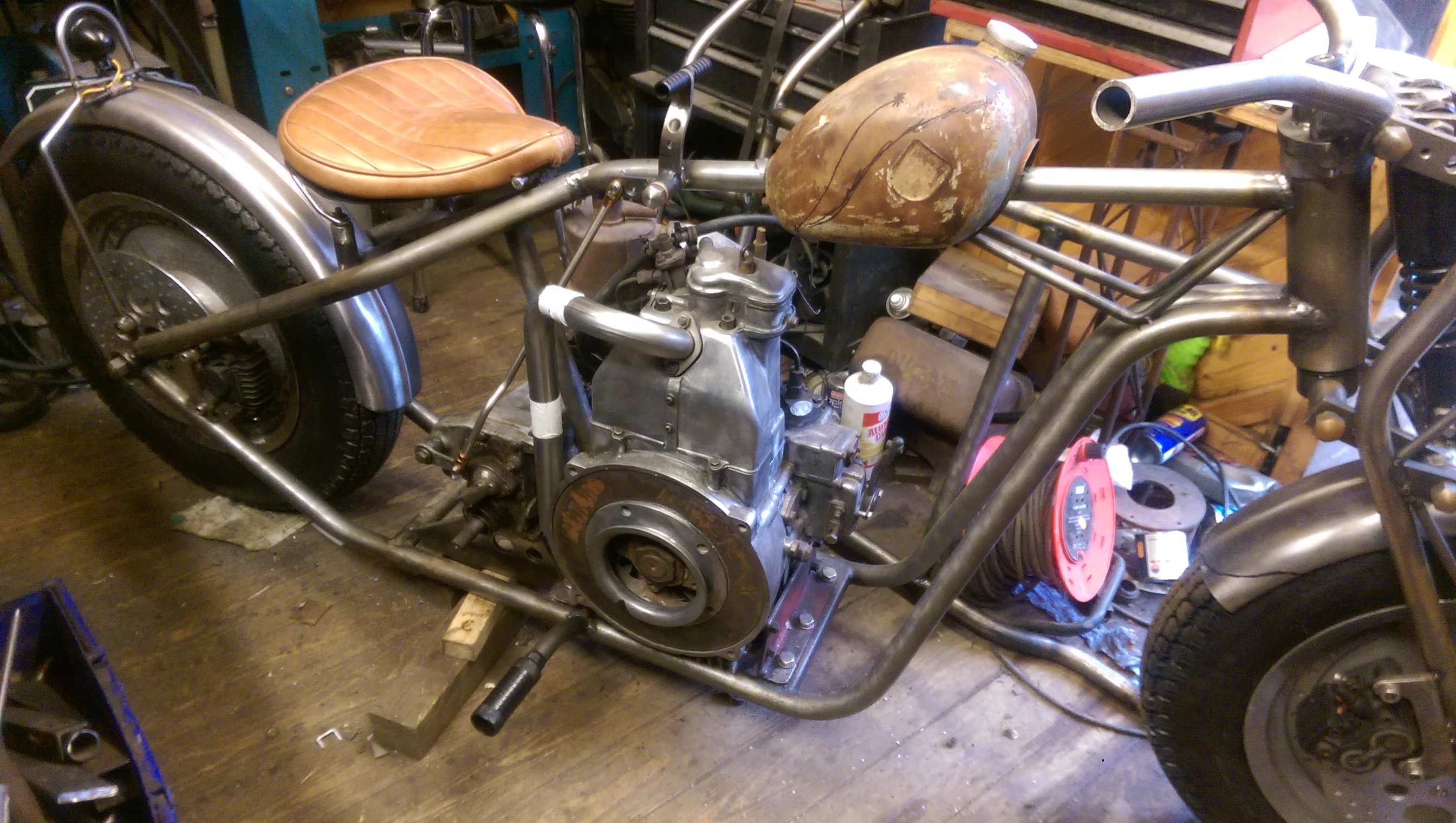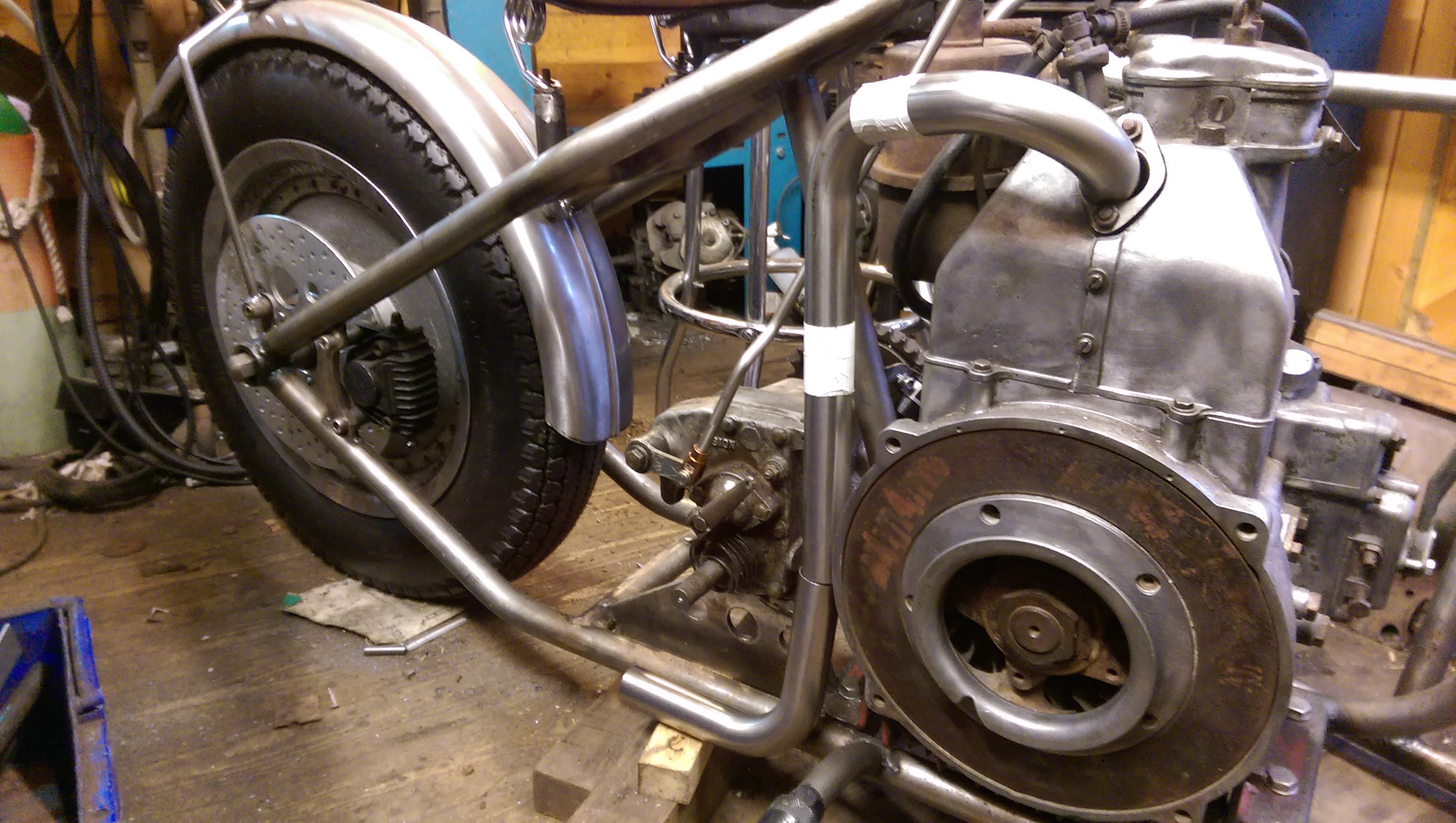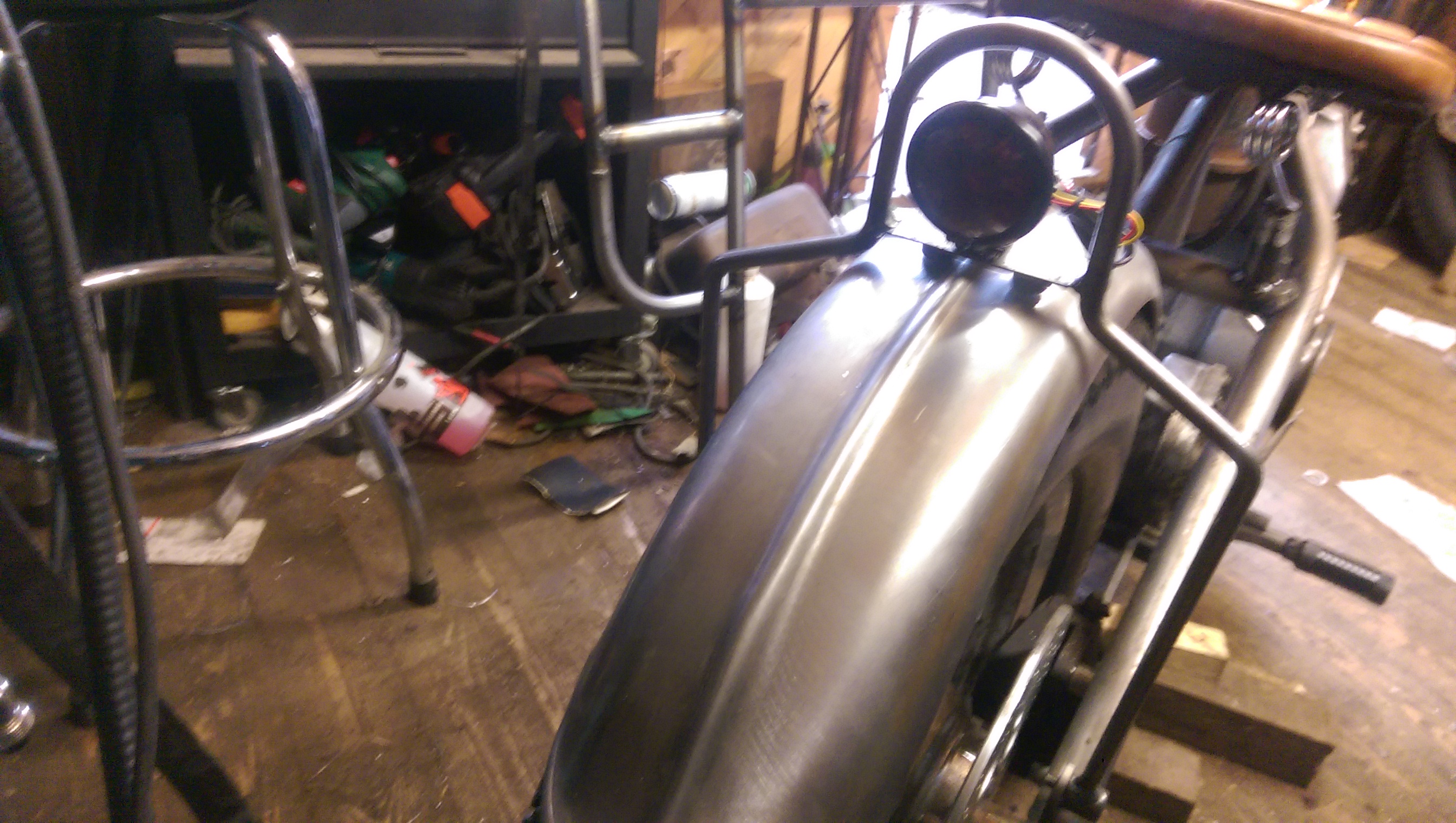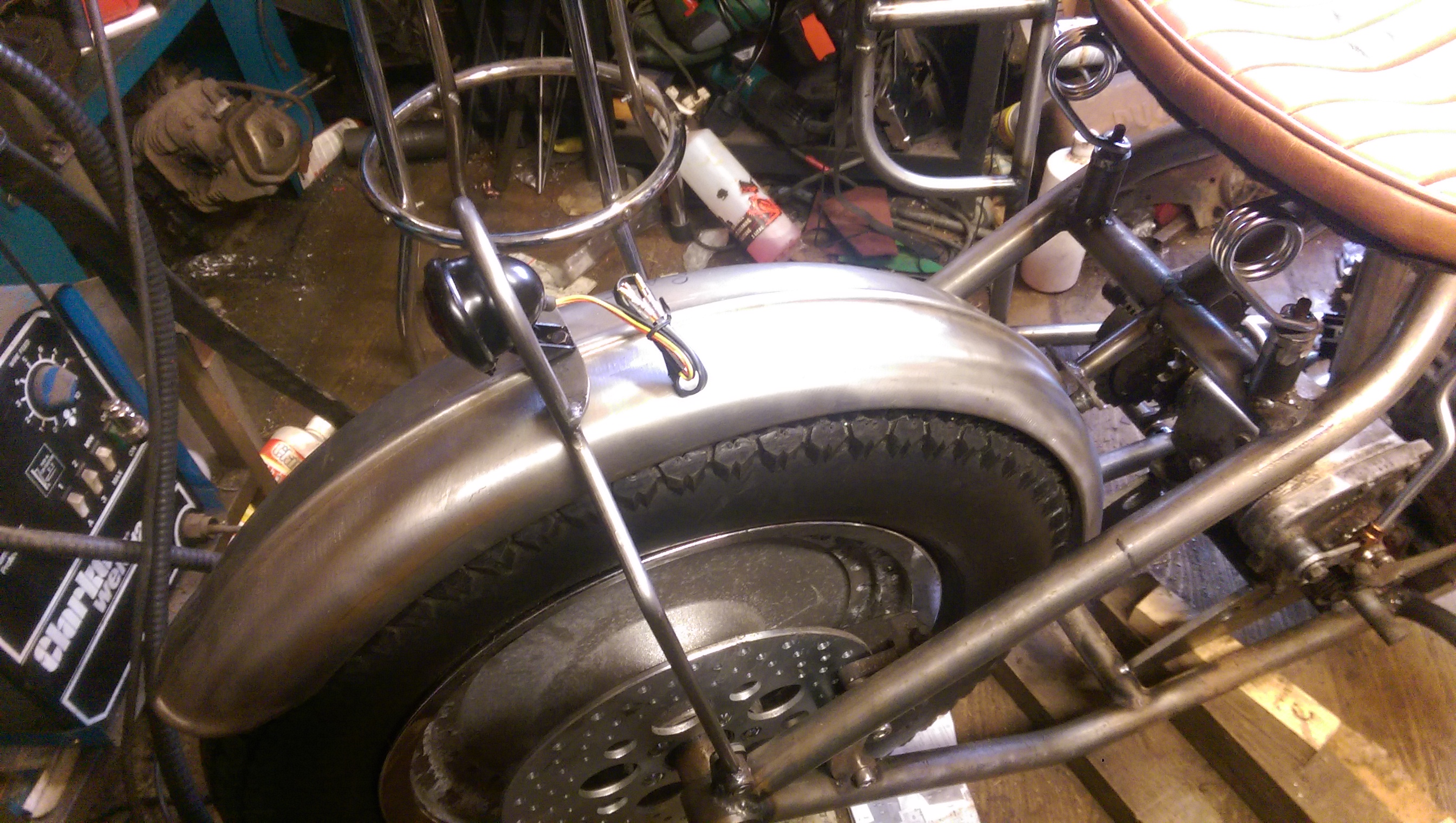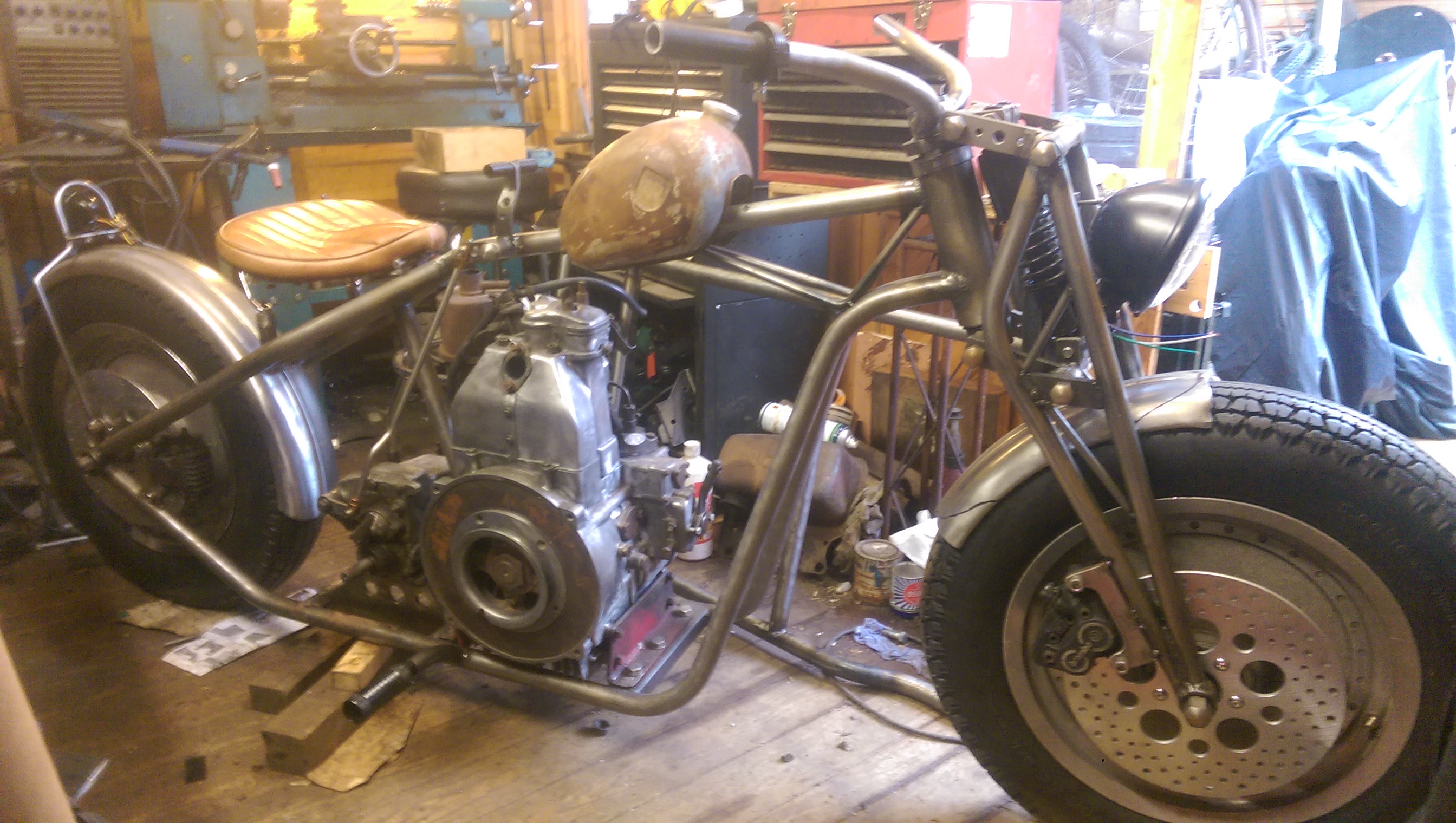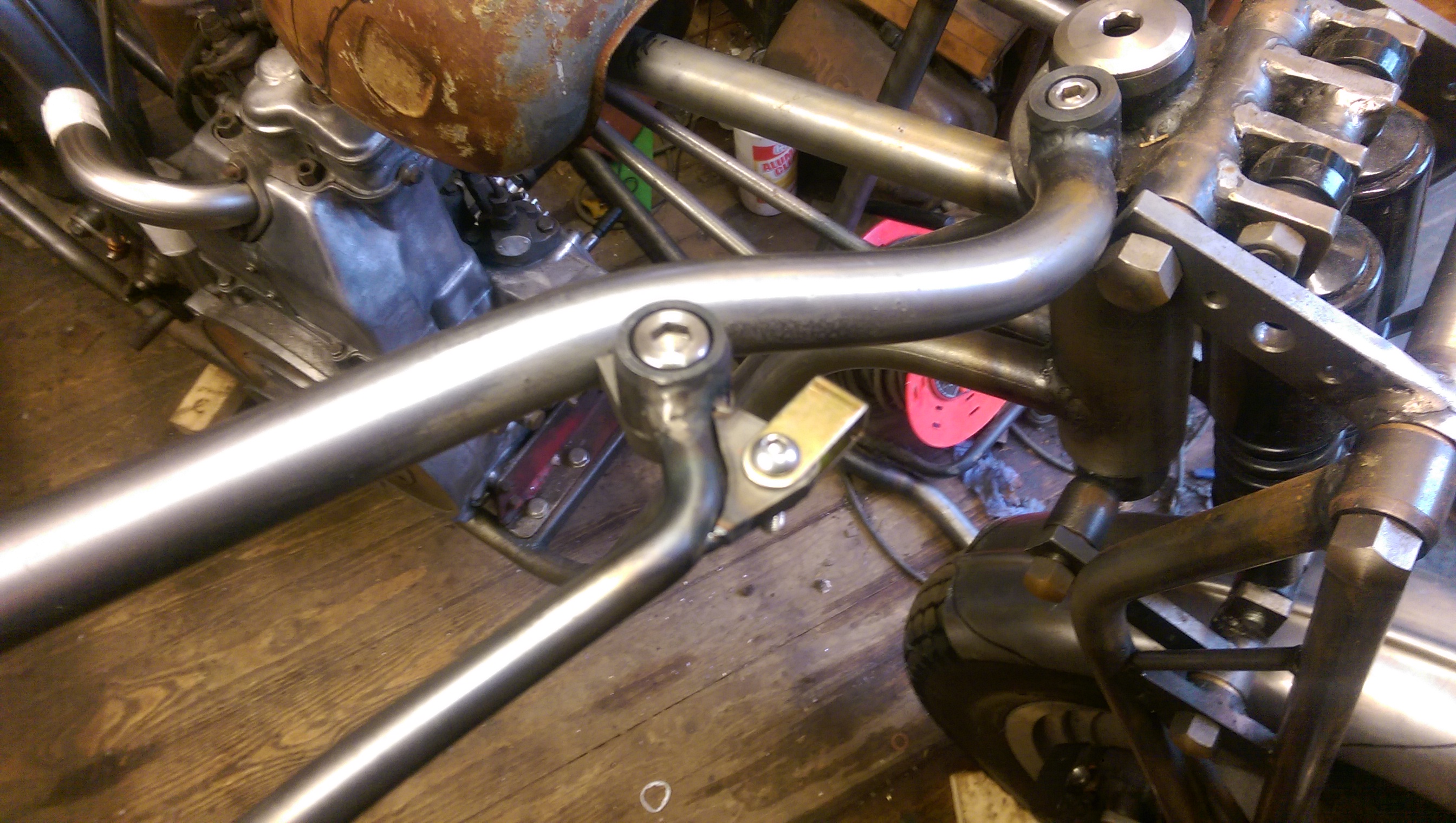 exhaust mockup
bar switches
side stand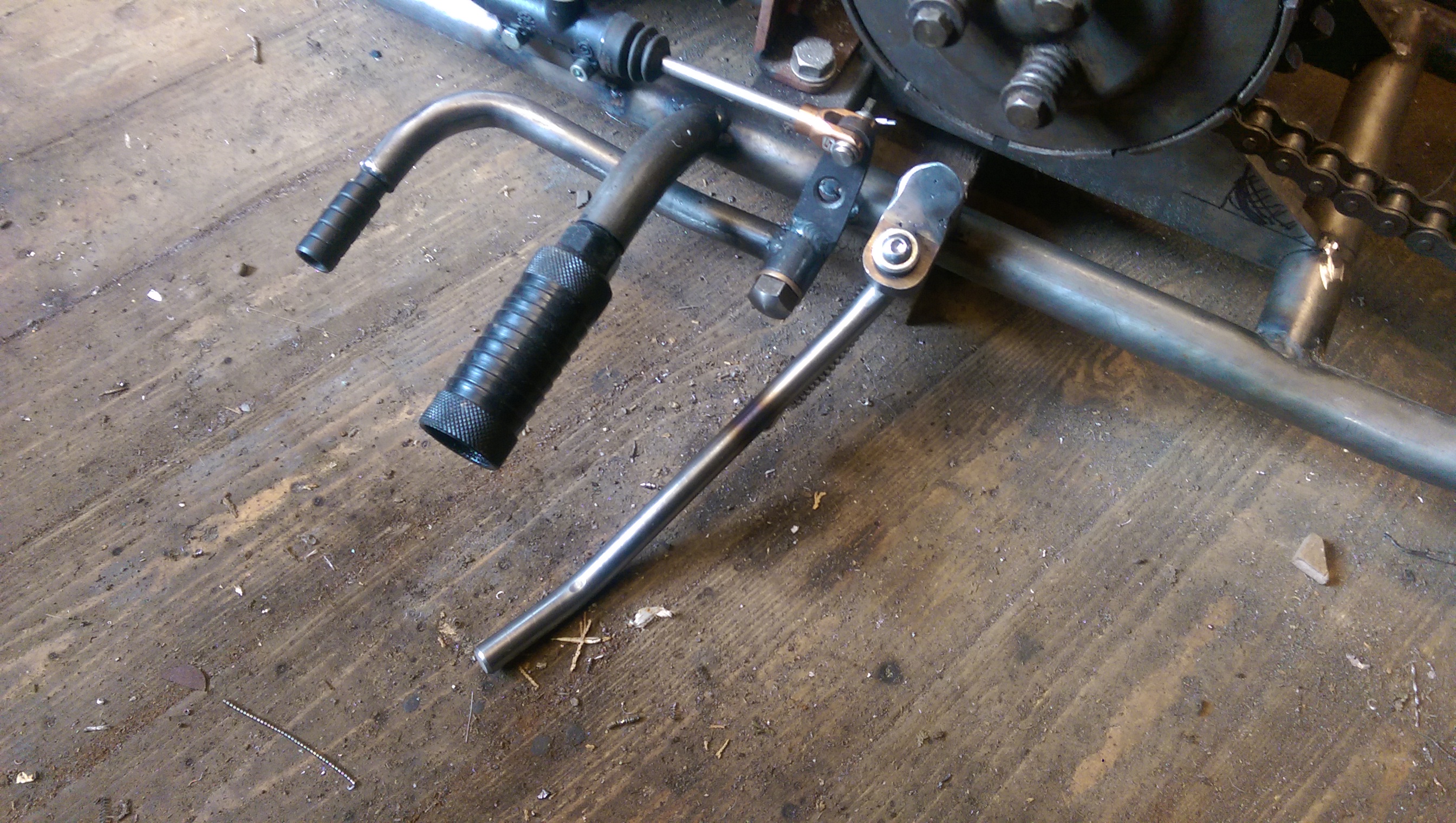 fuel gauge and gated gear lever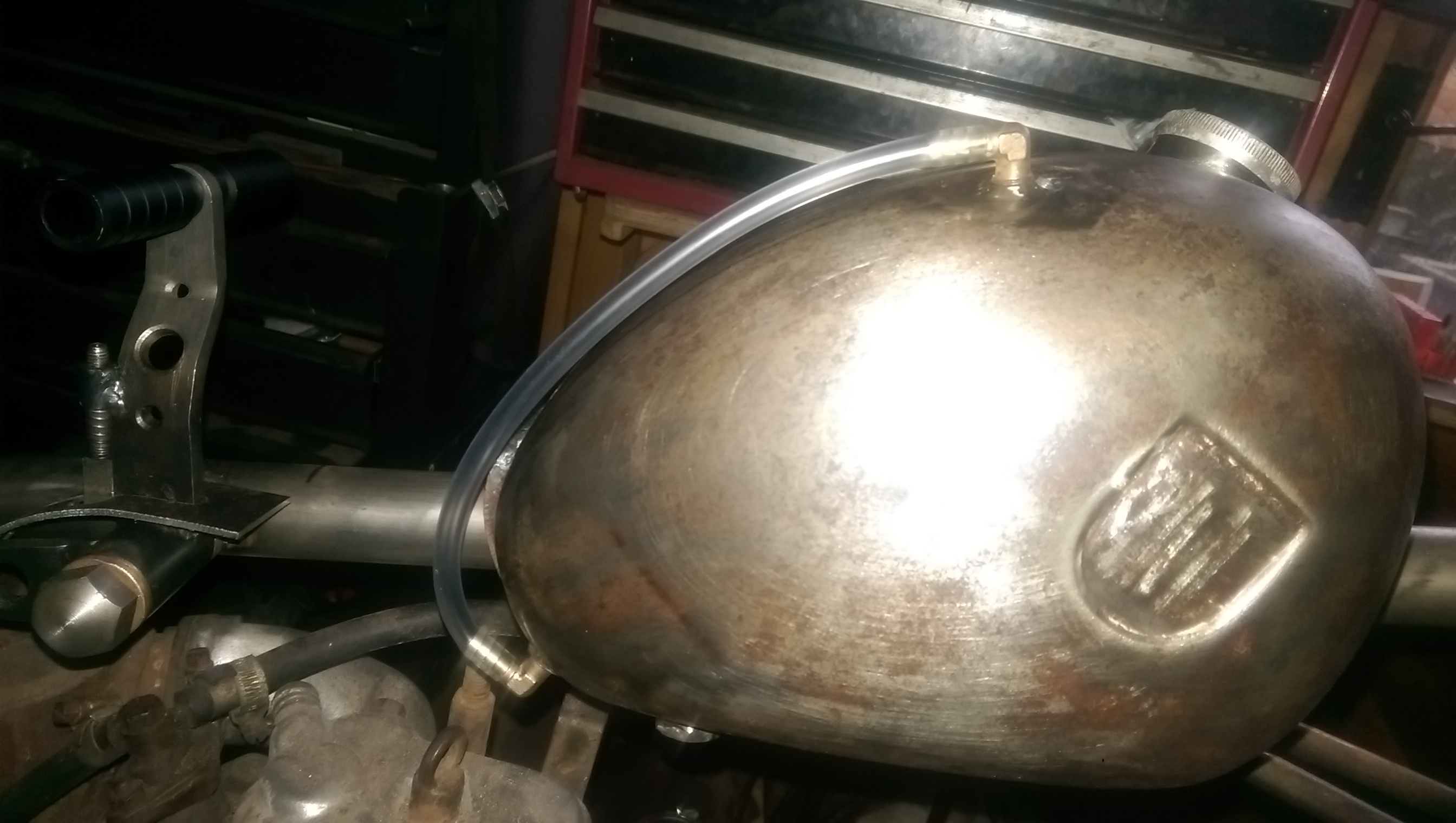 latest progress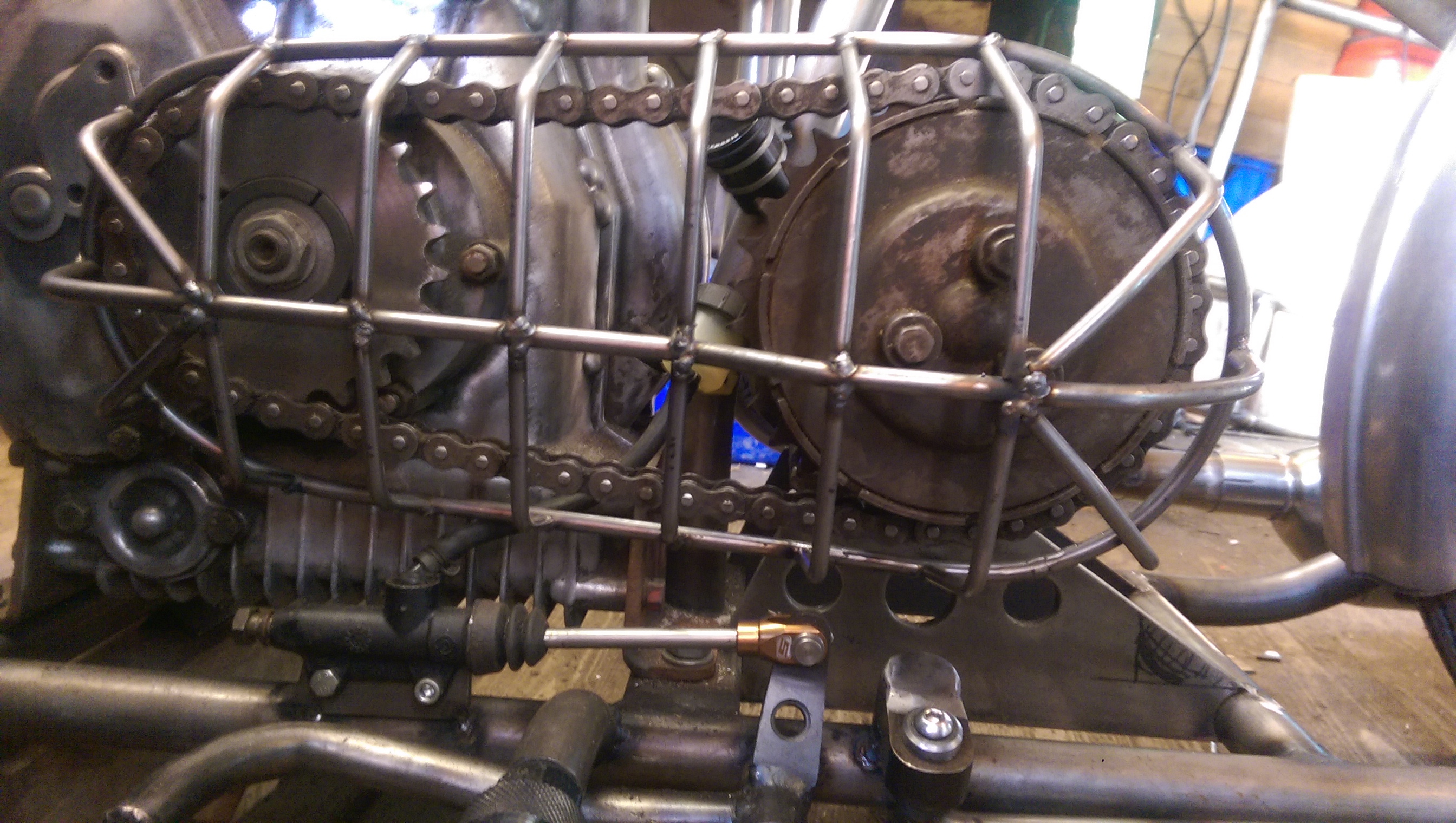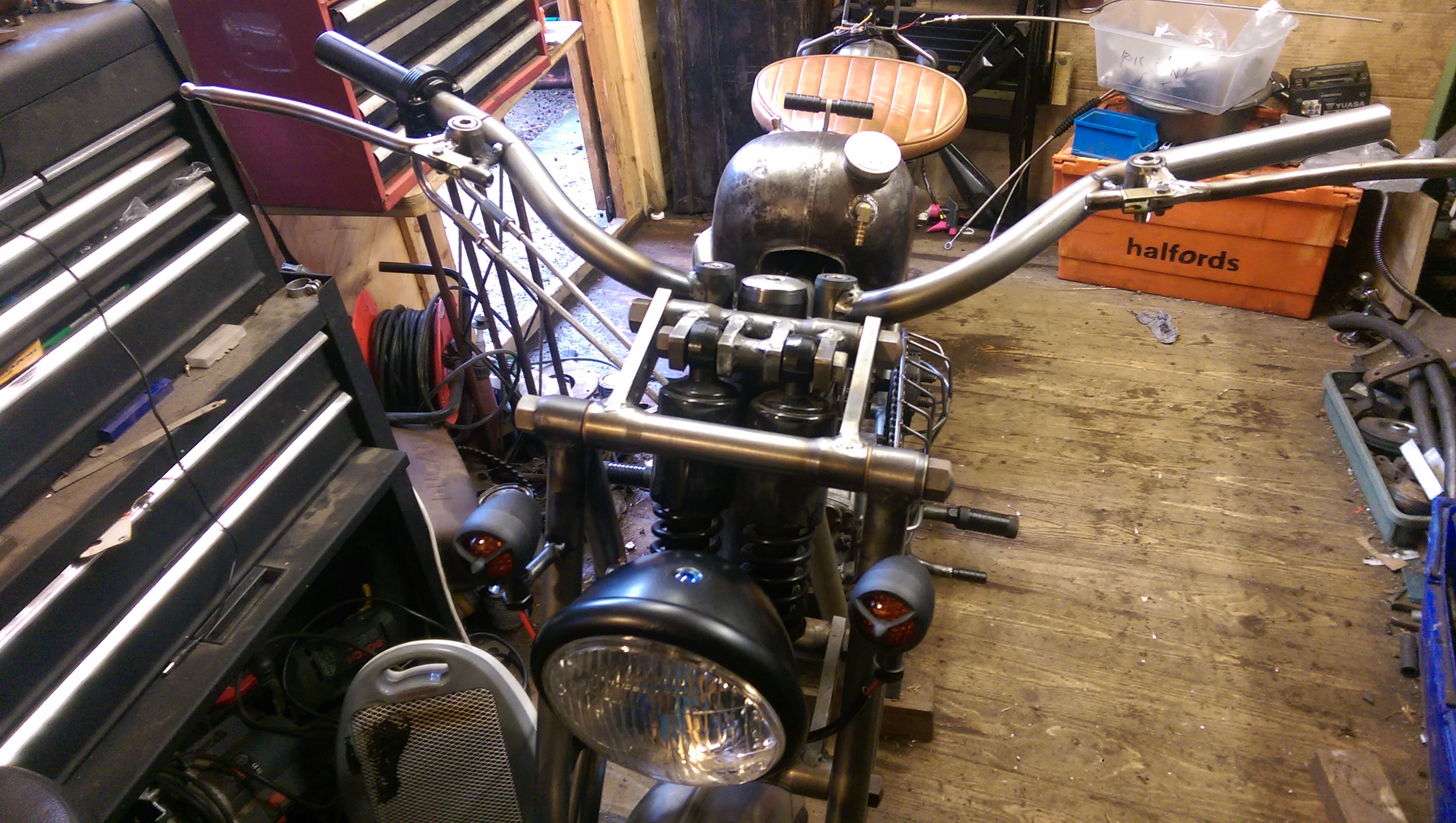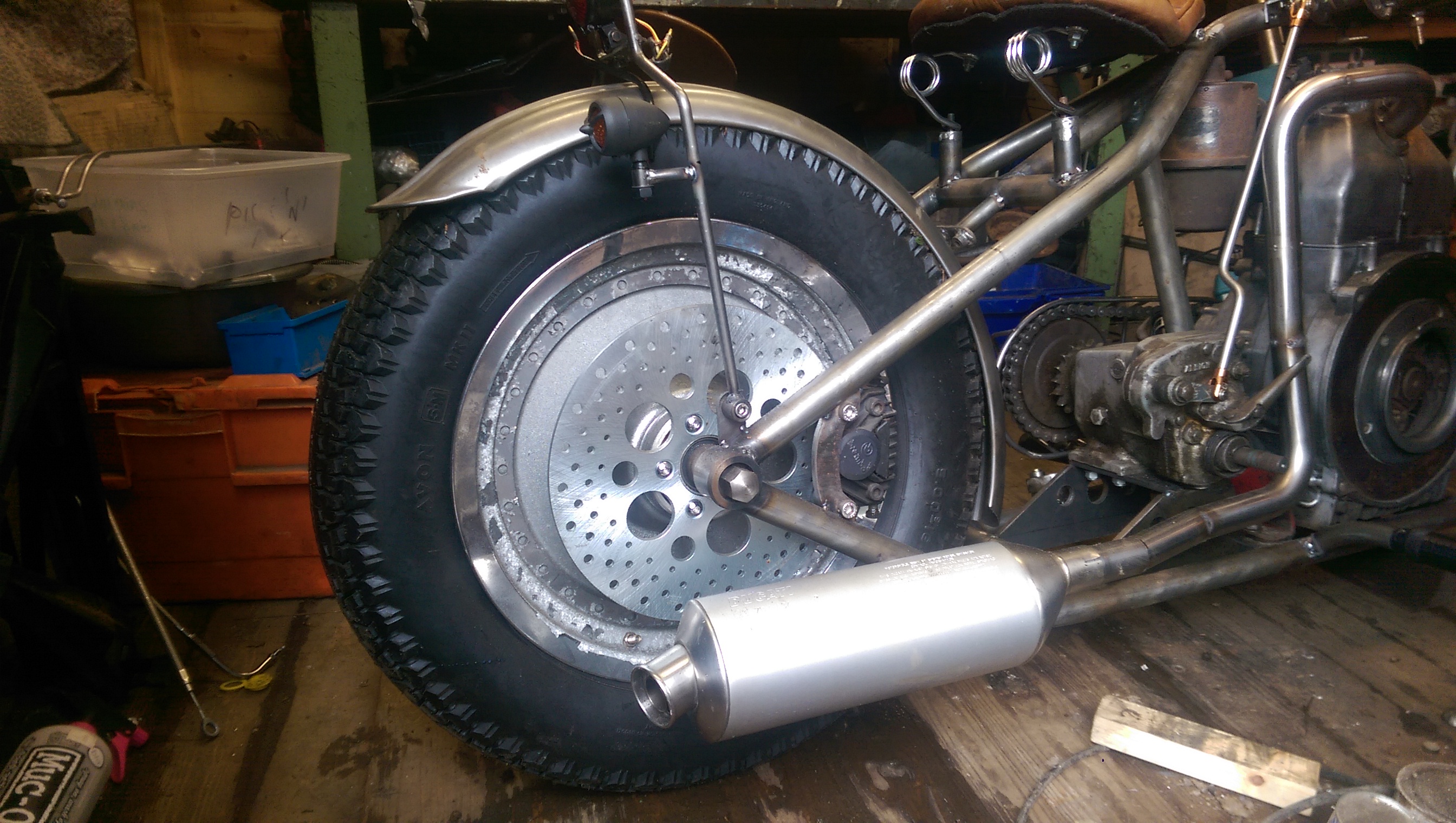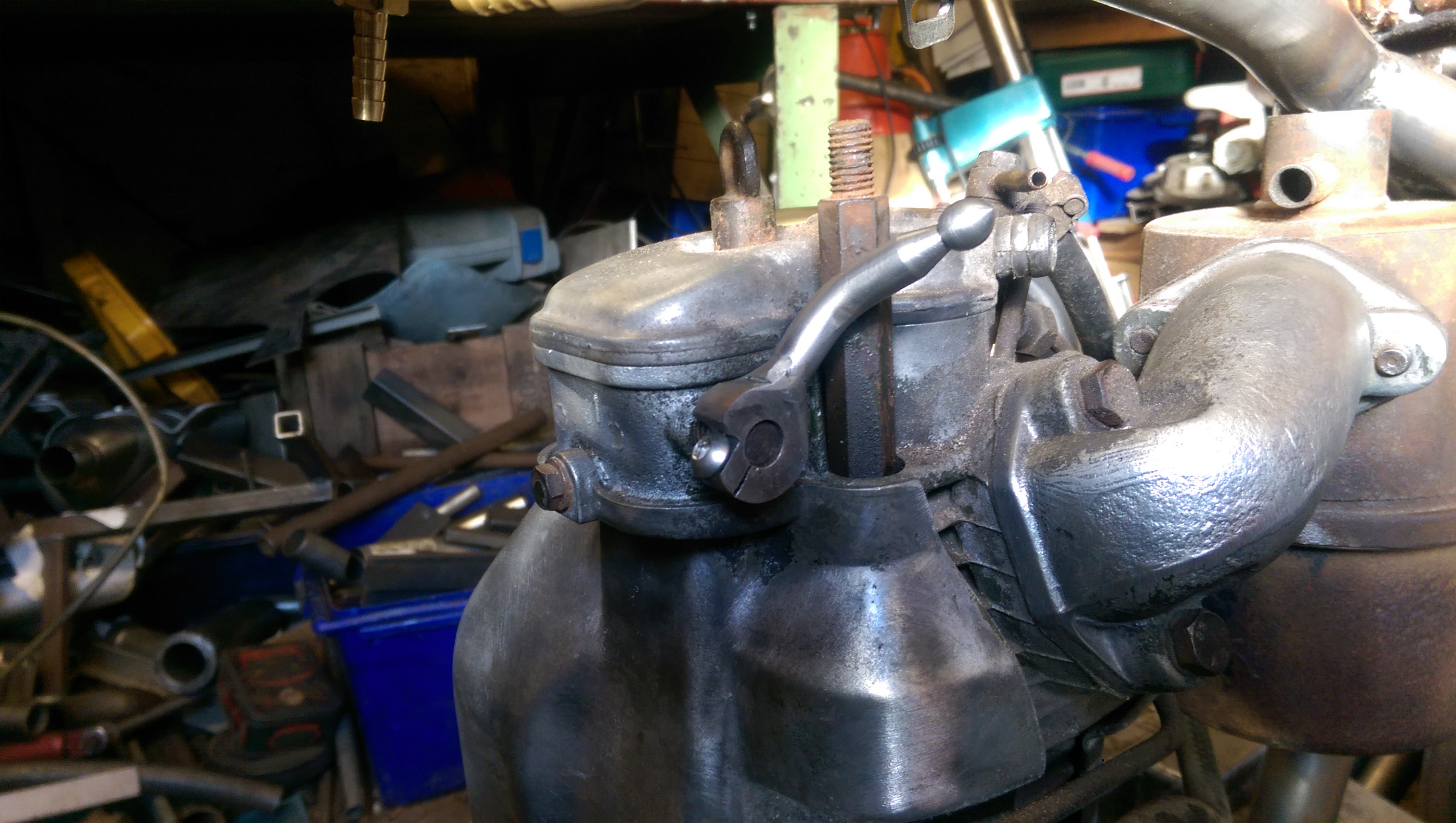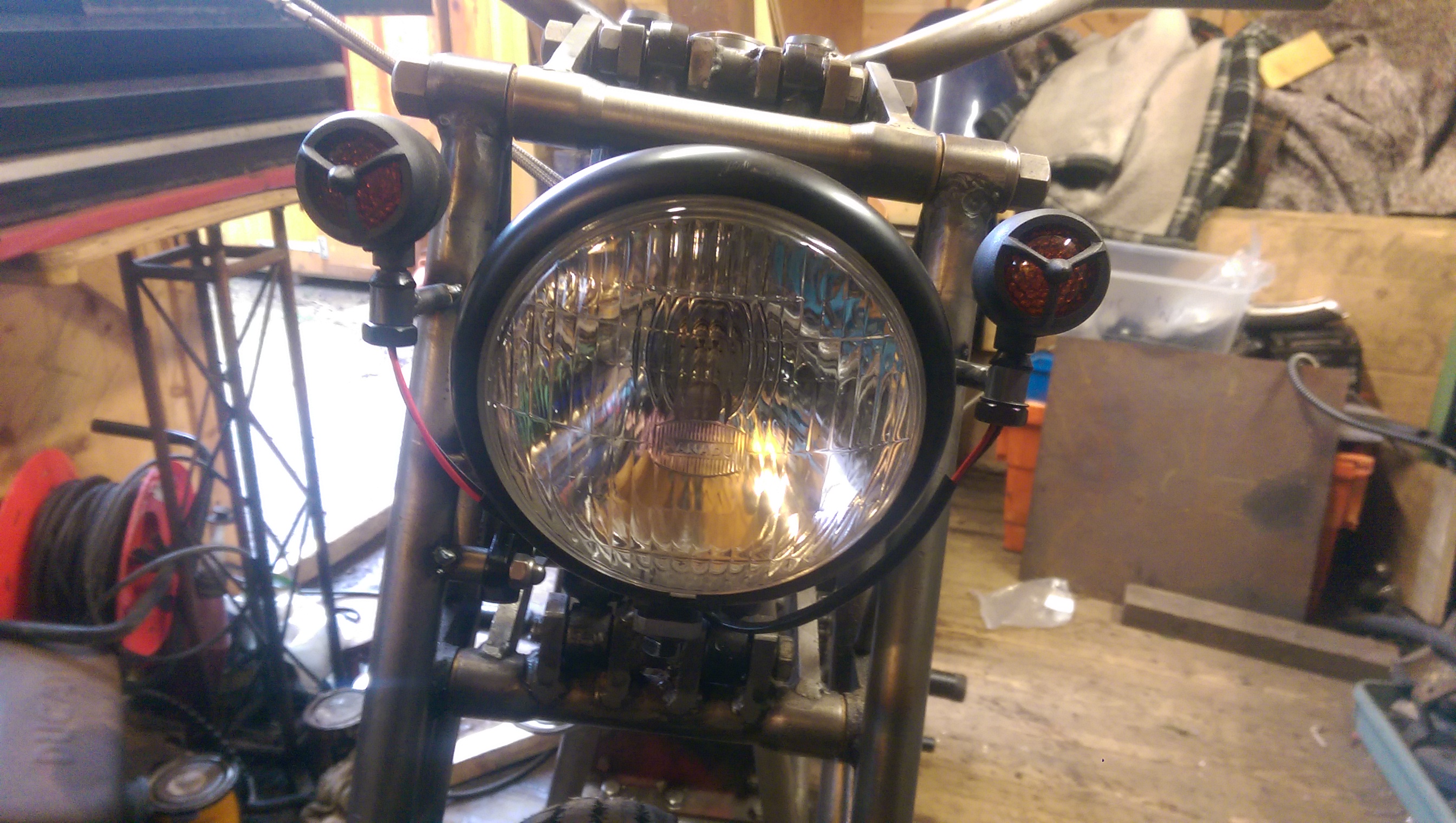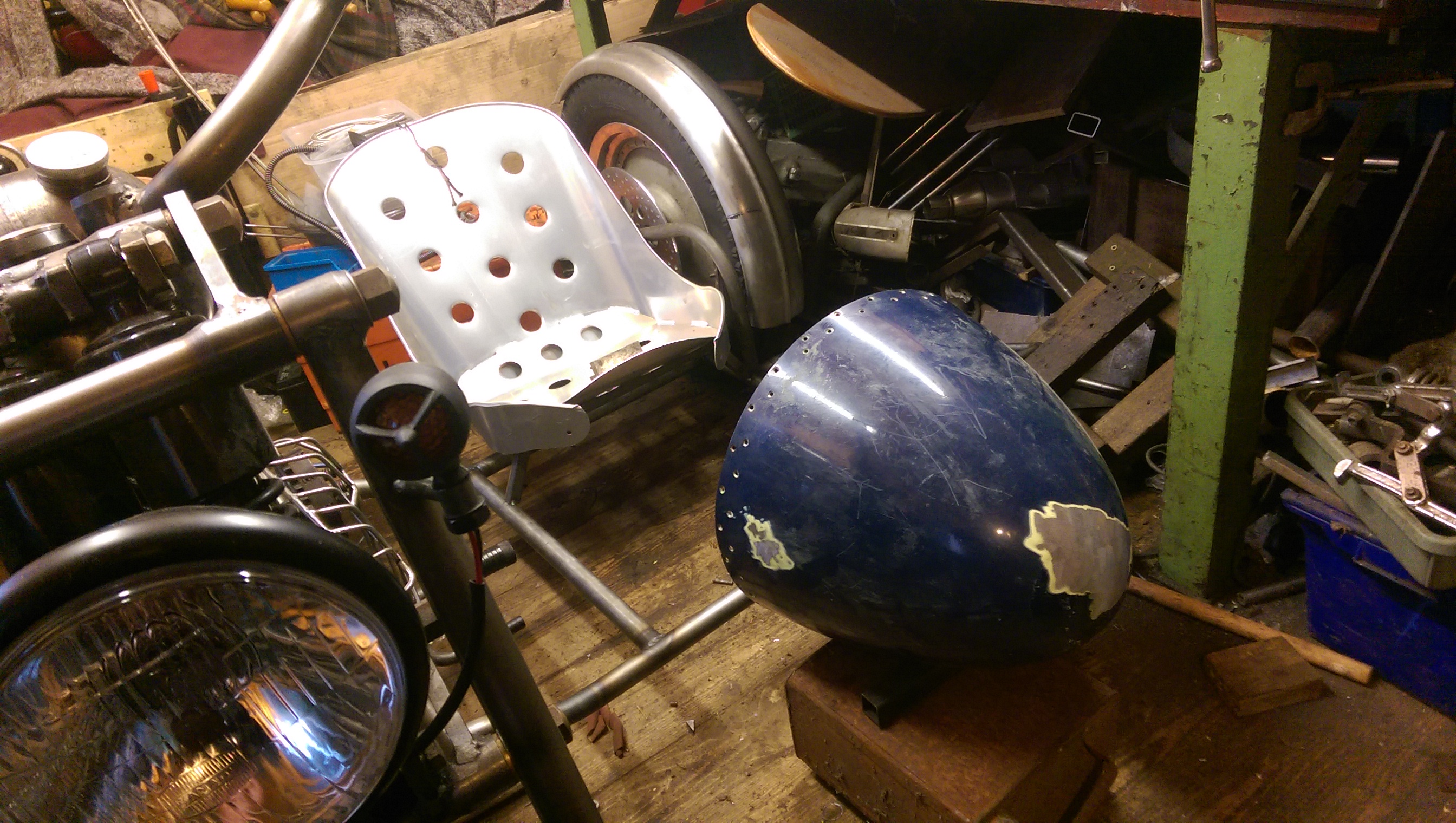 sidecar getting there and brake tools, custom reservoir, etc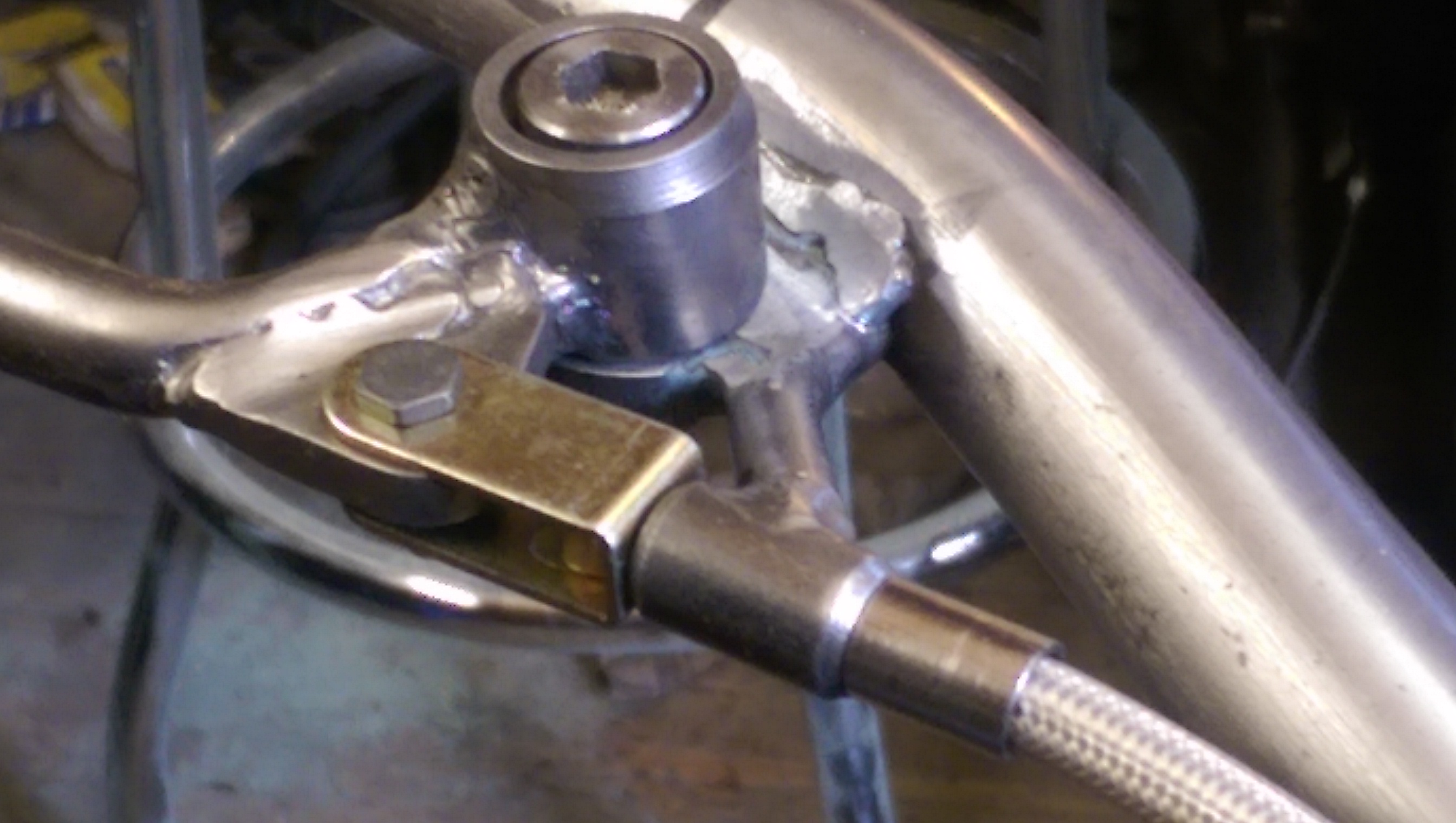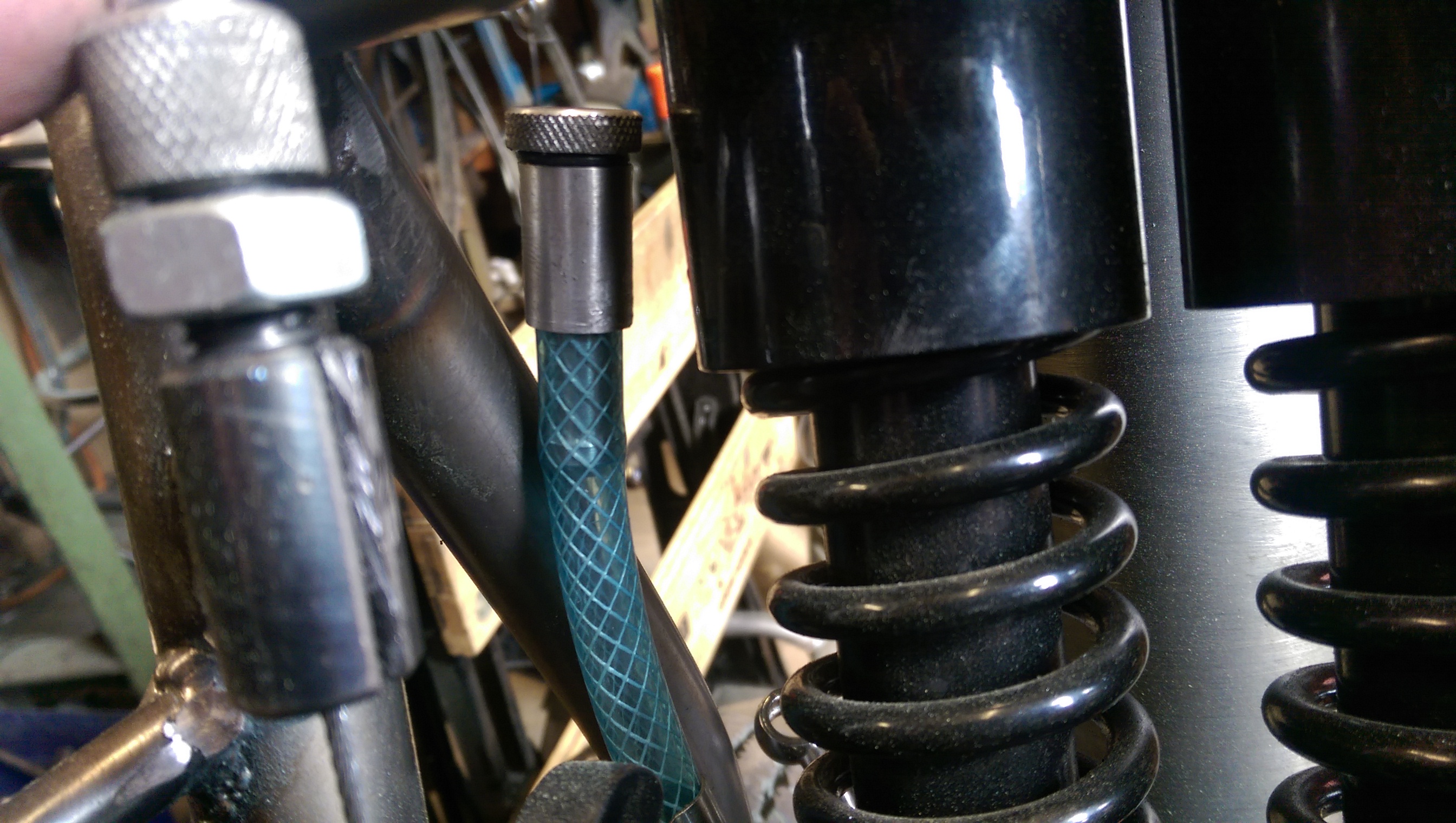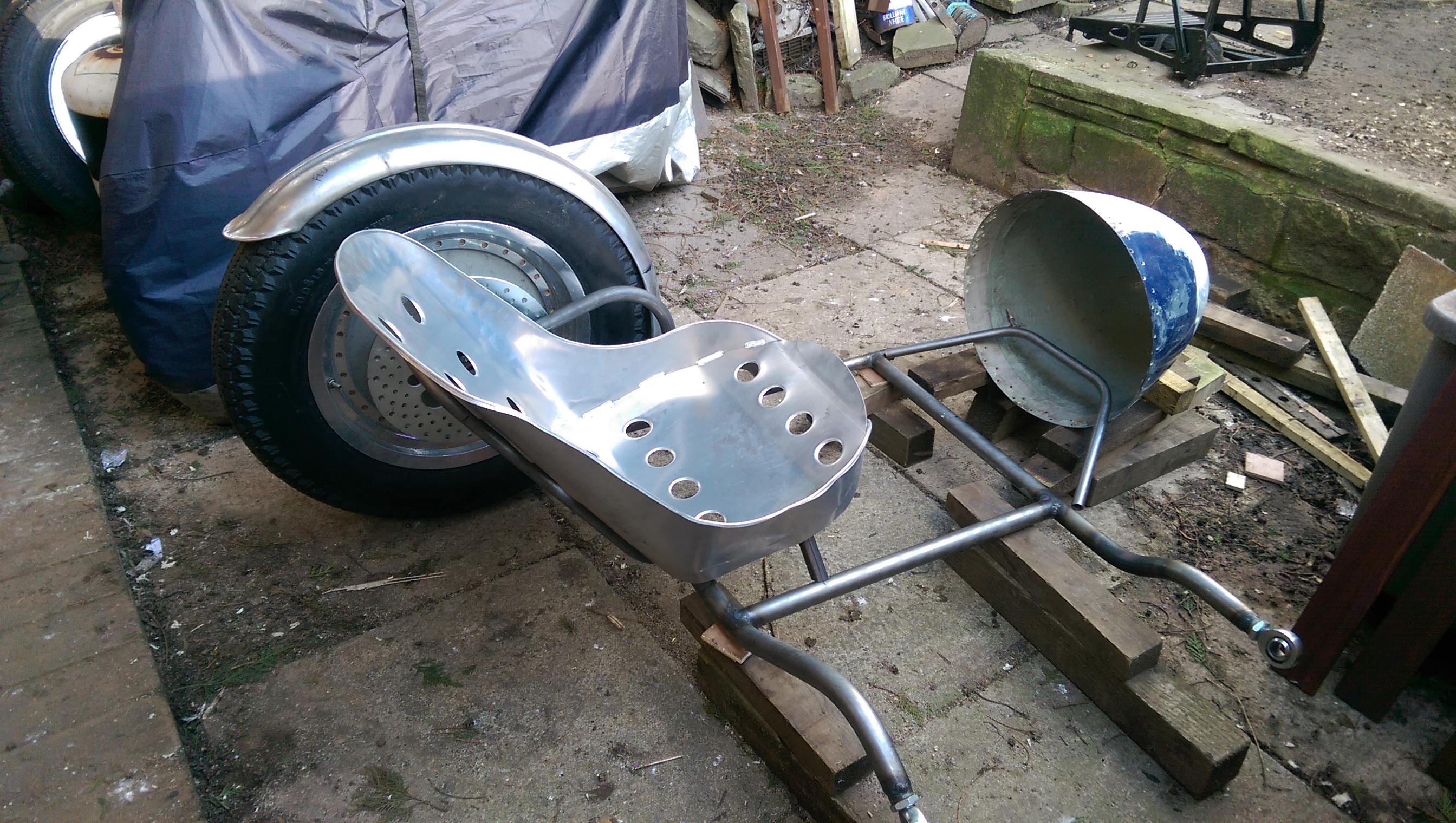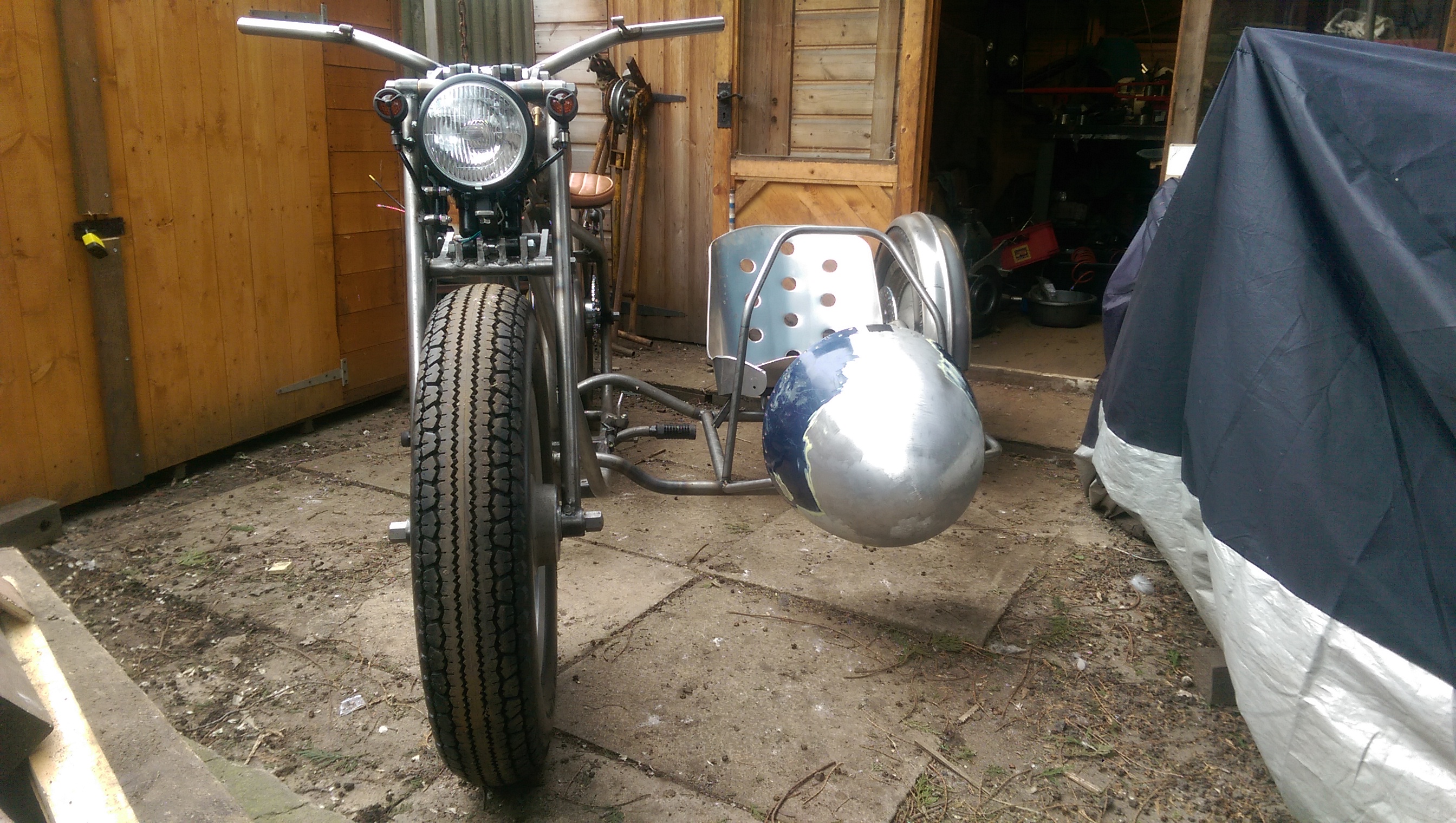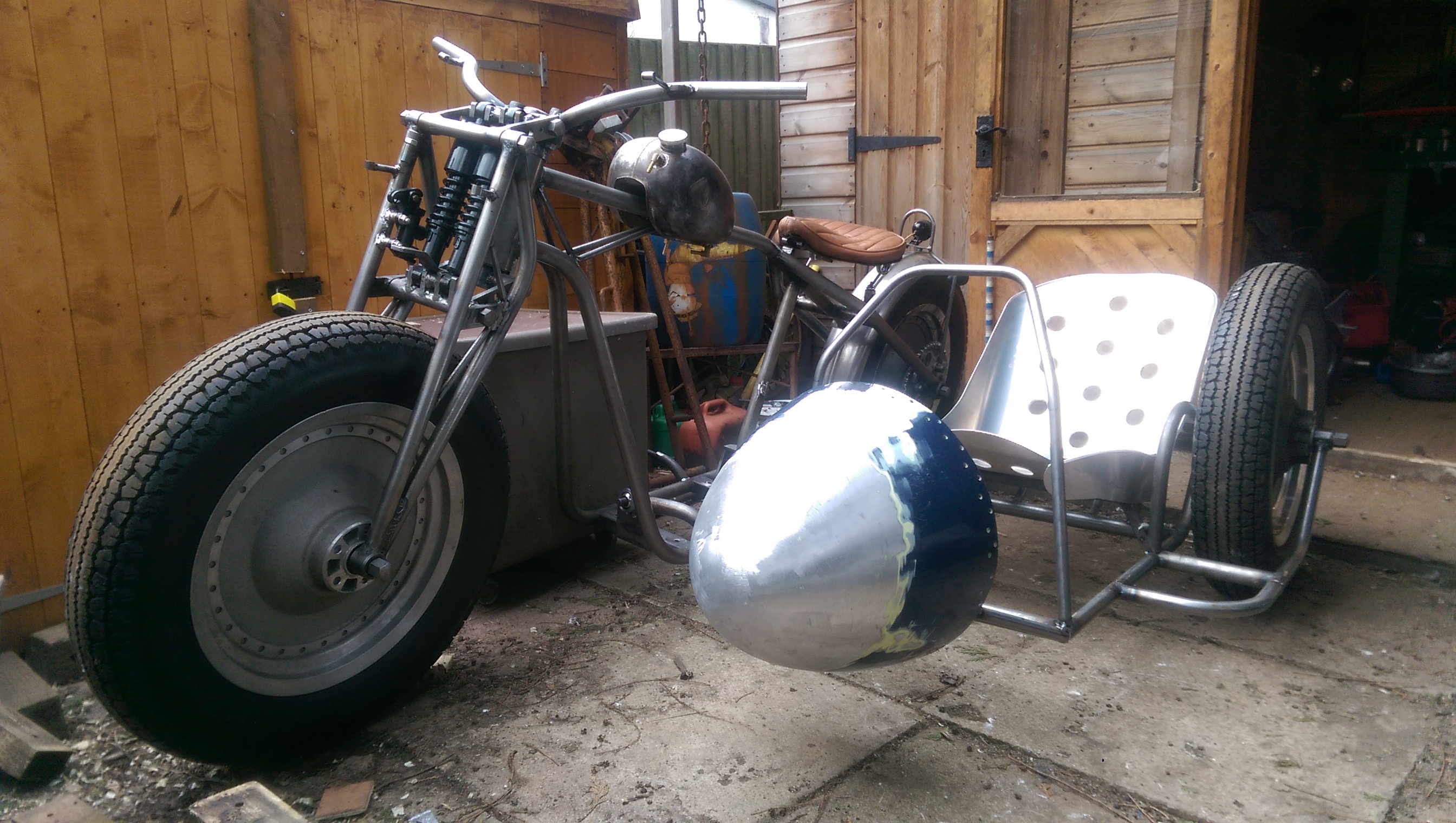 more work done on the sidecar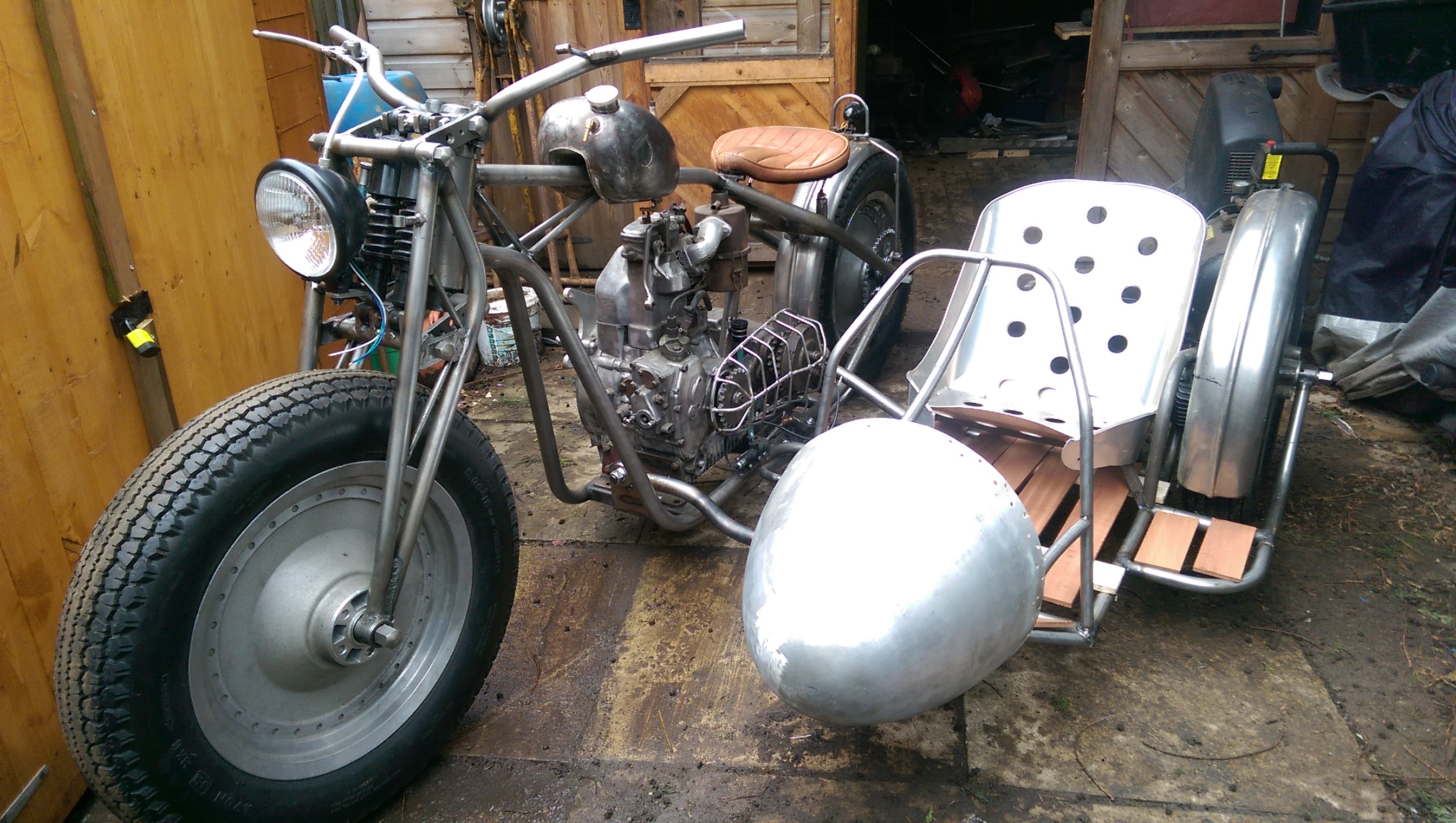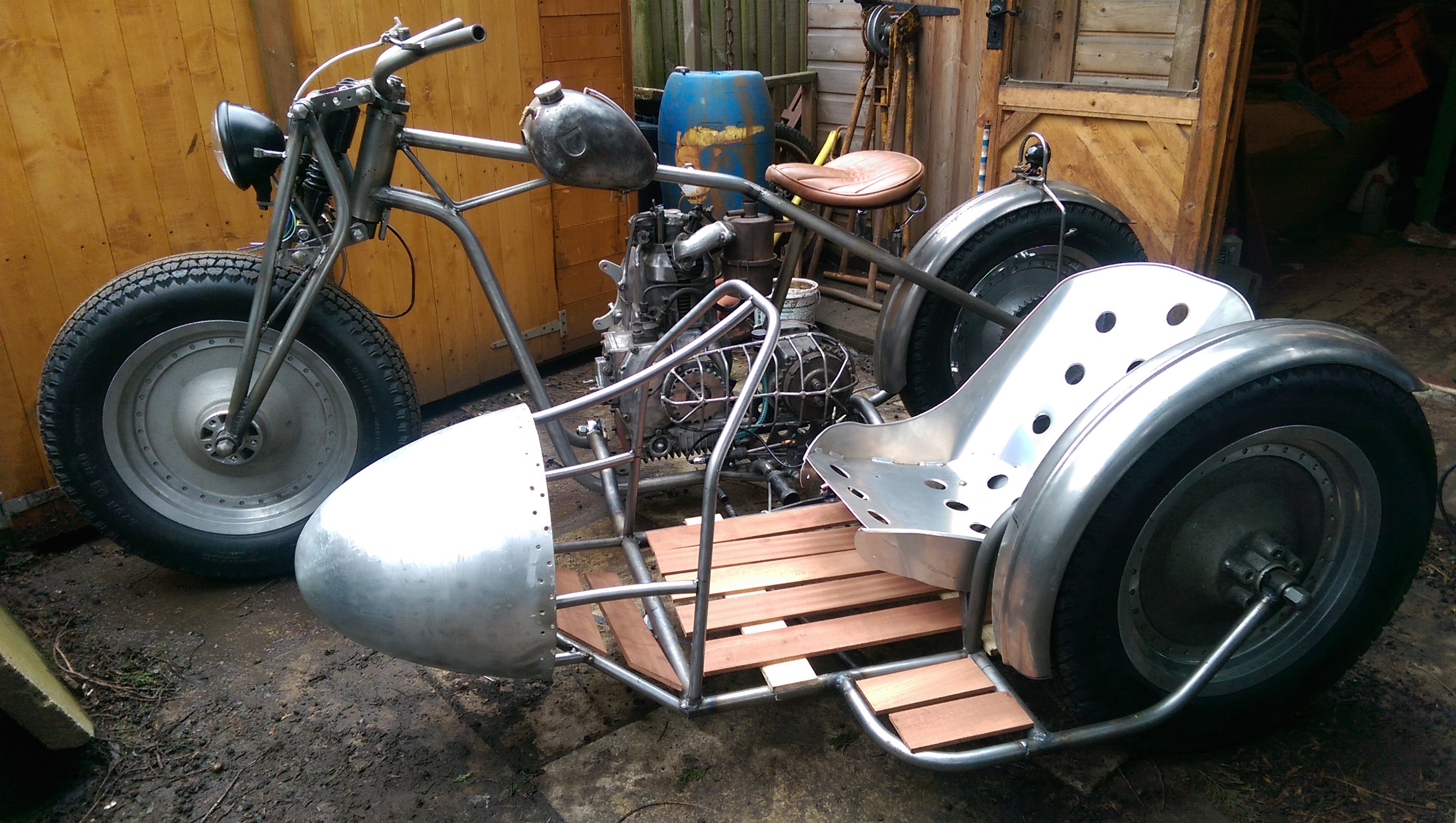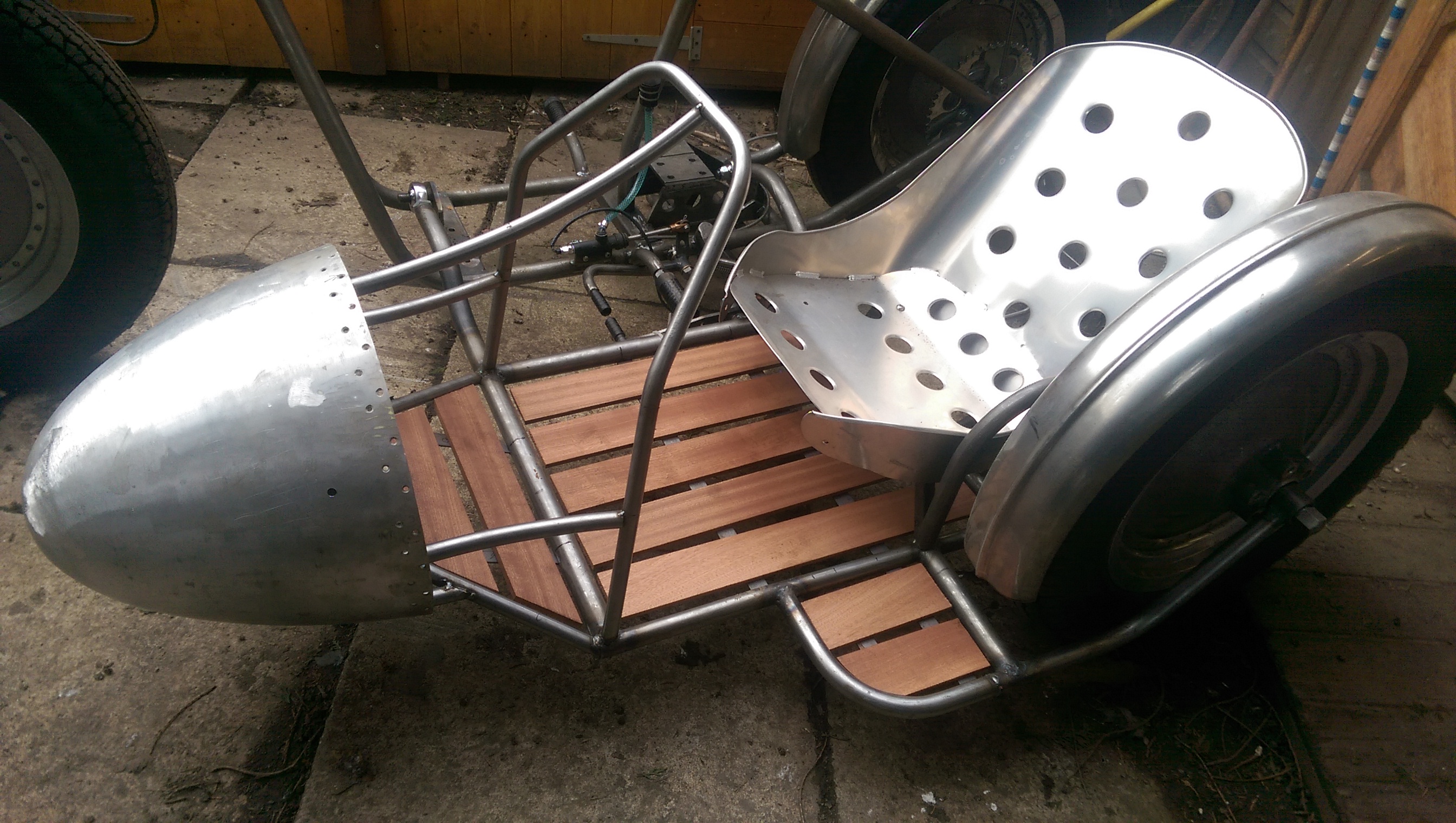 side car now with canvas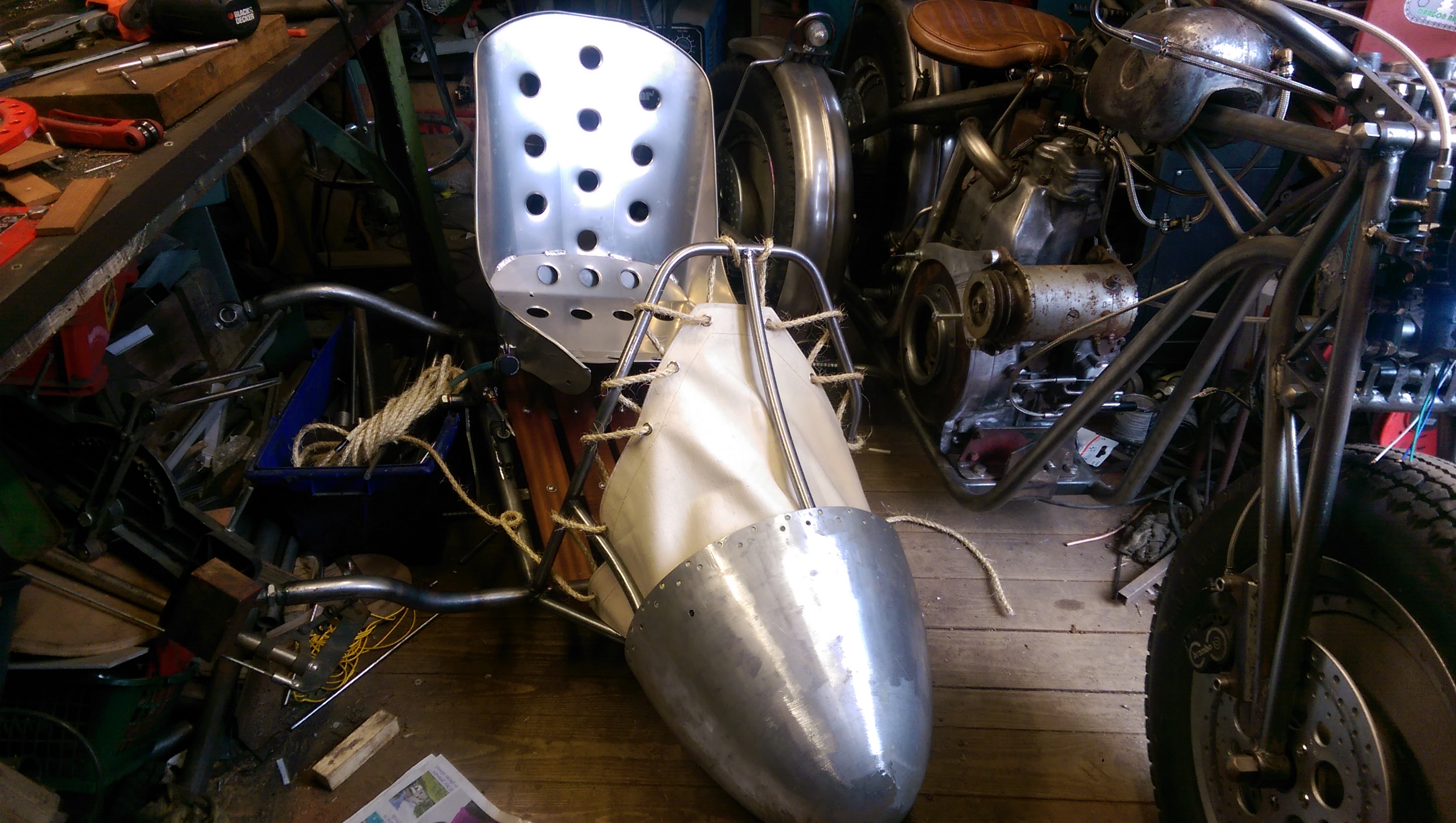 out on the street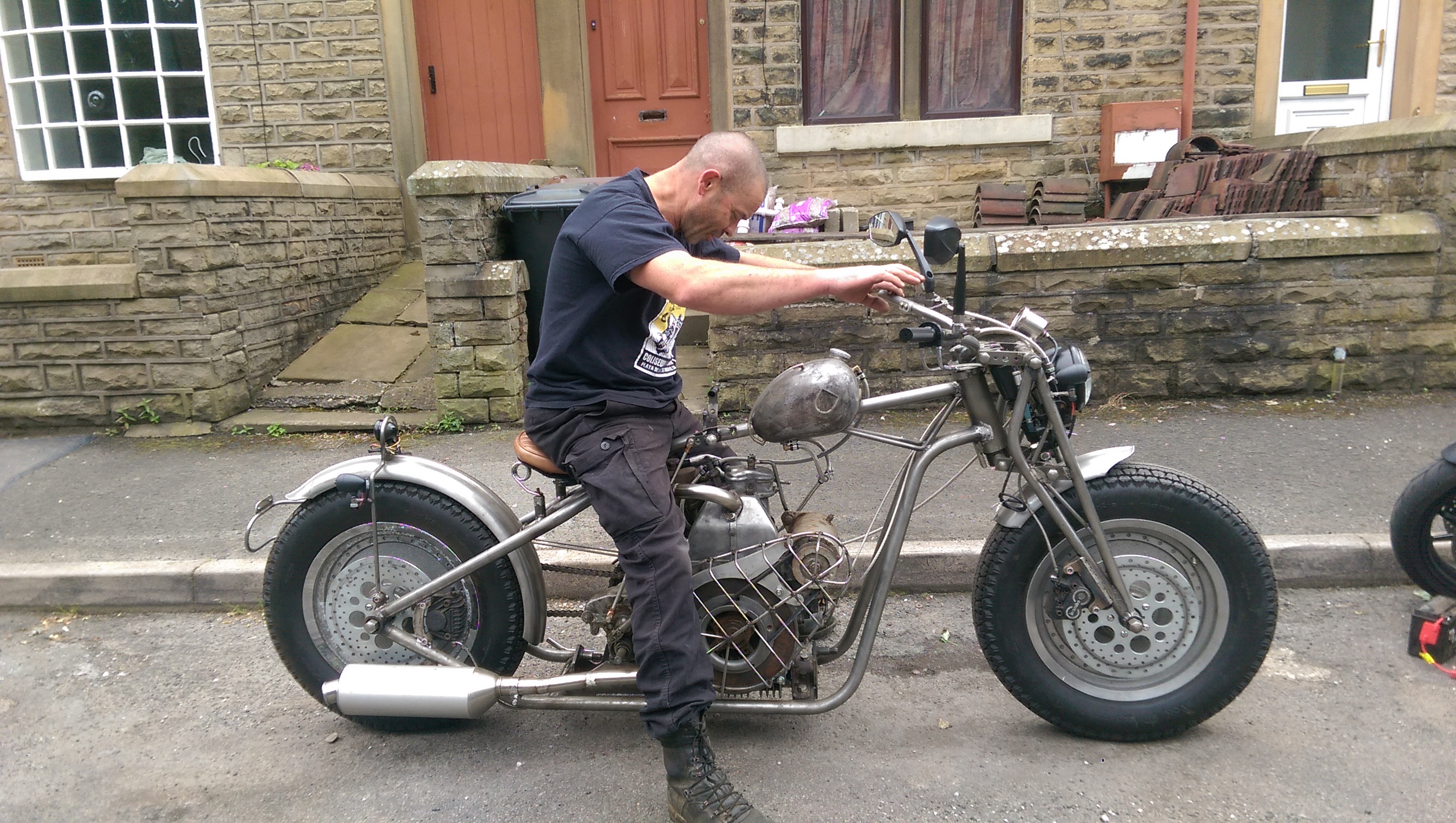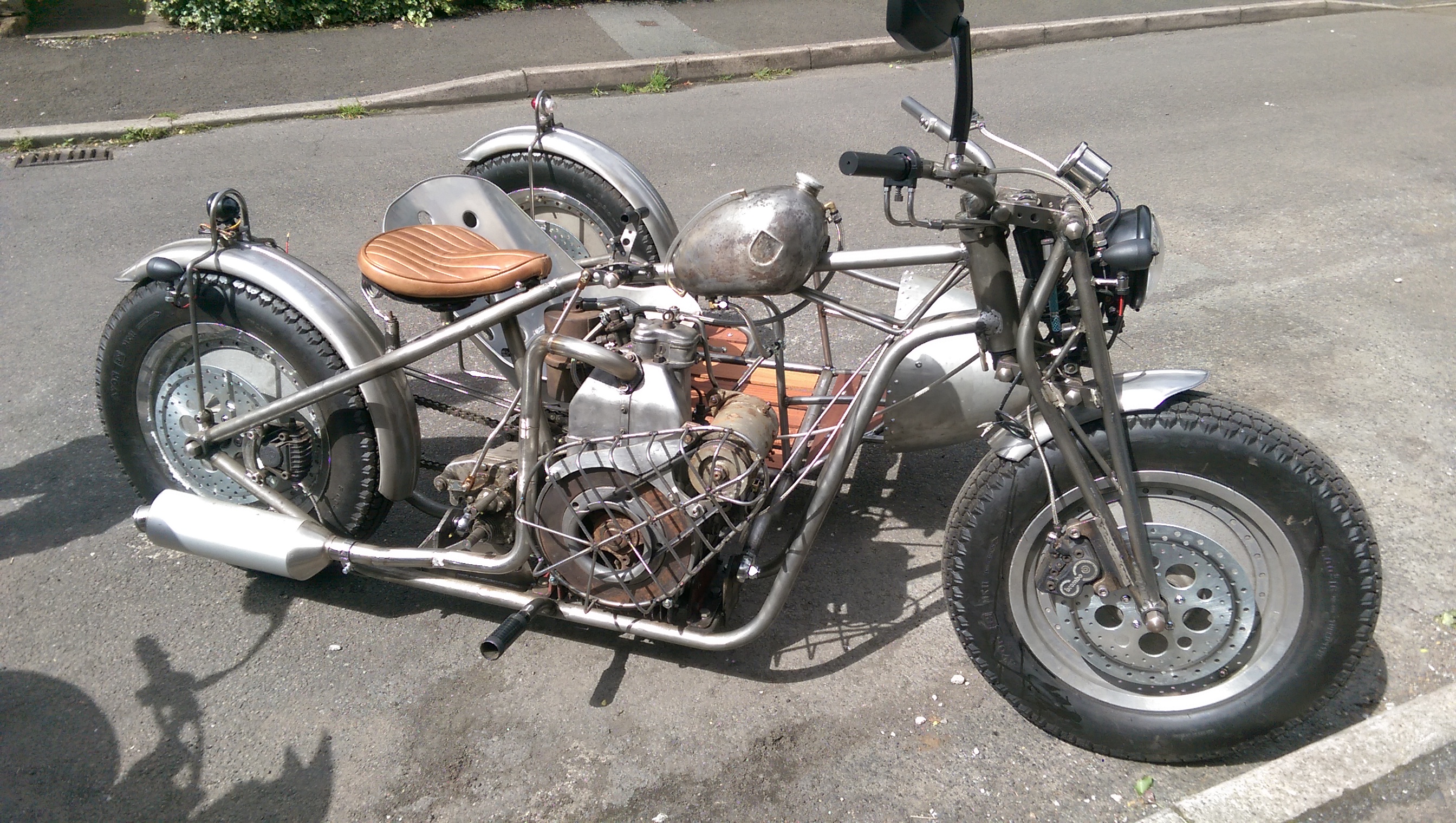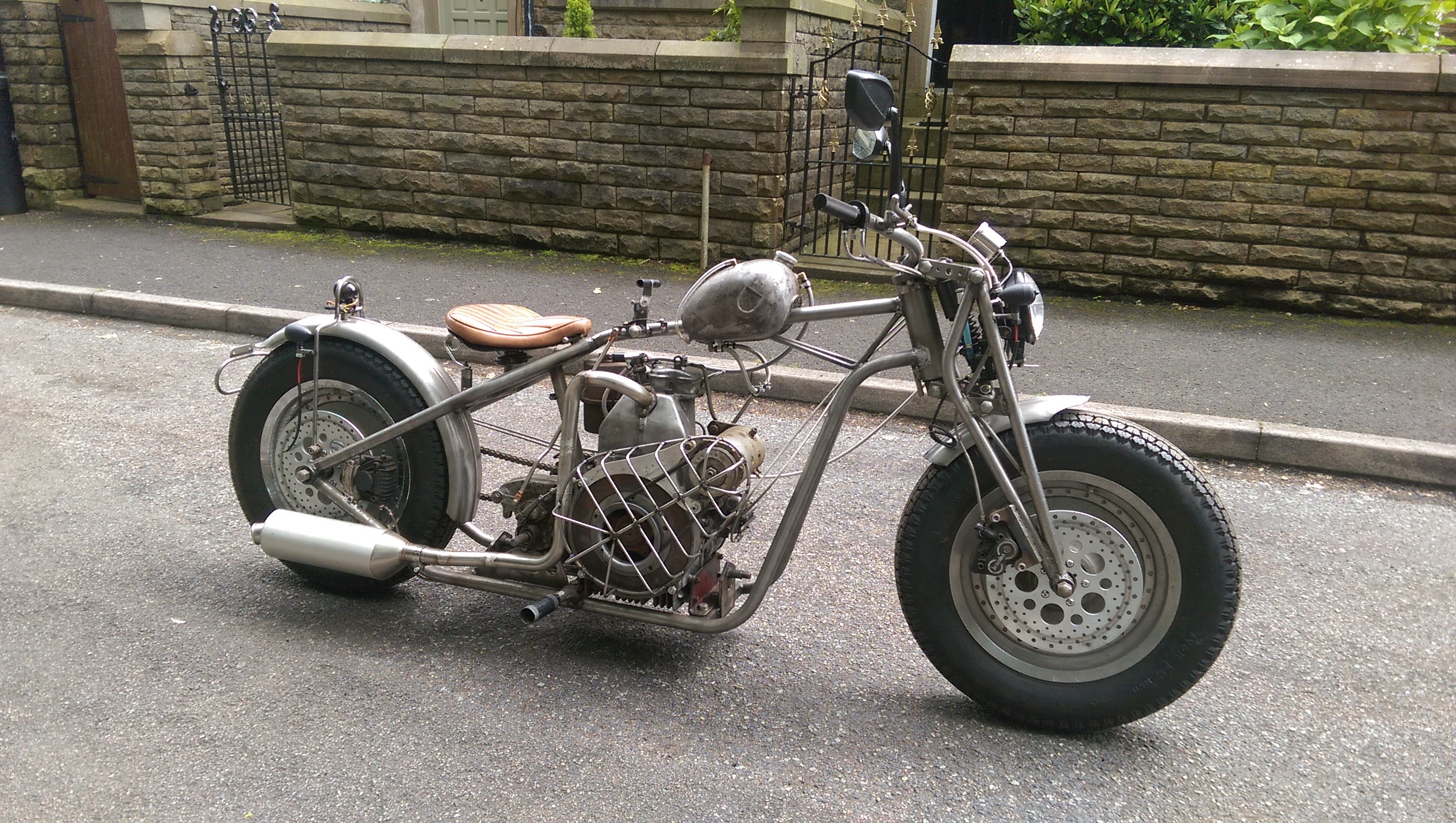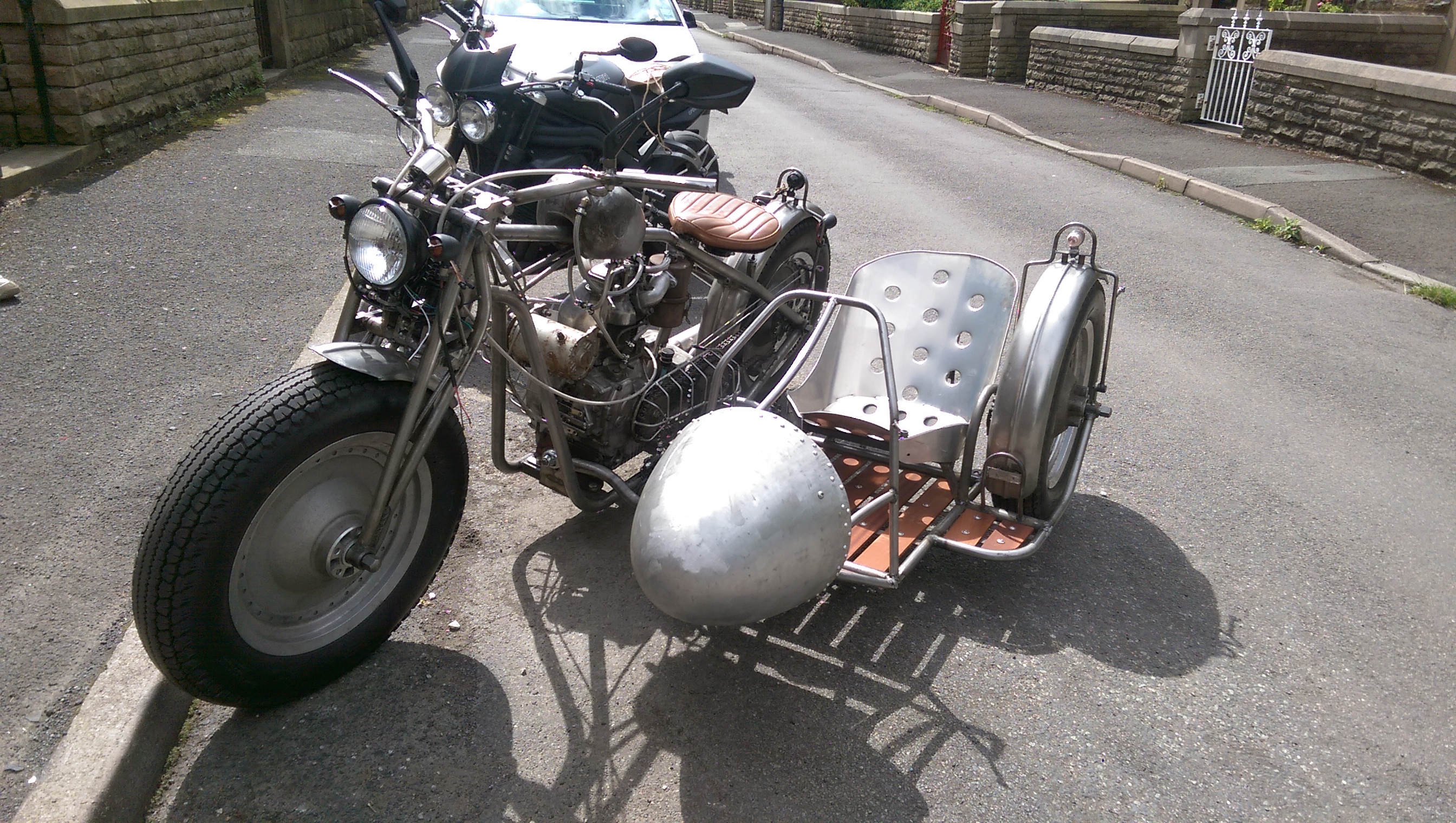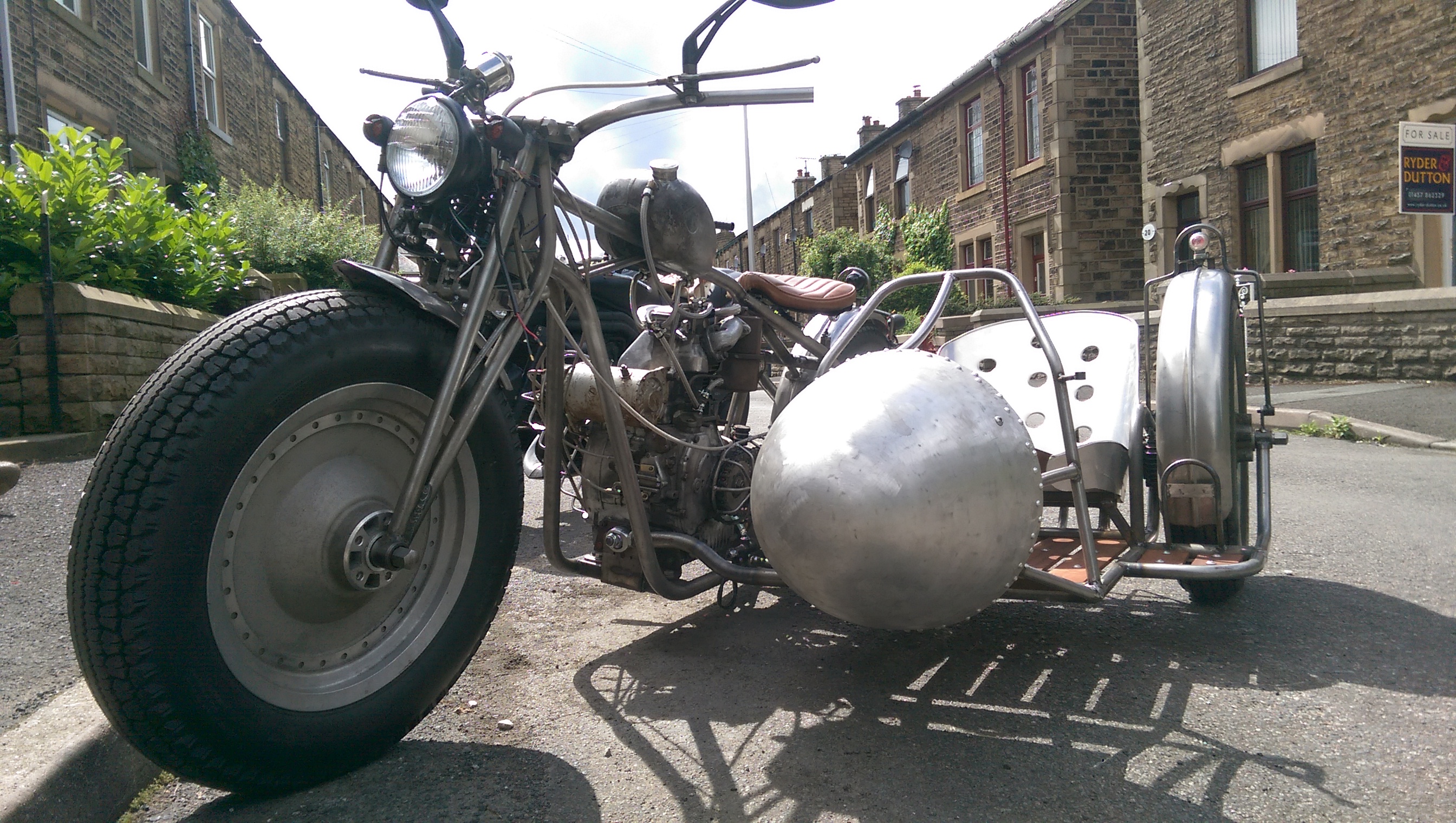 Beginning of final assembly
front end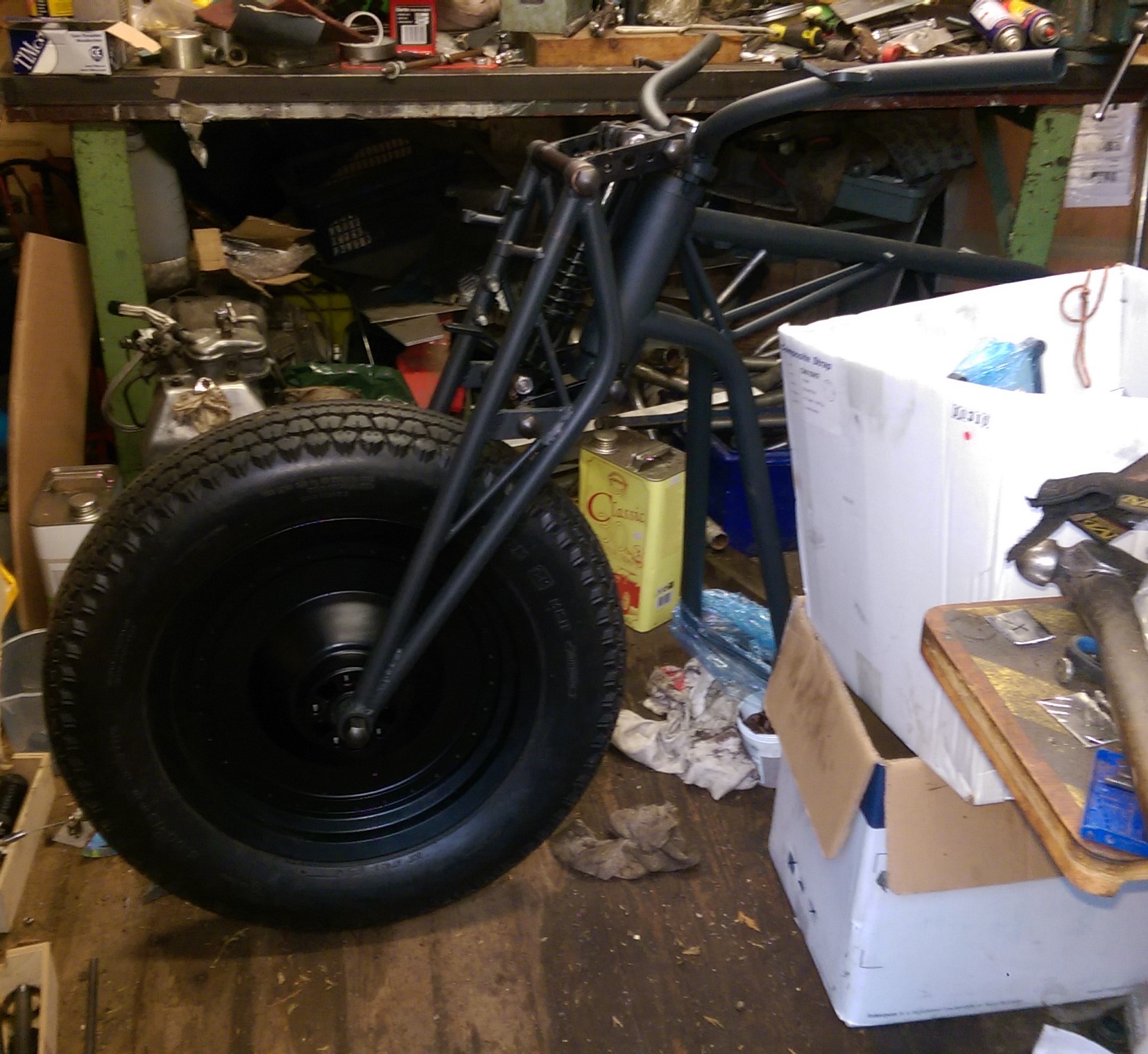 tin ware has come back from the painters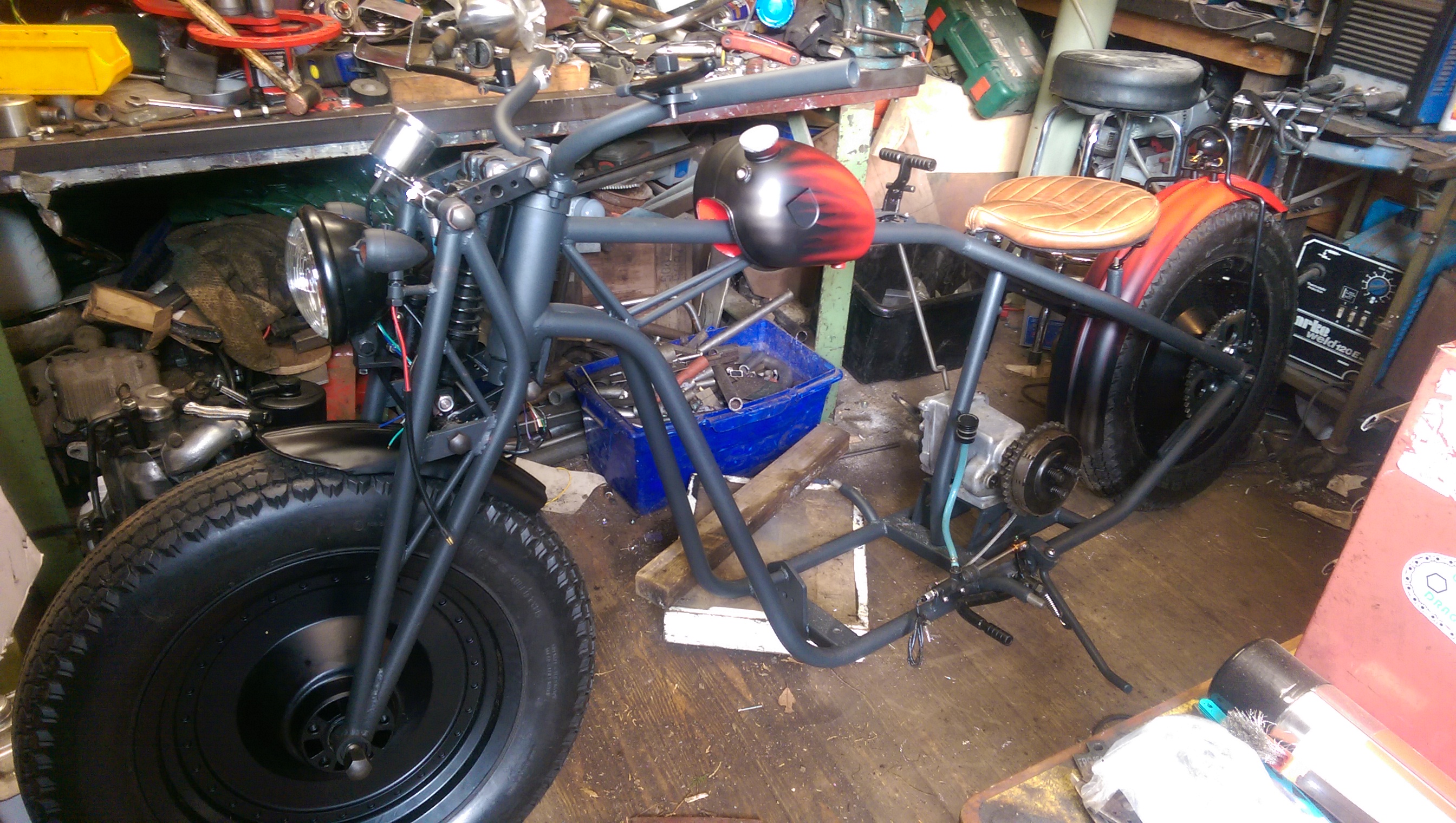 finally! the build up.....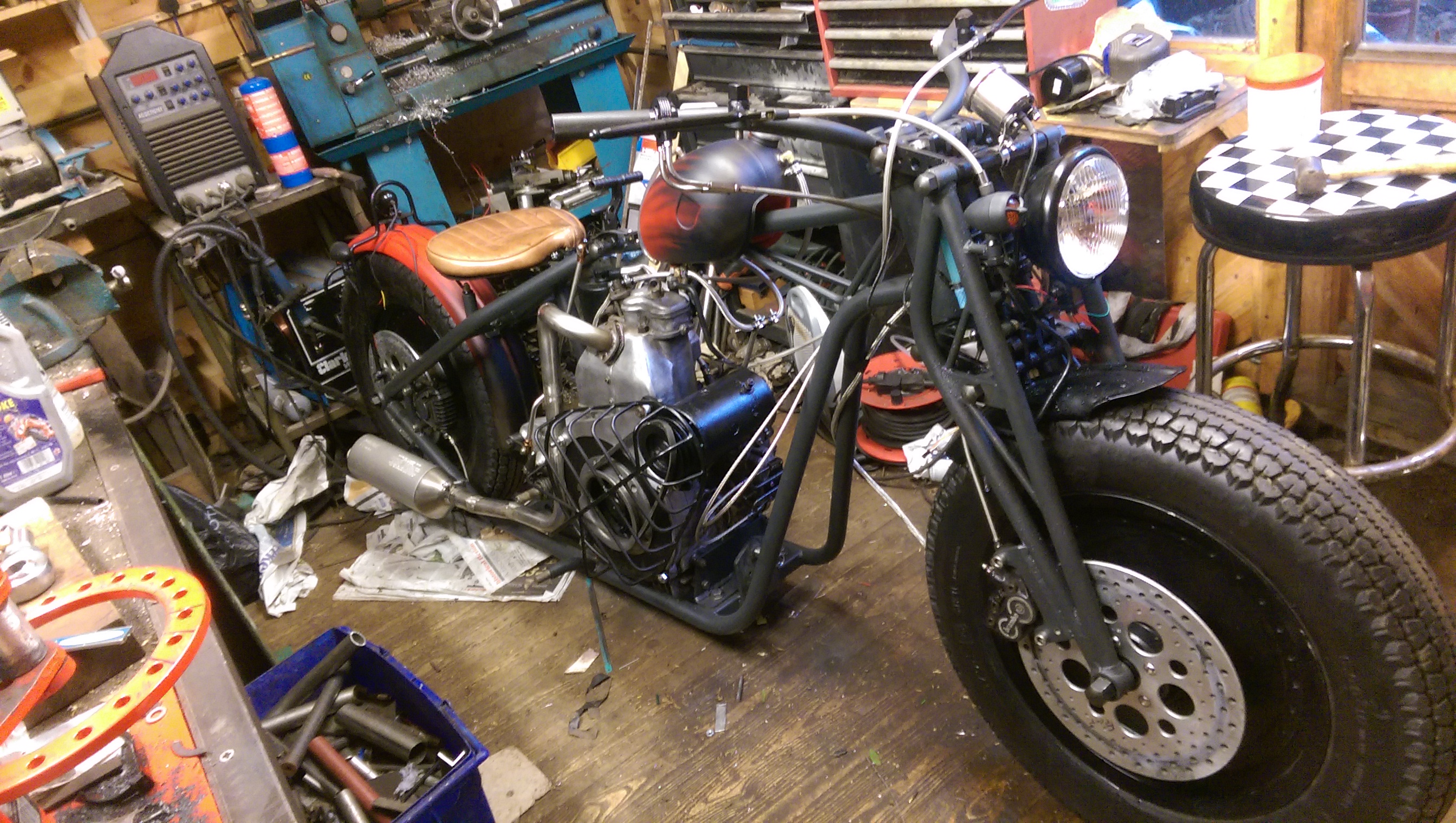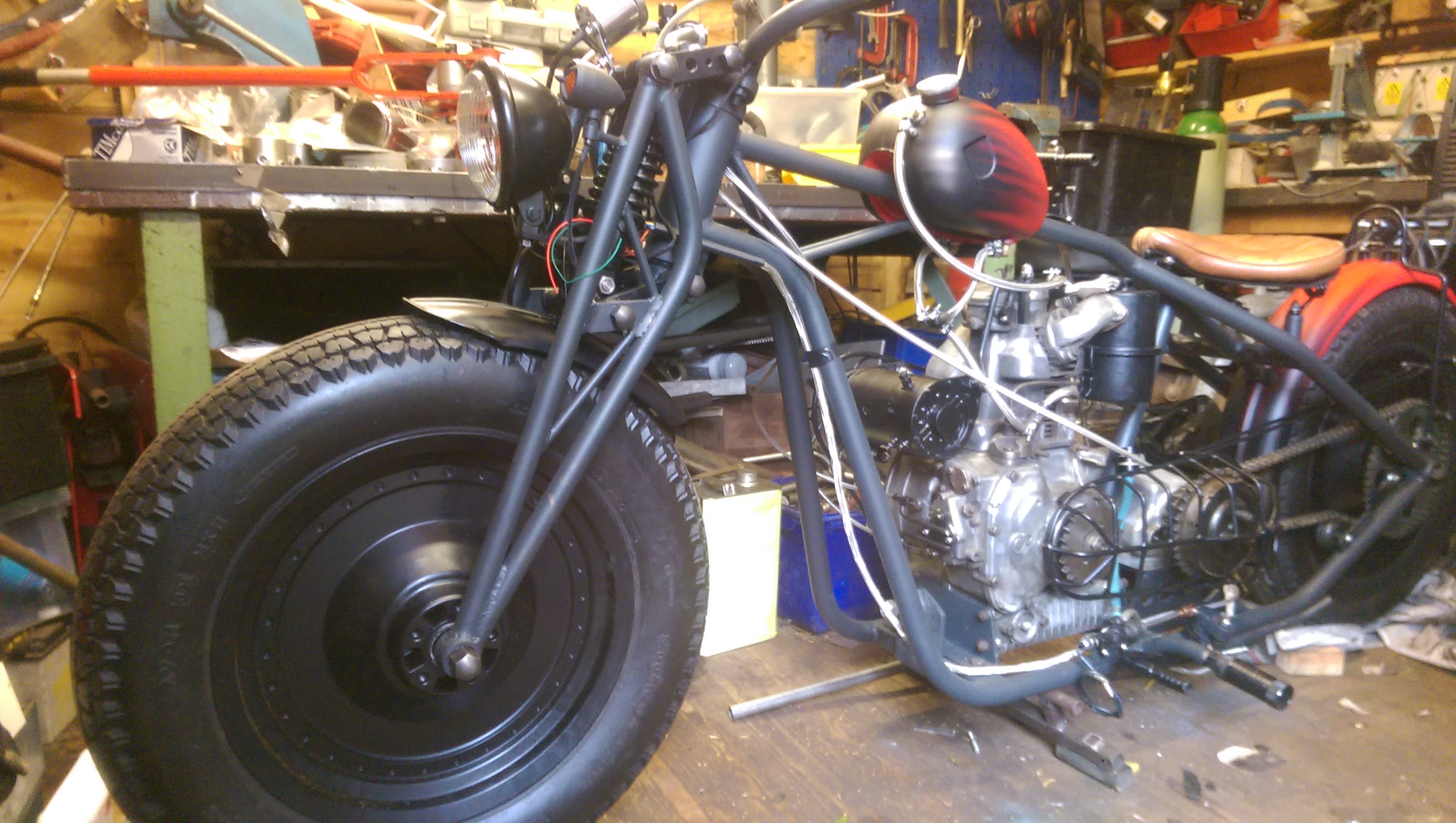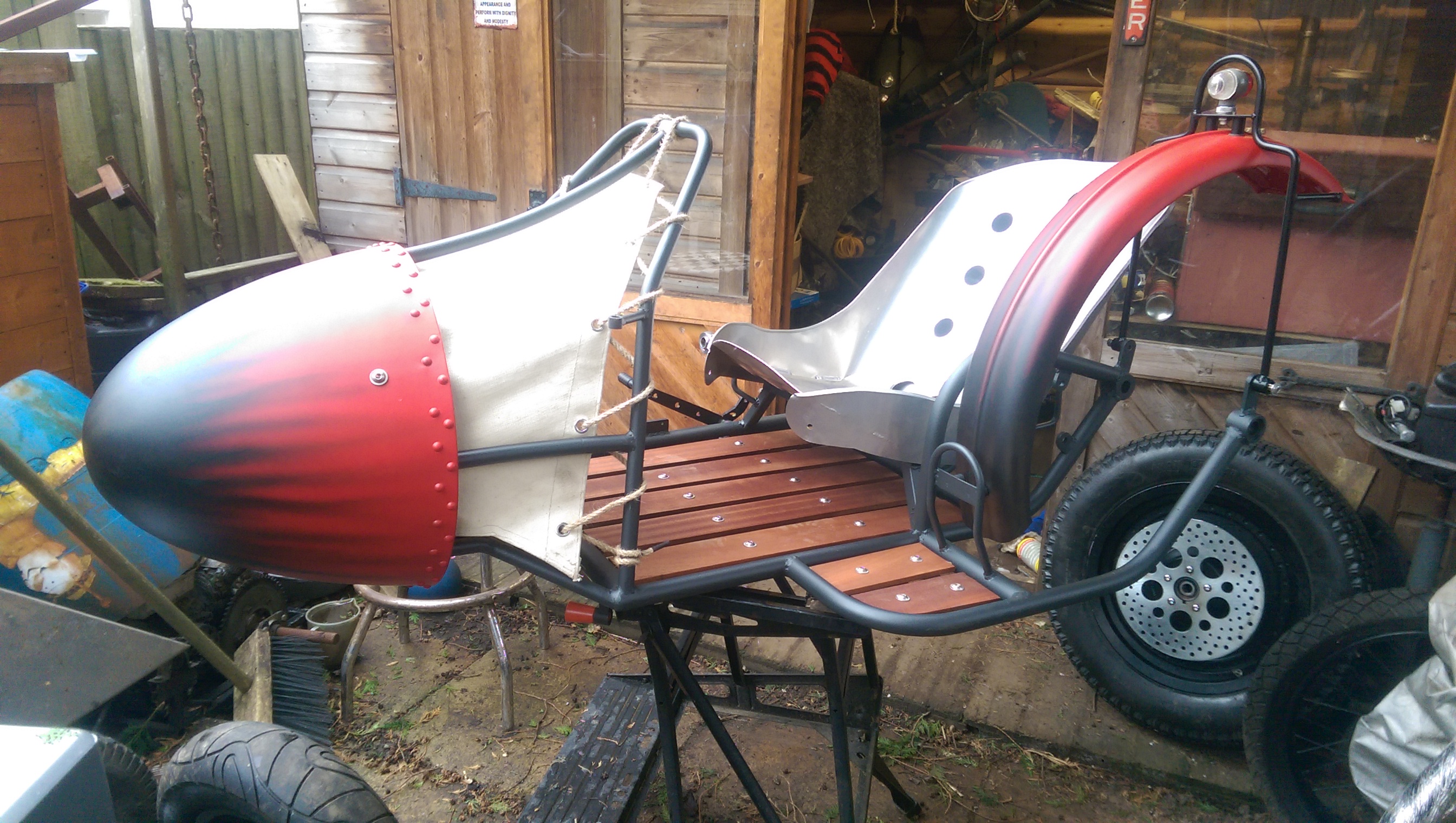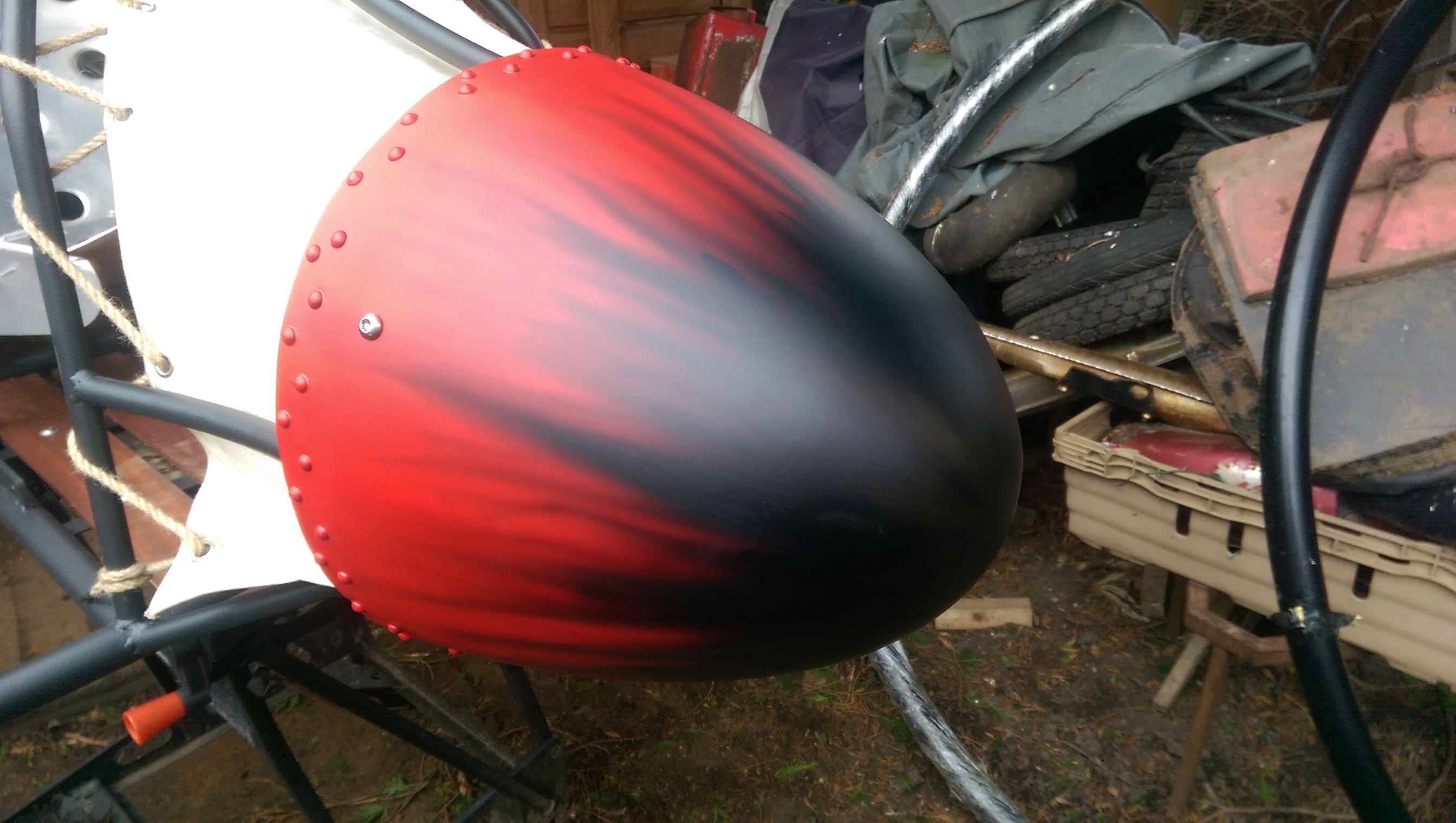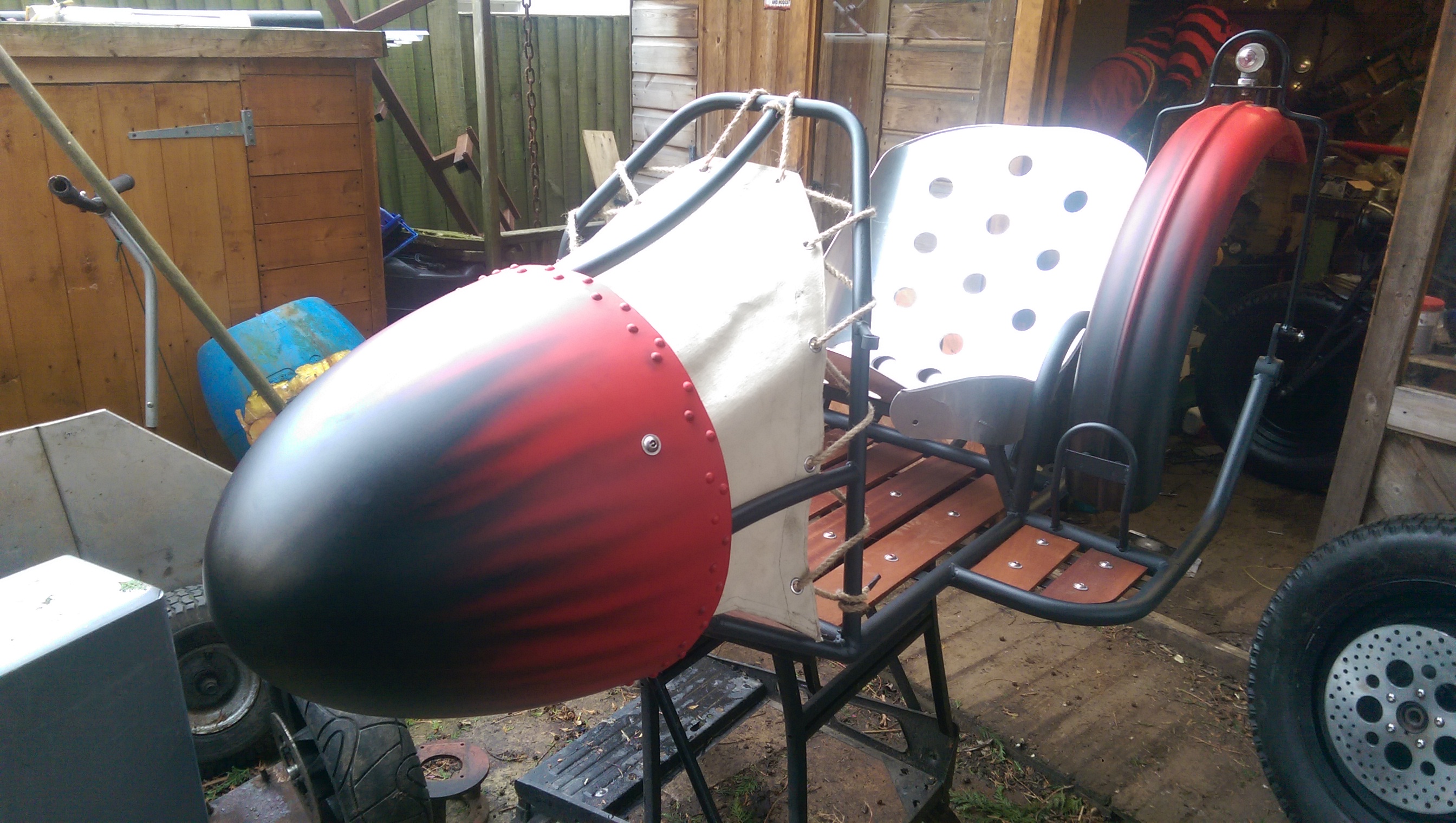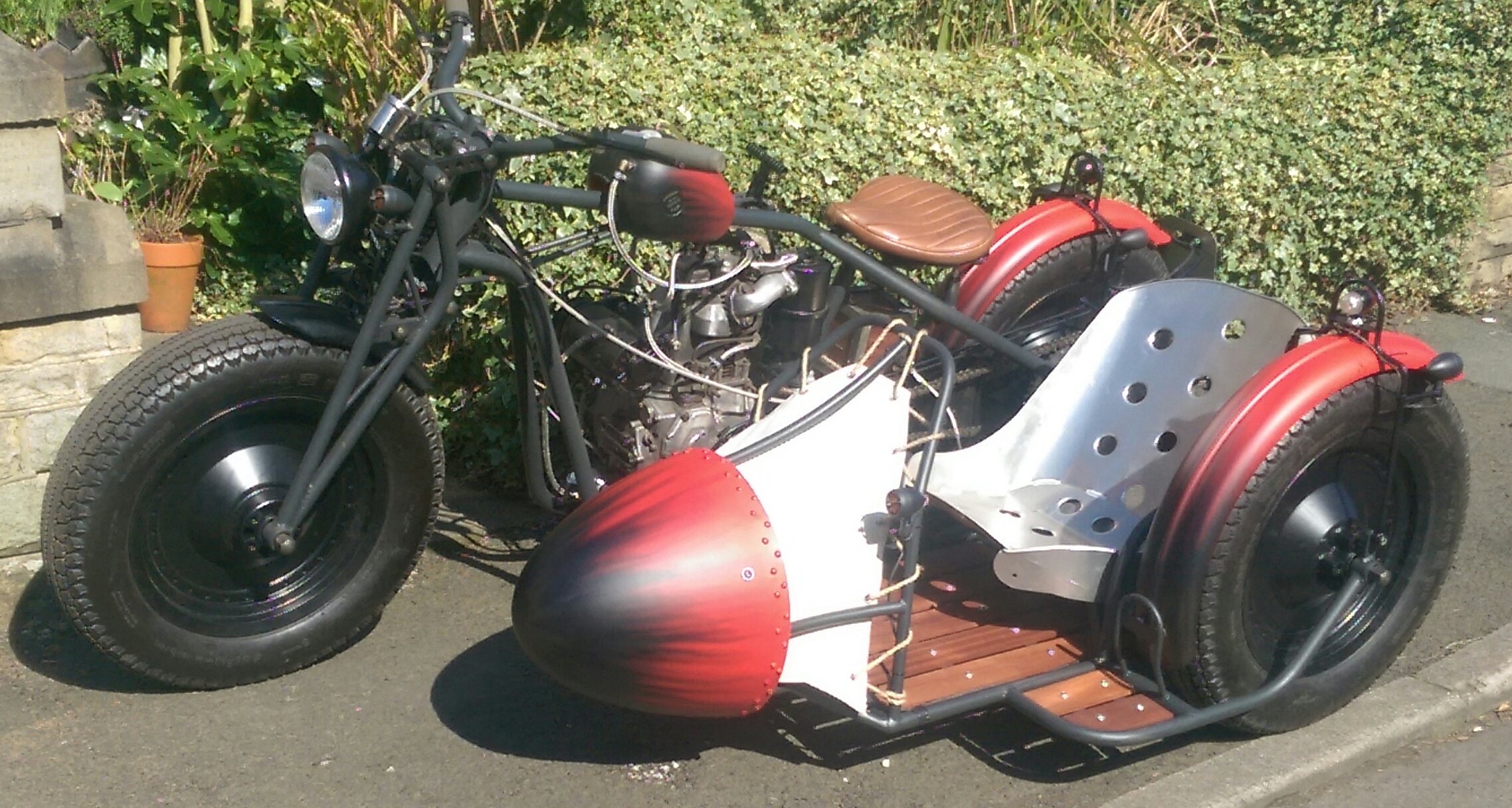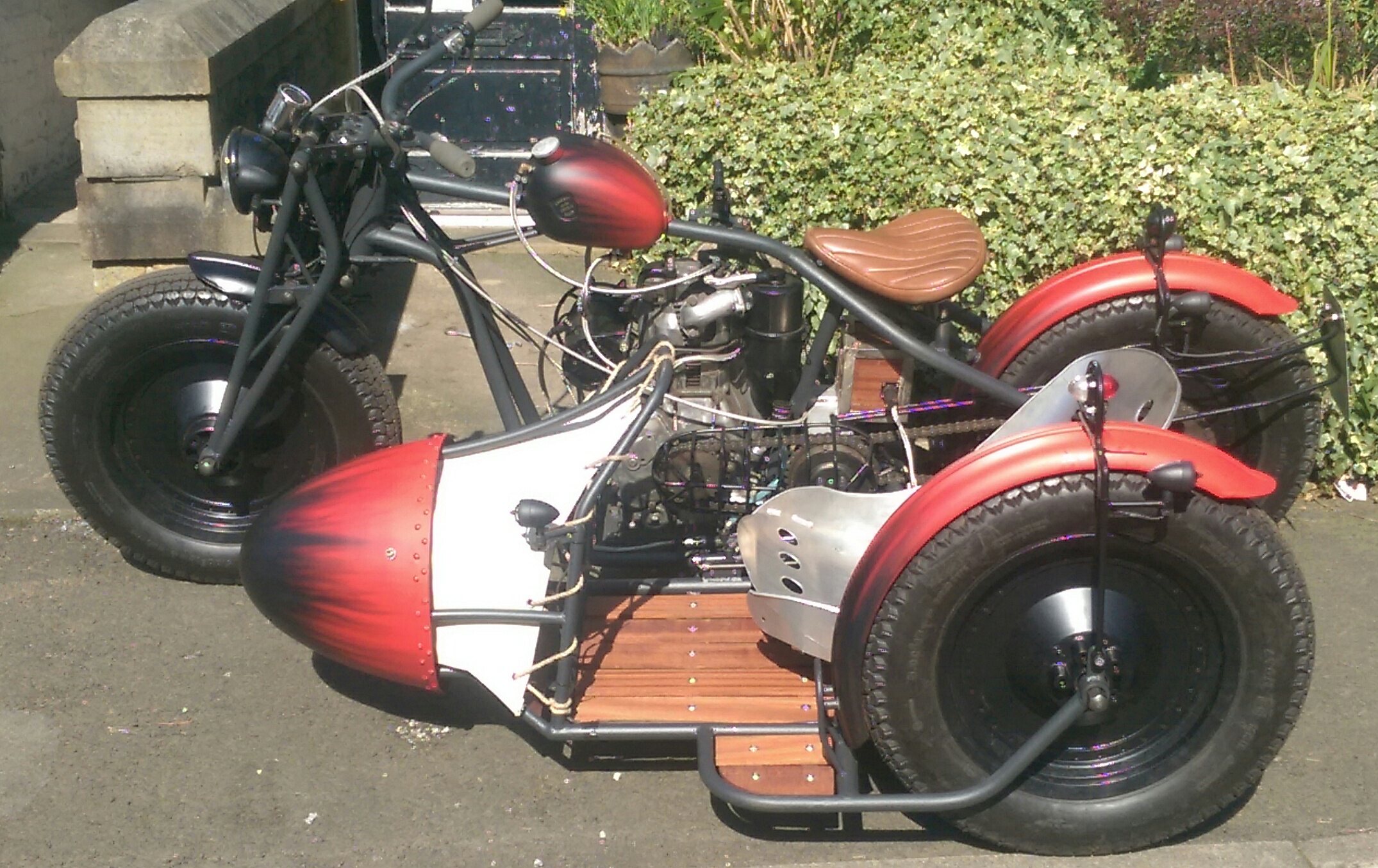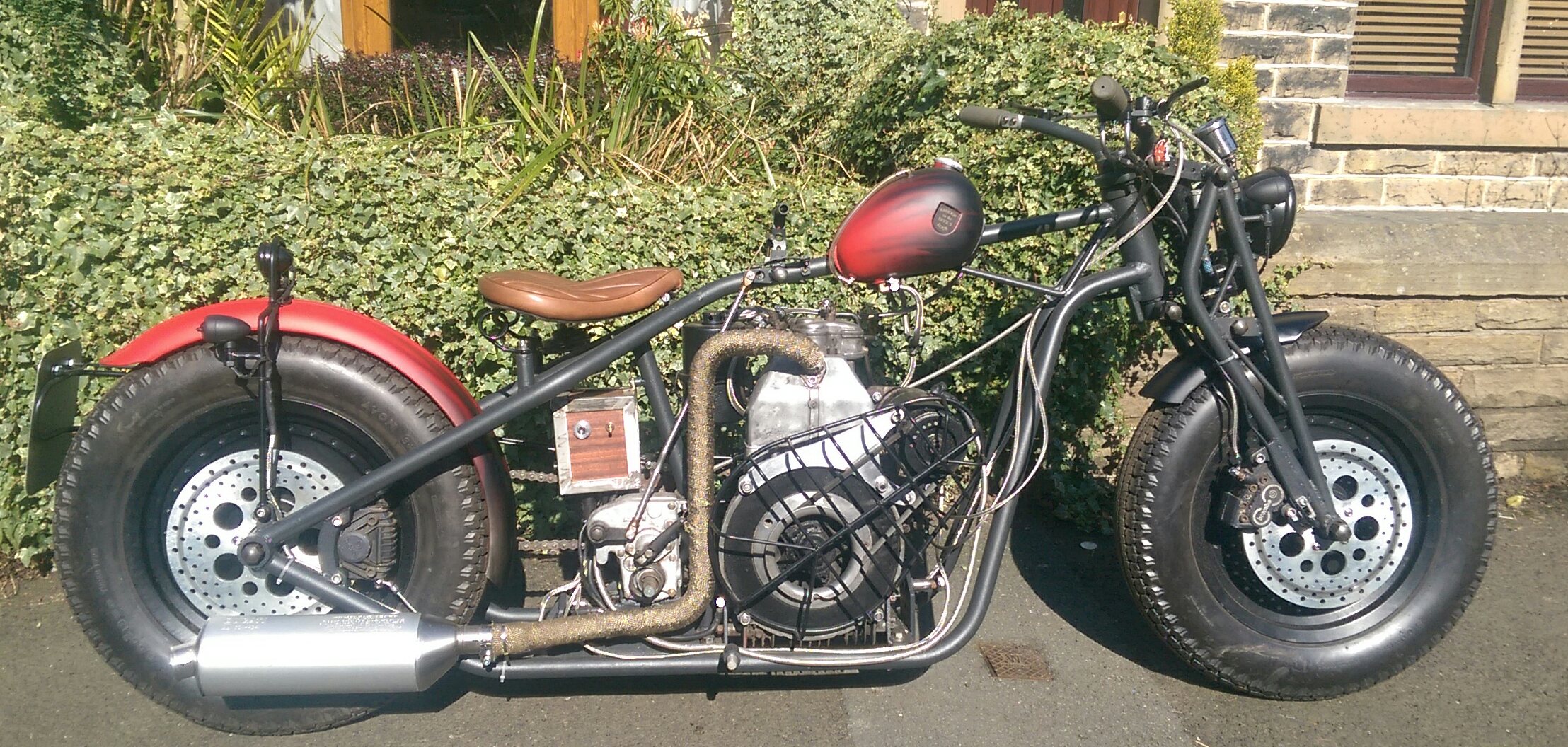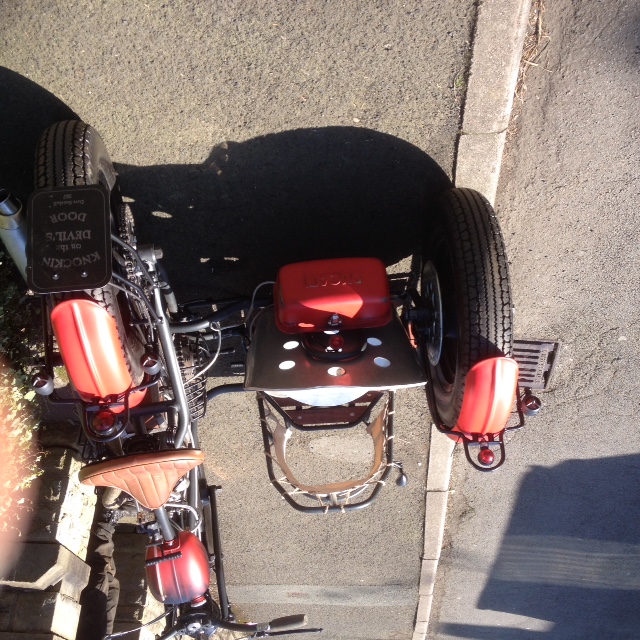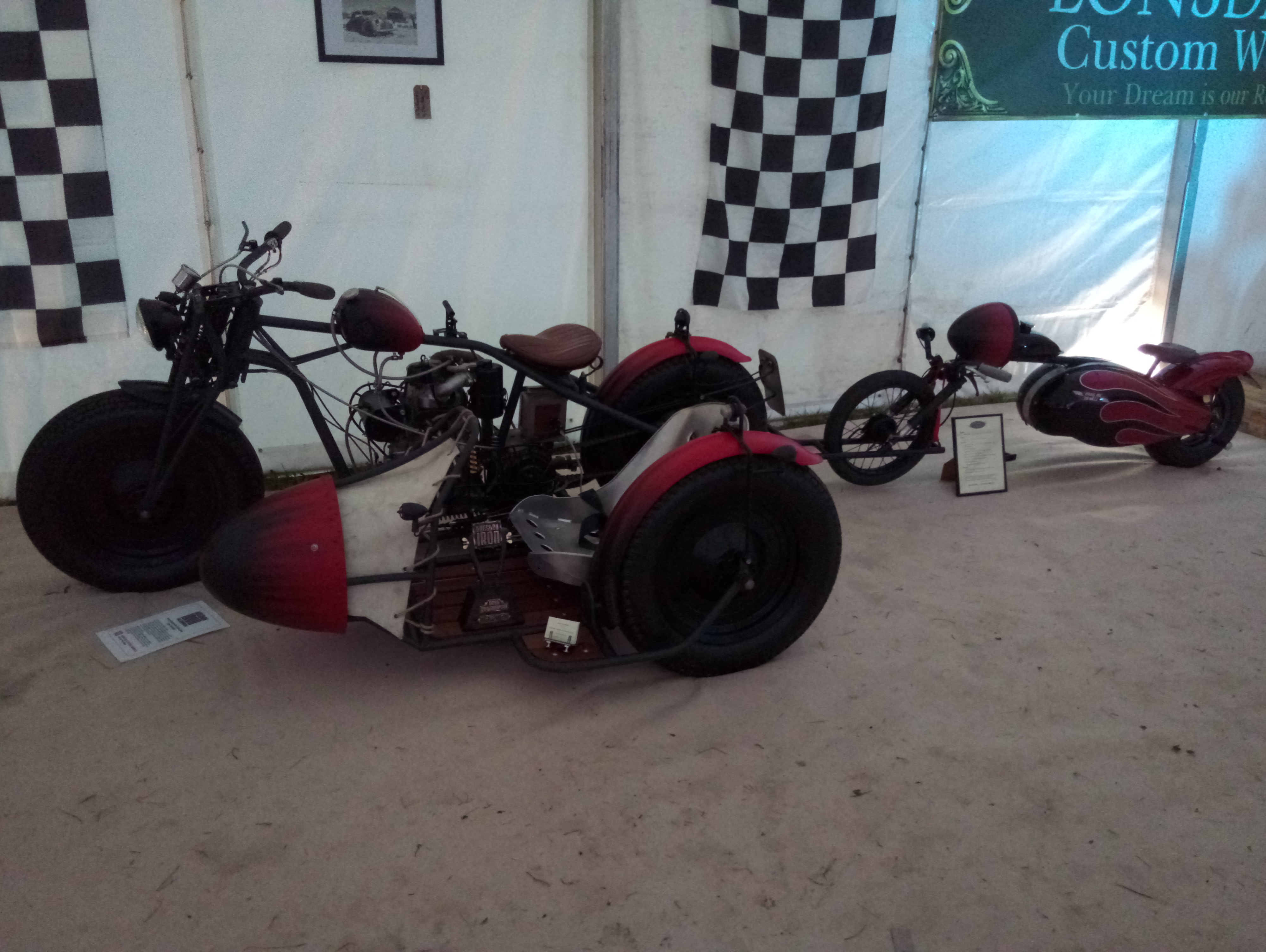 ---
this is a video the lad I bought it off took of it running
engine running in the frame, IT LIVES!!!!
---
it will be a beast.
---
If you have to ask why? then you will never understand...........
Q. why a diesel, they're noisy and slow?
A. and different!
Q. why no rear chain adjuster?
A. wanted it to look simple and 'clean', I will use a tensioner.
Q. That tank looks ridiculous; it's too small
A. your wrong. It holds a gallon and that should be enough for 140 or so miles. Don't need a big tank. And I like it.
Q. Why a 'leaner' sidecar? and what the hell is one?
A. see the link at the top of this page. Basically you can ride the bike as normal and the sidecar 'pivots on the frame. My butchers bike and sidecar works in a similar way.
---